More than 4700 construction jobs are expected to come from recently-approved plans to build the country's tallest tower in Melbourne. The project, valued at $2 billion, received unanimous support from the Victorian Government and the City of Melbourne's Future Melbourne Committee.
The tower is set to be a 'vertical village' at over 365 metres tall, with the State Government hoping to inject an additional $1 billion investment for Melbourne's building industry from the project.
City of Melbourne Lord Mayor Sally Capp indicated that the project was a massive vote of confidence for the city during economic uncertainty in the current COVID-19 crisis.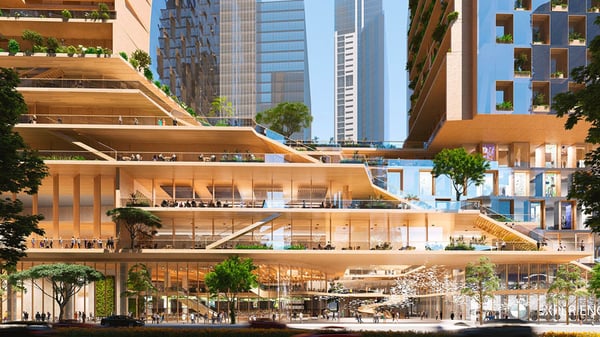 "This will be Australia's tallest building when completed and the project includes a sky garden that will have some of the best views in Melbourne," Capp said.
"The rippling style of the building is unique and will be a striking addition to Melbourne's skyline."
The project, being led by Melbourne developer Beulah, is poised to create around 3259 new ongoing direct jobs through hospitality, childcare, retail, offices and entertainment. The tower will grow the working population of Southbank by as much as 8 per cent.
Initially lodged in August of 2019, the initial application detailed plans to offer users a connection to nature inside of an urban environment.
City of Melbourne's Planning Portfolio Chair Nicholas Reece said Beulah will be an amazing addition to Southbank.
"The team behind Beulah are relative newcomers to Melbourne but they have worked to deliver a design that is both elegant and delivers community benefits for Southbank," Reece said.
"We sometimes hear people in this city say, 'Melbourne has never seen anything like It'. That is often said with a little bit of exaggeration but think we can confidently say 'Melbourne has never seen anything like Beulah'.
"It's not just about the height – so much thought and effort has gone into the design and the green space. The apartments will provide a high level of amenity for residents along with services such as bike and car parking, a childcare centre, retail, hotel and office space."
Dubbed 'Southbank by Beulah', the tower will boast four collections of private residences, green spaces, a town hall, commercial offices, a rooftop sky garden, a five-star urban resort, a wellness precinct, childcare centre, cultural spaces and retail outlets within two twisting terraced forms.
The spine twists into a series of outdoors spaces and green devices along the facades of the two towers to pay homage to Melbourne's title as The Garden City.
Pocket parks will be a focal point throughout the building, connecting neighbourhoods within the residential tower and aiming to provide residents with a sense of community and a place to relax.
Cox Architecture Director Philip Rowe said Southbank has laid somewhat dormant for many years.
"Our collaborative concept has the ability to truly uncover its potential, improving the urban amenity while seamlessly unifying the suburb with Melbourne's CBD," Rowe said.
"The architectural and cultural impact Southbank by Beulah will leave on Melbourne is an exciting prospect and will undoubtedly set a benchmark both locally and globally, both now and well into the future."
The project will take around five years to complete, with construction commencing in 2021.
To keep up to date with all of the latest industry and project news, subscribe to iSeekplant's Flapping Mouth blog below!