The Viral Upside #3 - Good News About the Construction Industry
Day of Quarantine: 10
Mood: Over it, my kids are soooo annoying – but loving all the stimulus and our site is still firing with no drop in traffic. Today I got back negative test results for COVID-19 (after sitting next to someone with it on the plane home from CONEXPO). I threw my mask in the bin, kissed my kids and my husband moved back into the master bedroom (which I could take or leave, if I'm honest).
Outfit: Stained Gray T-shirt, black yoga pants and NO mask.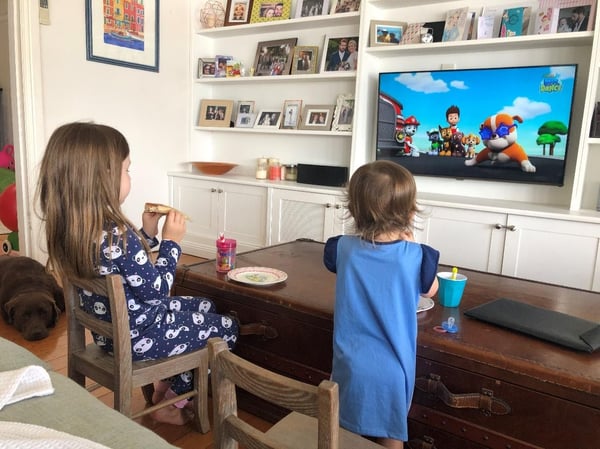 I would like to openly admit that screen time at our place has exceeded, and will continue to exceed, the government recommendations of 2 hours per day. Sorry, not sorry
Construction deemed an 'essential service' – isn't going into shut-down in NSW
I went for a drive on the weekend, just to see the outside world, and as I drove past the Wynnum Road Upgrade Project I thought to myself – what a great time to dig in and get these road projects finished while no-one is on the road! Turns out, Gladys Berejiklian, the Premier of NSW agrees with me and has deemed construction an 'essential service' which is excluded from the shutdown. This is great news for our industry, for business continuity and for our customers – especially if the other states follow her lead. So – it's business as usual for construction and iSeekplant – and the industry can expect a big pile of stimulus pumped into it later down the line as shovel-ready projects are pushed forward at pace. Am I missing something here – or could this turn out to be a boon for all of us in the construction industry?
Carmichael Coal and Adani blamed for spread of COVID-19 <insert world's biggest eye-roll emoji>
Just because complaining about Carmichael Coal has been a long-term hobby for a group of professional progress-blockers (and blocking progress is about as popular as a sneeze in a supermarket at the moment), these idiots are escalating their baseline claims and are now blaming Adani for the spread of COVID-19 because of their decision to proceed with its operations at Carmichael Coal. In the most laughable accusation I've heard in a long-time, some clown called Amy Booth for the Frontline Action for Coal has said that Adani's decision to continue with construction of the mine and associated infrastructure is endangering the lives of people in the local community and spreading COVID-19. Nice try Amy, you should use your time in social isolation to rethink your career choices because absolutely zero major media outlets picked this story up and ran with it. Click here to read the story from the only person who published it.
BHP Hires 1500 new machinery operators on six-month contracts
Using all its spare cash from increased export revenue and high commodity prices, BHP has recently released plans to hire 1500 new people on six-month contracts into roles across machinery and production operators, truck and ancillary equipment drivers, excavator operators, boilermakers, diesel mechanics and trade assistants. These jobs will be within its coal, iron ore and copper mining operations in QLD, WA, NSW and SA. Click here to read more!
China back-in-business 2 months after lock down
Almost 90% of all planned infrastructure, road, highway and airport projects in the Hubei province of China have resumed only 2 months after the country went into heavy lockdown on January 23 to prevent the spread of Coronavirus. In Australia, we have the hipsters at Bondi Beach to thank for a shutdown being on our horizon in the next couple of weeks. Even the communist government in China knows that infrastructure spending is the right stimulus to pull an economy out of recession. The Chinese government is also working hard to solve supply chain issues for steel, concrete and other consumables used on these projects, which will serve to improve our access to these things.
In news just as reliable as anything coming out of China's media – my sister-in-law, who is very high up one of the big 4 accountancy firms in the UK, told me that the Chinese office of her global firm is back doing deals, big time. Its business as usual – M&A projects are progressing, people are working and moving projects forward. More proof that the impact of the virus is abating.
Click here to read more.
It's raining (new) stimulus
If you're keeping up with the stimulus packages, click here to read the previous measures – below is the new stuff that has been announced recently.
Payroll Tax Holiday
Payroll tax holiday, which isn't as fun as a regular holiday (as far as I remember what holidays used to be like), has been extended to 6 months and they are now giving us refunds of tax paid in January and February (in QLD at least). In my opinion, Payroll tax has always been the dumbest of all business taxes and I'm glad it's being paused and would openly encourage the government to scrap it altogether.
Double Centrelink Payments
People receiving payments via Jobseeker, Youth Allowances, Parenting Payments, Farm Households etc will receive additional funds of up to $550 per fortnight. A $750 supplement payment was announced in the last round of stimulus, now there is a new one so you can double down here as well.
$100,000 per business to keep everyone employed
Please enjoy these massive boosts to your cash flow where the government will be providing up to $100,000 to all businesses who employ people as BAS credits in the next two BAS cycles.
"Under the enhanced scheme, employers will receive a payment equal to 100% of their salary and wages withheld (increased from 50%), with the maximum payment being increased from $25,000 to $50,000. In addition, the minimum payment is being increased from $2,000 to $10,000. An additional payment is also being introduced in the July – October 2020 period. Eligible entities will receive an additional payment equal to the total of all of the Boosting Cash Flow for Employers payments they have received previously. This means that eligible entities will receive at least $20,000 up to a total of $100,000 under both payments."
That is the government's long and waffly way of saying your next two BAS statements are going to be light-on and its up to $100K in the back pocket! Phew.
Changes to insolvency laws
The government is lessening the threat of actions, and increasing the thresholds for taking action against companies in financial hardship as well as increasing the ATOs measures to help them. They are seeking to limit the amount of court actions taken against companies in hardship by making it harder for creditors to wind them up.
If you are worried about your business continuing, please read these measures here.
U-Shaped Recovery Predicted over 18 Months
Even as an economics student, I did not know that there were different types of recession recoveries and they are named after letters like L, V and U.
The pundits are predicting that when the economy recovers (in the next few months) it will bounce back fast, as the economic fundamentals were strong prior to this hiccup. Some are predicting a V-Shaped recovery, others a U-Shaped recovery. One thing they all agree on though – is the speed of the virus containment will greatly improve our chances of a faster economic recovery – and most scholars believe that the harder and faster we react, the better it will be for the society and economy, the better it will be for our chances of coming back from this within the year.
With people locked indoors, it's predicted that demand for travel and entertainment will bounce back very strongly once the coast is clear, if hospitality businesses can stay in their tenancies and re-open once the restrictions are lifted. Governments across the world are also seeking feedback from their states and territories around infrastructure projects that can be moved forward quickly. Infrastructure spending across the world is forecasted to greatly increase as longer-term economic measures are put in place to speed up recovery after any lock downs or shut downs that have been implemented.
Read more here.
Project Demand Unchanged on our Site
There is no such thing as 'social distancing' and 'shut downs' online, and in the last two weeks our site has experienced no decline in activity or job requests. We recently did a spot check of calls to check sentiment and not a single person mentioned the virus in their plans to continue hiring machines through our system. As far as we can tell, it's business as usual – with as many jobs, leads and traffic hitting the site as ever before.

Click here for the Viral Upside episode 2.