Whitehaven Coal's application to extend the Vickery coal mine near Gunnedah has been approved by the New South Wales Independent Planning Commission (IPC).
Whitehaven Coal is now allowed to mine 13 million tonnes a year of coal over a 25-year mine life. Vickery will also be able to transport 11.5 million tonnes of coal from the site each financial year.
An estimated net $1.2 billion economic benefit will be provided to New South Wales as a result of the $700 million Vickery extension project. The works are expected to create 950 jobs from construction to operation.
Whitehaven Coal Managing Director and CEO Paul Flynn has welcomed the news and stated that the Vickery project will help secure the company's "growing stature as a key supplier to premium overseas market".
The company will now focus on securing necessary secondary approvals and other project optimisation prior to the beginning of works under the new approval.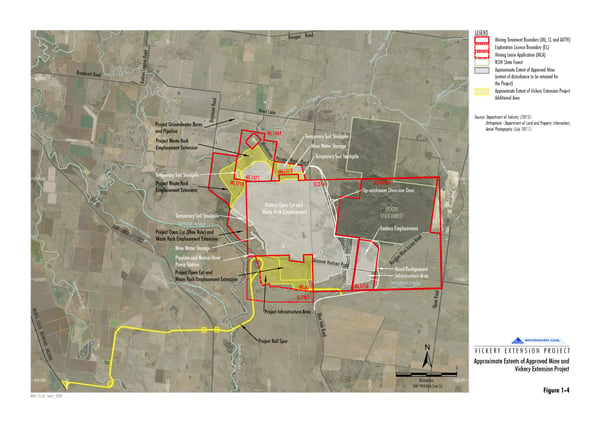 "Vickery will be a predominantly metallurgical coal mine and will service established and emerging markets for high quality coal in our near region. Vickery will entail capital expenditure of $700 million is expected to generate employment for 500 people during the construction phase and 450 ongoing operational roles," Whitehaven Coal said in a statement.
About 75 per cent of the workforce for Vickery will be sourced locally.
Whitehaven will primarily produce metallurgical coal for steel-making, as well as high quality thermal coal for its export markets at Vickery.
The Vickery operations will primarily produce metallurgical coal for steelmaking, with a balance of high-quality thermal coal for premium export markets in the region.
"Whitehaven continues to be cautious in allocating capital to expansion noting the evolving impacts of COVID-19 on coal markets and pricing. While there are still considerable risks and uncertainties for the global economic outlook given the continued spread of the virus, the fundamentals of our business model continue to remain robust.
"Throughout the pandemic, our portfolio of coal products have remained sough after and well sold under long term contracts to the cornerstone high-energy, low-impurity coal markets of Japan, Korea and Taiwan, as well as burgeoning markets in developing southeast Asian nations," the company said in a statement.
To keep up to date with the latest industry and project news, subscribe to iSeekplant's Flapping Mouth blog below.