Purchased by Winten Property Group in 2016 for approximately $80 million, the 158 metre skyscraper is one of the most ambitious builds on the North Sydney skyline. With completion slated for September 2020, the project is projected to finish at around $1.2 billion (originally estimated at a $1 billion).
With over 2,700 construction jobs utilised in creating the tower, the final product will offer the following:
35 levels of premium office space
2,300sqm of retail space and 1,600smq for food and beverage
5 Star NABERS and 5 Star Green rating
Superior city commutes, with an estimated 4 minutes to Barangaroo and 5 minutes to Martin Place on the new Sydney Metro
Deliberate focus on surrounding streets to generate a "laneway culture"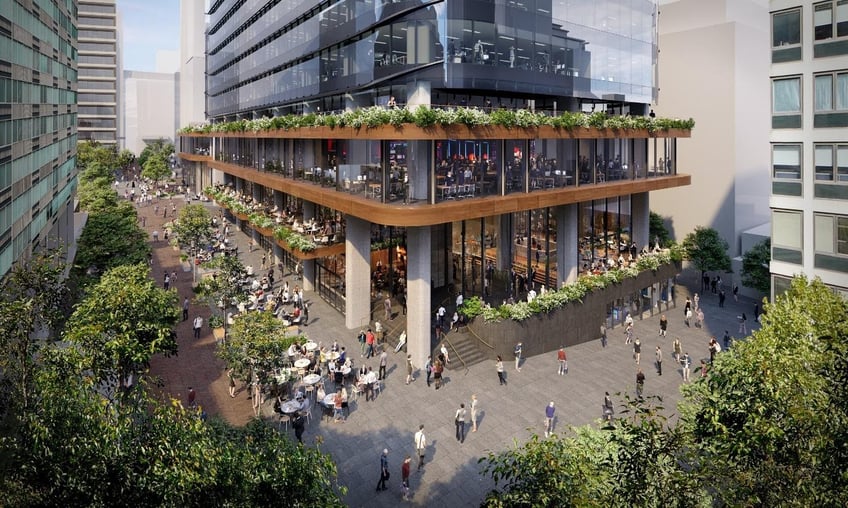 Stuart Vaughan, Winten Development Director, said: "We are demonstrating our commitment to job creation in North Sydney and helping stimulate the growing local economy. Over 80 per cent of the building is now leased to several high-profile corporate companies including Nine, Microsoft and SAP".
Nine has committed to 17,700sqm of space alone, with plans to open studios and a newsroom onsite. In July 2019, Microsoft confirmed they will move their current North Ryde headquarters to Denison Street, taking up to 10,665sqm for an initial 10 year lease.
Architects Bates Smart created a stylish yet challenging design aesthetic utilising an inclined façade and curved glass panelling, however the site itself has presented its own difficulties.
"Multiplex has been challenged by the tight site, with building works occurring from boundary to boundary and many other large sites within close proximity," said Multiplex Regional Manager, David Ghannoum.
The project was awarded to Multiplex in May 2018 after the original deal with Grocon was terminated in January of that year in the midst of a refinancing deal.
It's never been more important to stay up to date on industry and project news. Subscribe now to iSeekplant's Flapping Mouth blog below!