Construction is set to begin on the $2.3 billion Imperial Square project on the Gold Coast, delivered by Azzura Investments.
The project, which includes a 108-level super tower, will be one of the largest buildings in Australia.
Led by Robert Badalotti, included in the stage one plans are an 18-storey tower with 145 apartments and a boutique 200-room hotel at 59-73 Meron Street, Southport.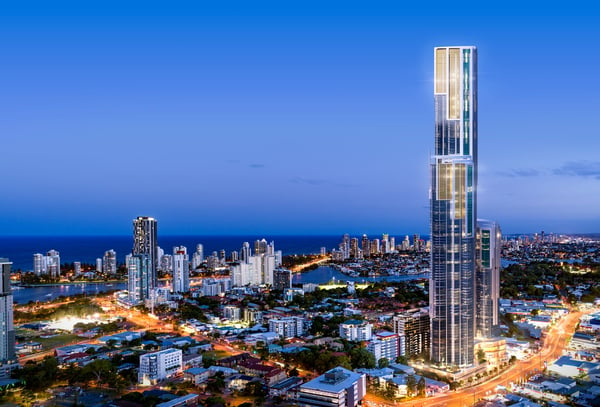 The development application for the $155 million tower was approved in January, with preliminary approval given to the rest of the works in 2016.
It is the smallest of the four towers planned on the site, with construction of the tallest building at least five years away.
Stage one, dubbed 'Regal Residences', had a mixture of one, two and three-bedroom apartments including an infinity pool, two rooftop penthouses, spa, gymnasium, executive lounge and restaurants.
Azzura chief executive Robert Badalotti said Imperial Square was designed to become the new "cosmopolitan heart" of the Gold Coast's CBD.
"We are absolutely delighted to be bringing a project that has been the subject of meticulous planning and design for more than three years," Badalotti said.
"This is a defining project not only for Southport city's cosmopolitan hub but for the Gold Coast in general, taking advantage of the enormous infrastructure such as the light rail, the new Gold Coast Hospital and Griffith University."
Member for Southport Rob Molhoek said the only way was up for the area, which had suffered a blow from Covid-19.
"[There are] an expected 300 jobs in this stage alone and a huge investment in our Southport CBD," Molhoek said.
"It is great to see such confidence in our city with the very uncertain year we've been having."
To keep up to date with all of the latest project news, subscribe to iSeekplant's Flapping Mouth blog below!