Quick Links
The Sacrifices Businesses Had to Make
Going Digital
Where We Stand Now
Home Life
Looking to the Future
COVID-19: The Good, the Bad and the Ugly
The People Behind the Responses
The year that was 2020 will always be remembered as the most tumultuous year in our living history. With lockdowns, border restrictions and travel limits, there isn't a business on earth that wasn't affected by the impact of COVID-19.
In late November 2020, we at iSeekplant decided that it was important to document what exactly was happening to our industry and how this impact would change over the coming years.
So, we reached out to business owners, employers and labourers in the industry and asked them to fill out our Industrial Services Happiness Index Survey to find out how they're feeling about COVID-19 and how it impacted their business.
Some responses were what we expected, but others showed a different perspective. Read on to find out how our industry was affected by COVID-19 with data from real people.
The Sacrifices Businesses Had to Make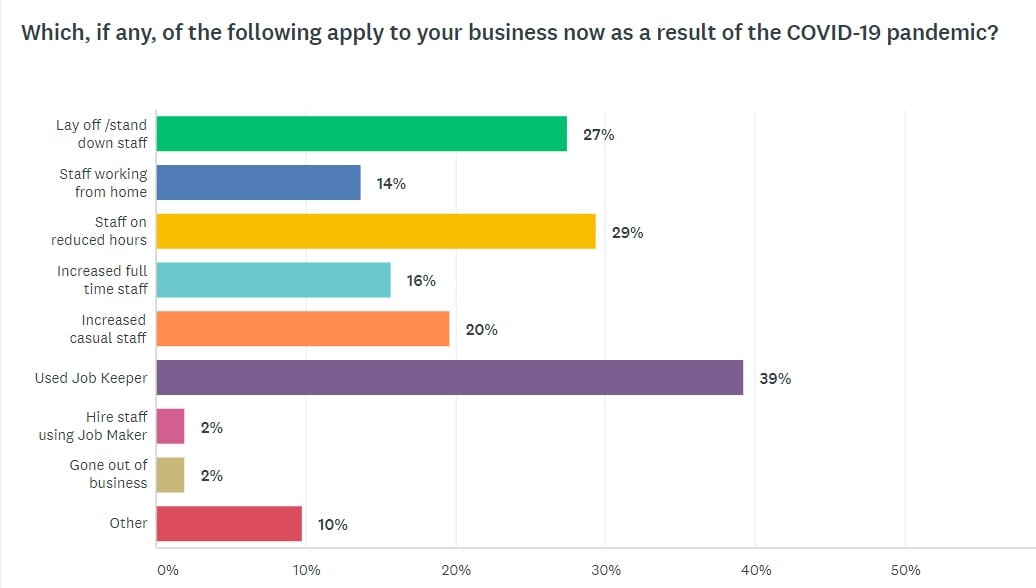 We asked our respondents what sacrifices they had to make over the last year to ensure their business survived the COVID-19 pandemic. As expected, a lot said they needed to stand down or lay-off staff. Unfortunately, 27% of our respondents had to make this difficult decision. 29% also said they had to reduce staff hours, and 14% said they had to move staff to working from home arrangements. A further 10% said they struggled to find consistent work for their business, and 2% said they actually went out of business because of the pandemic.
In a more positive light, some businesses were able to use government packages to help their business get through the last 12 months. 2% of respondents used Job Maker to hire staff, and a whopping 39% said they used Job Keeper to keep staff on. At least 16% of respondents increased full-time staff, and 20% increased casual staff.
Going Digital

With travel and border restrictions put in place throughout Australia, it was difficult for businesses to use traditional in-person methods to find work. Therefore, we expected an increase of businesses investing in digital marketing products to find work. 43% said they had invested in paid digital marketing like Google Ads and Facebook sponsored posts in the last six months, whereas 57% said they hadn't.
Where We Stand Now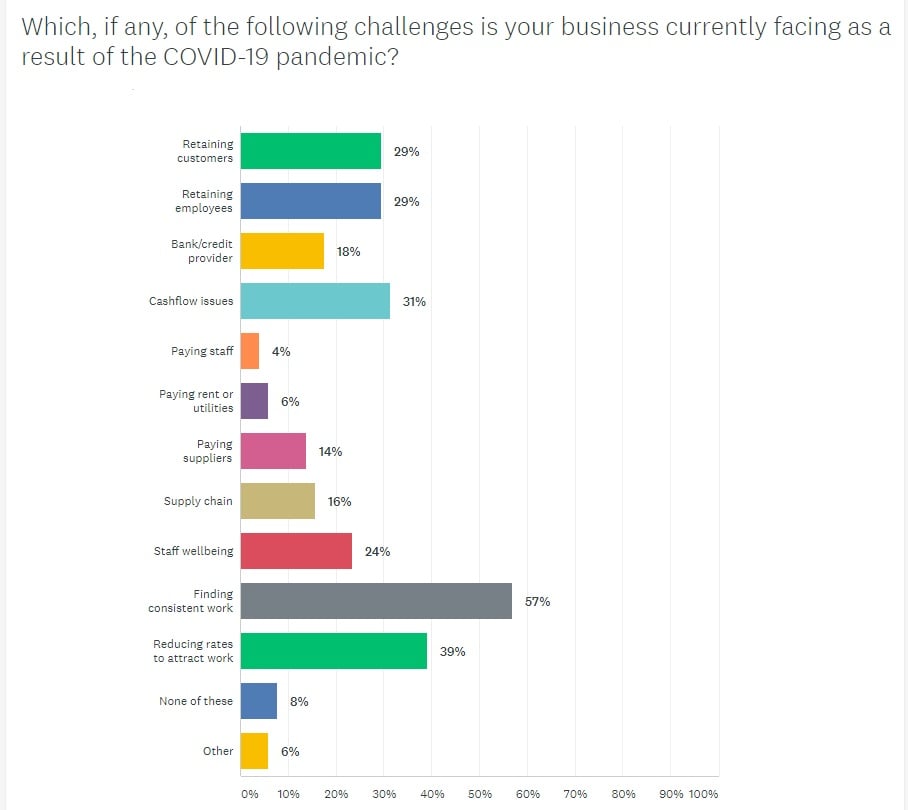 We also asked our respondents what challenges they were currently facing as an effect of the COVID-19 pandemic. Right now, 'retention' is a big issue within the construction industry. In fact, 29% of respondents said they had difficulty retaining customers, and 29% also said they had trouble keeping employees.
Cash flow was another challenge our industry is facing with 31% of survey-takers saying they're currently having cash flow issues. 4% said they're struggling to pay staff whereas another 6% said they're struggling to pay rent or utilities. Overall, 18% said they found their bank and credit providers unsupportive regarding their cash flow issues.
A massive 57% of respondents said that their most significant issue right now was finding consistent work for their business with another 16% saying there are issues within the industry's supply chains. In response to the lack of work, 39% of businesses said they had to reduce their rates in order to attract work to keep their business afloat.
And finally, another major challenge construction businesses (and probably businesses in every industry) are facing is their staff's mental and physical well-being. 24% said they're currently facing issues with their employee's health due to the impact of coronavirus.
Home Life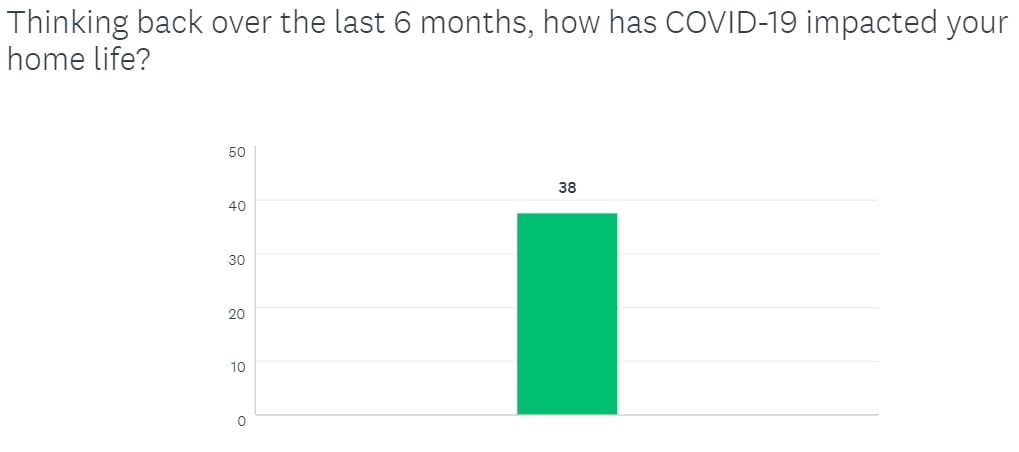 We know that globally, this pandemic has put a significant strain on our health especially the mental stress of being out of work and having an unsteady income. That's why we asked our survey-takers how COVID-19 has impacted their home lives.
We asked respondents on a scale of 0 – being not impacted at all at home, to 50 – being significantly impacted by COVID-19, how had their home life been affected? The average response was around 38.
Looking to the Future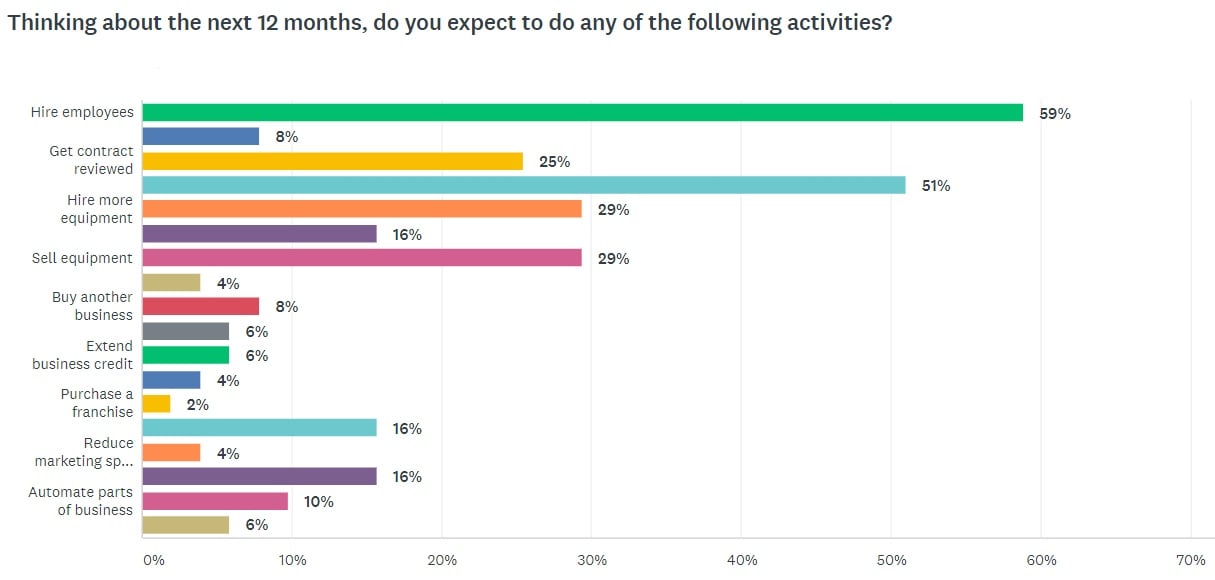 With 2020 well and truly over, we asked our respondents to look ahead in 2021 and predict what they think their business is going to do in the next 12 months.
Big Business Decisions: Hiring, buying, expanding and investing in an online presence
Some survey-takers felt confident about the next year with 59% saying they will most likely hire more employees and another 51% said they'll have a contract reviewed or drafted.
In terms of big business decisions, 4% said they will expand internationally, and 2% said they'll purchase a franchise. 8% they will buy another business in 2021, and 6% said they will merge with another company.
A massive 51% also said they plan to purchase more equipment in 2021 and 29% saying they're hiring more equipment and 16% will lease out more equipment.
Respondents also showed that they will focus more on digital changes to their business. For example, 16% said they'll invest in a marketing plan, 16% also said they will purchase software, and another 10% said they'll automate parts of their business.
More Business Cuts: Selling, laying off and winding down
Unfortunately, a lot of businesses will need to make tough decisions over the next 12 months. 8% of our survey-takers said they'll need to stand down or lay-off staff in 2021. A further 29% said they will need to sell equipment. 6% said they'll need to extend their business credit to stay afloat and 4% said they'll have to reduce their marketing spend. Sadly, 4% said they'll need to wind up their business.
COVID-19: The Good, the Bad and the Ugly
Finally, we asked our survey-takers if there were any other comments they'd like to make about how COVID-19 has impacted their business. We've taken a mix of responses to show the good, the bad and the unfortunate ugly side of how construction businesses have been affected.
The Good and Okay-ish
"Overall, it has been a positive experience for our business."
"The government assistance has saved our business; we now just need to get steady work so we can keep our employees after the Jobseeker subsidy stops."
"We became busy for a period but has now led to some uncertainty with state and federal project and department funding coming through too slowly."
The Bad
"Work dried up during Covid – 19. All local and regional councils are out of money. It will be later in the year before they can fund new projects in their areas."
"The border closures/restrictions have impacted the movement of employees between jobs when interstate. Some required quarantine for a fortnight."
"Not all businesses can run from a Zoom meeting, but from a person to person contact and meeting. Attracting new business is hindered by a lack of movement and travel."
"It has driven Rates down in the Market to which the Hire Rates were reasonable before this."
The Ugly
"COVID 19 has cost my business around 90% of work and funds."
"It was a very bad year. It was the first year our business did not make a profit and went backwards in turnover. We lost staff and have not been able to get them back. We've had to look for work outside of our local areas and lower margins to find work."
"COVID impacted my business severely due to most of my clients being heavily impacted - to diversify during a pandemic is extremely hard."
The People Behind the Responses
You might be wondering, who were these people that responded to our survey? Where did they come from? Well, we made sure to ask some background questions about our respondents to ensure we got a mix of perspectives from every angle of the industry.
Here are some fast facts about our survey-takers:
Location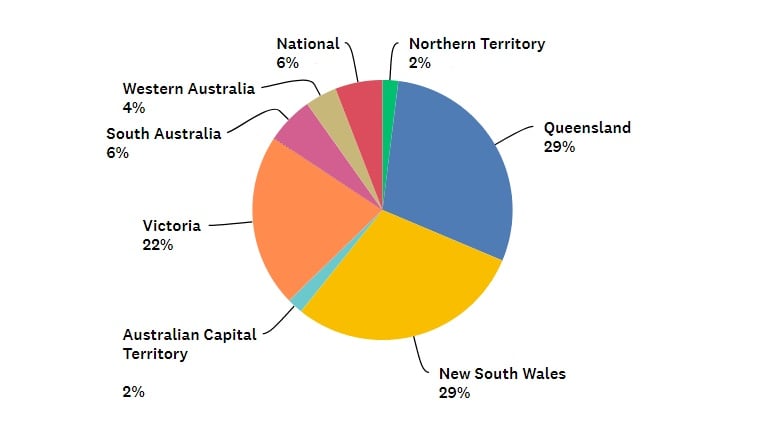 Area of Work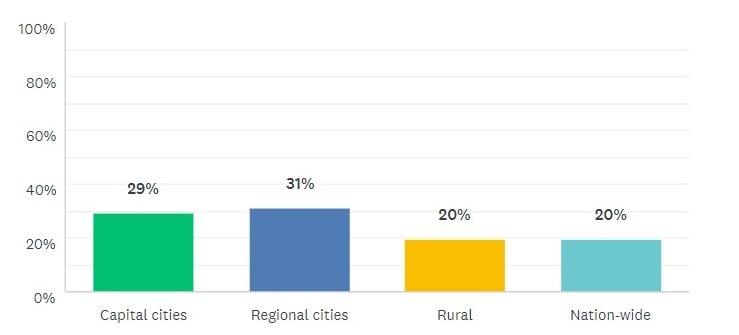 Business Size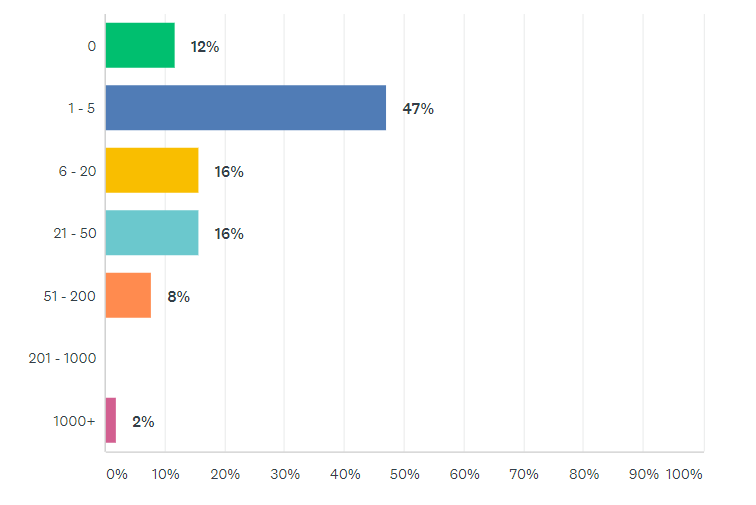 Business Duration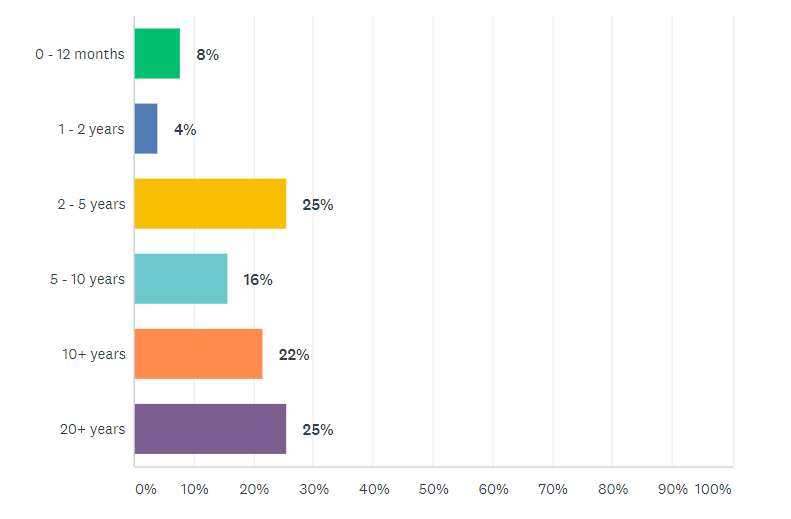 But wait, there's more...
If you're interested in reading more data-points we gathered from our Industrial Services Happiness Index Survey, make sure to check out our article 'The Biggest Pain Points for Construction Businesses in 2021'.
If you'd like to be the first to read about more industry trends, make sure you subscribe to The Flapping Mouth blog below. Keep an eye out for any other survey's we run to have your say.
If COVID-19 has impacted you and you're looking to take your business online, contact iSeekplant today and win more work.