This International Women's Day, we wanted to feature someone special, so instantly, we thought of Ruth McWilliam from MAXIpickers. If you looked up the definition of an 'Aussie Battler' in the dictionary, a picture of Ruth would be there featuring a big cherry picker.
The day we set up to do an interview, Ruth had already been out on-site at 2 am in the morning and was heading to her next job at a mining site. She was exhausted from flying back from the Australian Small Business Champion Awards the day before but luckily I got the opportunity to catch her for about 20-minutes. After speaking with Ruth, her passion for her machines, her commitment to her community and her outlook on life shone through.
I started off by asking Ruth to tell me about herself and her business. She began by telling me how she hires out truck-mounted insulated cherry pickers and specialises in work around powerlines. Tree lopping around powerlines, window washing around powerlines, fixing powerlines – you name it.
Ruth was quick to tell me that she wasn't the one performing the actual service, but she is the operator who goes up with the technicians. She's got twelve cherry pickers on trucks operating in total, and she's lost count of how many cherry pickers she has. She's become known around Australia for buying cherry pickers and even sourcing them for parts.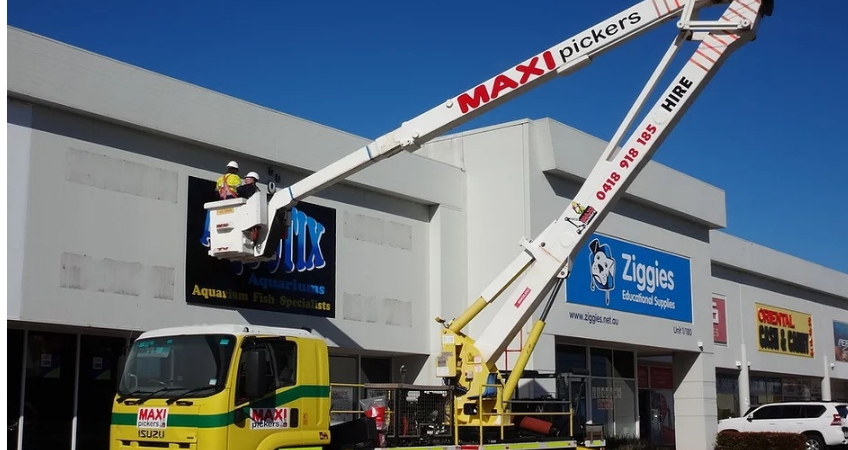 From Humble Beginnings
After talking a bit more, Ruth and I got onto the topic of how she even started in this industry and what fateful events led her to where she is today.
"I was working as a single mum. I had three young kids. I started working one day a week in a bar at the races. I was and have always been passionate about working. So, I started cleaning houses and believe it or not, I didn't even have a driver's licence, so I was riding my bike around cleaning houses."
She then told me the story of how she met a gentleman in Perth who was trying to move his business down south to Bunbury. She started by cleaning his offices but eventually helped him with mapping and drafting because she was a draftee by trade. After working with him for a few years setting up policies, she felt like she had learned how to run a business. Her boss at the time sold his business, but Ruth still kept getting calls for cherry pickers.
"I used to joke and say 'gee, I should just buy a cherry picker', and so one day I did. And I had a lot of knockers, and they all said 'what does she know' but what people don't know is that learning to operate a truck is the easy part. It's how to run a business, how to manage your time, how to work with people, how to treat your clients – that's the hard part," Ruth explained.
Ruth went on to say how it's the personal touches that make her business. "When you go on my website, you see me. When you ring my number, you get me. The truck turns up; you get me. You get in the bucket; you're stuck with me."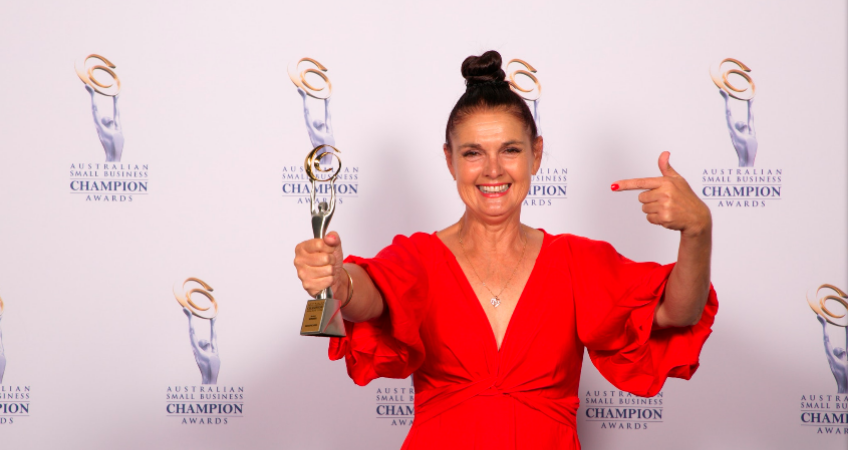 The Australian Small Business Champion Awards
It's not just Ruth's clients who love her – she's been recognised on a national level. Just last week, she was flying out to the Australian Small Business Champion Awards in Sydney. It was the 5th year in a row her business was nominated for the 'Services' category.
In her second year, Ruth said that someone at the awards asked her what she did, and they told her she would never win. "They said you don't have a warm, fluffy business."
But this year, Ruth could feel something was different and admitted she was nervous.
"I sent an email to all of my clients. Every single one of them on the plane, you know, just telling them thank you so much and how much I appreciate them. And when I was trying to get ready that night, all their messages were flooding through."
As the fates would have it, Ruth's business – MAXIpickers – did win that evening and she was shocked.
"I always say I feel like Mother Teresa in a cherry picker. I love that when someone rings me and says, 'hey Ruth, we need you!' And that's what makes me feel good about what I'm doing, and it's what keeps me going, and I'm lucky I've found a niche where I'm very specialised, and I do well."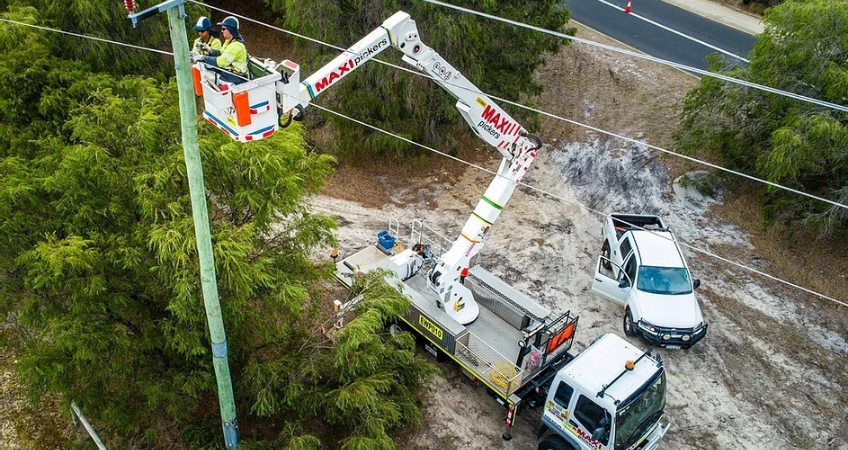 Going it Alone Through COVID-19
After hearing about Ruth's day-to-day, I wondered how she could possibly do all this on her own, so I asked if it was just her.
"So basically, for the first nine and a half years, it was just myself, and that's what hurt me through COVID because I didn't have any employees…" Ruth told me.
We then discussed how the Government packages that were put in place for WA didn't apply to her two businesses – so she didn't get any help there. But COVID-19 did impact her business in a surprising way.
"My trucks were out there; they'd never been busier because obviously everyone was working from home, they needed communications more, powerlines as well, plus we had three freak storms over here in WA and just had fires as well," she said.
This is where Ruth's passion for her machines really showed.
"I name all my trucks," she giggles, "…and everyone tells me how much they love them. They're simple and reliable. When customers get in trouble, they ring me. It's just how it works."
Another unexpected impact from COVID-19 for Ruth was the lack of workers.
"We just couldn't get workers, and we still can't get workers here in WA, and I know anyone who's got a little trade business is exhausted right now," she said.
"One thing COVID really brought out is how much we need just real tradesmen. You know, they're now going 'wow, we have a lack of tradesmen'… It's really come out that Australia just doesn't have the tradesmen they need."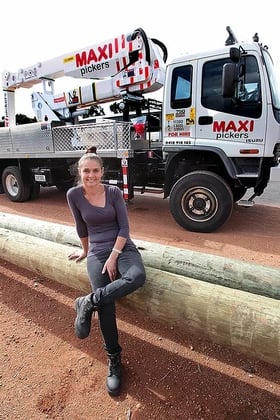 Some Advice from Ruth
We then wrapped up the interview with Ruth telling me how she's feeling about the upcoming year and what plans she has for her business.
"With my business, I never feel worried. Like anyone, when I started my business, I was worried, but I've always played it very safe, you know, I had one truck paying off one truck and then two trucks paying off one truck, and now I've got twelve trucks paying off one truck."
Ruth expressed her real passion here, saying she believes the work will keep coming, and she firmly believes that anybody who wants to get out of bed and work can do so.
"There is so much work out there - just simple work… getting out there and working, it just feels good, it's healthy. I can't emphasis how healthy it is."
Ruth and I ended our interview with her motto that she lives her life and runs her business by.
"My company motto has always been - if something doesn't look right, feel right, sound right or smell right – it's not right. Your gut feeling is such a big thing."
You can find Ruth on her website, MAXIpickers, Facebook or her iSeekplant profile.
Take Your Business Online with iSeekplant
Ruth is one of our premium members on iSeekplant. We're Australia's largest online construction hire marketplace, with over 14,000+ members listed in our directory. Sign your business up today to generate more enquiries for your small business.