Australia's biggest interstate rail project has been green-lighted to begin construction on the 1,700km Melbourne to Brisbane Inland Rail project.
The Federal Government has committed a total of around $9.3 billion, including a previously assigned $900 million, for the entire project, which will deliver significant infrastructure improvements for freight movement across Australia's three biggest states.
NSW Planning Minister Anthony Roberts said, "I'm pleased to see both Governments give the green light for the first Inland Rail project to begin."
The first stage of construction work will be focused on the Parkes and Narromine stretch of rail, after the project gained "final approval under environmental laws". Inland Rail has a 10-year delivery timeline for building the much-needed rail corridor from the Melbourne suburb of Tottenham to Brisbane's Acacia Ridge.
Deputy Prime Minister, Michael McCormack said that "communities across regional Victoria, NSW and Queensland will see the benefit of better access to markets at home and overseas, as well as ensuring Australia meets the challenge of our freight task which is set to double."
"We are bringing together Federal, State and Local Government and the ARTC to maximise opportunities for local and Aboriginal employment and procurement during construction of Inland Rail," the Deputy PM said late last year.
"This [project] will provide opportunities for jobs and skills development."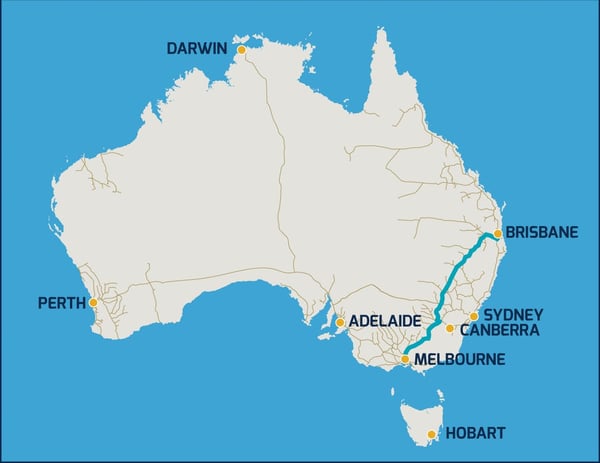 It had been announced earlier that building materials for the project would be sourced locally, with reports confirming that domestic producers (specifically Liberty OneSteel, Calvani Crushing and Ausrock Quarries) had been contracted for supply of materials like steel, capping and ballast.
The new route promises to cut transit time between Tottenham and Acacia Ridge by up to 10 hours, and will also include a 5.3km rail line connection to Broken Hill.
The faster transit times will also help reduce logistical costs, at an estimated $10 per tonne.
While some critics have questioned the max speed of the railway, capped at 115 km per hour, the industry welcomes the much needed rail corridor, which will reduce truck congestion on regional roads and deliver thousands of construction jobs.
Source: Australian Government