Brought to you by the construction professionals who have 1.5 million ranks, across 108 machine classes, and 12,000 locations in Australia.
The Rules Cont..
The Chicken - Your Customers
Your customers are the chickens in this metaphor – but in actual fact, they are humans. Human beings interpret things using visual clues and pictures. A picture, they say, speaks a thousand words to a human, but are silent to the bots (and I think chickens are relatively blind, so this is where I'll finish the metaphoric references).
Humans won't ever read your website. In fact, in this day and age of limited attention spans (according to Microsoft Corp, the age of smartphones has left humans with shorter attention spans than a goldfish), the best you can hope a human will do is read only headings, first sentences and bullet points. Even then, it's highly unlikely anyone will sit down and read your site.
Most humans will land for only seconds on any page, sweep across it from up-to-down, left-to-right and make an instant value judgement on what the page is about without reading any text. They will then flick through a couple more pages to confirm their understanding of what you can do for them.
After doing a few seconds sweep, the next action you want them to take is to email you (via an enquiry form) or call you. In our industry – nothing can really move forward without a phone conversation, so the number 1 goal for your chicken audience is to inspire them to call you.
In essence – you describe your services in words for the benefit of the bots and ranking, and you use pictures to communicate with humans. Together, you've got a site that will both attract traffic, keep it and convert it to a customer.
Google's rules are SIMPLE to say, but complicated to apply.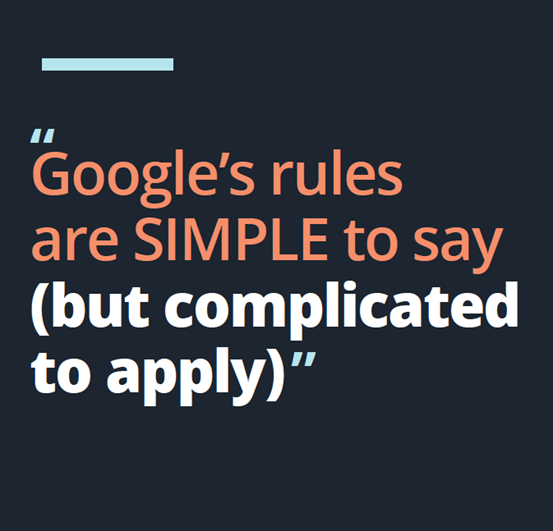 Google doesn't care if its rules are difficult to follow, or don't really work for our industry.
Google's rules are simple and remain unchanged since the beginning of their business model. Paraphrased in my words, not theirs:
Have a site that is full of useful content, structured in a way that can be navigated across all device types, that clearly describes what you do and where you do it, and the rest will take care of itself.
To read the complete guide, click here to download the eBook.