Brought to you by the construction professionals who have 1.5 million ranks, across 108 machine classes, and 12,000 locations in Australia.

From Top to Bottom
The bots read a site from top to bottom (like a human would) and weights the content in terms of importance from top to bottom as well. Google assumes – that if the content or keyword is at the top of the page, it's the most important content on your page, and is the strongest indicator of the type of work you do.
This means – that keywords present 'above the fold' (the fold is the bottom horizon of your browser as it loads before you need to scroll) weight much more heavily than keywords present at the bottom of a page.
Planning a rank-able page
Before designing your site or creating a single page of content, you need to go through the following process of asking yourself these questions – and you can only answer these questions if you've done a good amount of keyword research:
WHAT SERVICE YOUR PAGE IS ABOUT (i.e. Excavation services in Newcastle)
THE MAIN THING PEOPLE CALL YOUR SERVICE (target keywords such as 'Excavator hire Newcastle')
THE OTHER THINGS PEOPLE CALL YOUR SERVICE

(i.e. diggers in Newy) aka Latent Semantic Indexing (LSI) Keyword
WHAT PEOPLE CALL THE PLACE WHERE YOU WORK (i.e. Newcastle, Central Coast, New South Wales)
THEN MAKE SURE ALL OF THESE ARE ON YOUR PAGE MULTIPLE TIMES and in the right places
And for every service, and its corresponding keyword – it's ONE PAGE, ONE KEYWORD. Every single thing you do in your business should have its own complete page. Rinse and repeat above as required.
The Right Places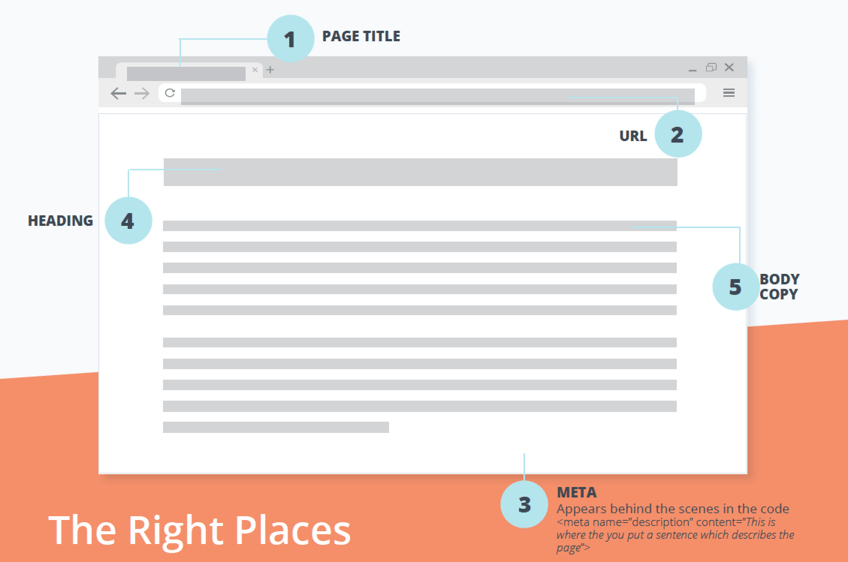 THE PAGE TITLE: Is the description of the page that appears in the top of the browser of any open tab
THE URL: Is the address of the page e.g www.billysbobcats.com.au/bobcat-hire
THE META DESCRIPTION: Is the description of the page that appears in the Google ranks. Google shows the meta in search results when the searched for keywords are within the description
THE HEADINGS: Is the headings of the blocks of text on the page
THE BODY COPY: Is the prose describing your goods or services. This is where you bury all the latent semantic indexing (LSI) keywords you discover in your keyword research and find clever ways to repeat and replace these words, so Google gets a complete keyword picture of what your business offers

To read the complete guide, click here to download the eBook.