How to build a DIY retaining wall:
If you are looking for your next DIY project, or need a solution to hold back a dirt wall for a new walled garden or concrete driveway, a retaining wall is a solid DIY solution. A block retaining wall is a structure built to hold against the lateral pressure of soil, typically built where there is a dig out of a slope or hill. These retaining walls are simple enough for a nifty weekend warrior to tackle, though you could still hire a contractor for all or some parts of the project.
The great thing about a DIY retaining wall is that it's a fairly straight forward DIY residential project. If you've had experience with marking up and pouring concrete you'll have a leg up, but otherwise it's a great first DIY project for anyone with a smidge of construction or manual arts experience. Projects like this also make for a great introduction to construction work for teenagers, and could even prove to be a family bonding/educational experience to kill time on the weekend.
With all this in mind, we've compiled a basic step-by-step guide, along with a few tips and tricks to help you visualise, plan, and tackle a DIY retaining wall project.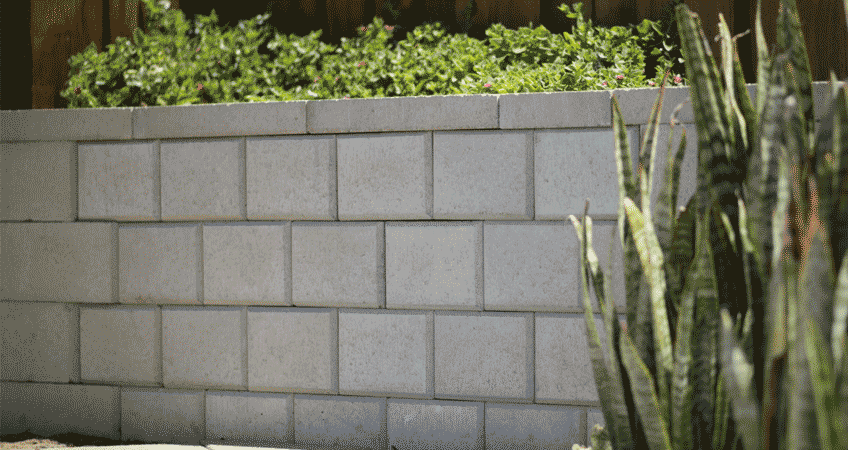 Image via Midland Brick
How to build a block retaining wall:
Step 1 - Know the lay of the land
Contact Dial Before You Dig and identify any subsurface utilities. Work out your property boundaries.
Step 2 - Draft your wall design
Work out the desired location, height and scale of your retaining wall.
Step 3 - Finalise plans and mark out area
Finalise your plans and ensure you have permission to build - depending on your State/Council, your wall may need to gain a neighbours approval if it is close to their property boundary. Mark out project area with spray or pegs. Be sure to mark out a wide enough area to allow room for a plate compactor (about 450mm wide).
Step 4 - Excavate area and trench
Using a backhoe or mini excavator, excavate a trench to allow for 130mm of compacted road base and 30mm of sand and cement mix. Remove excess soil responsibly.

Step 5 - Lay and compact road base
Lay 150mm of road base, and use plate compactor to reduce road base to 130mm.
Step 6 - Lay steel bar grid and set up wooden forms
Lay wooden forms, and lay rebar or reinforcing mesh. For rebar, install ½ inch in a 1 feet grid pattern with vertical rebars (centered and just under wall height) spread roughly 2cm apart along the length of the wall.
Step 7 - Pour footing
Lay cement and sand mix. Make sure to keep it damp, not wet.
Step 8 - Level the cement/sand mix
Screed the cement evenly.
Step 9 - Lay first row of retaining wall bricks
If ground is sloping (climbing wall) - start at lowest point. Ensure blocks are interlocked and set firmly in cement.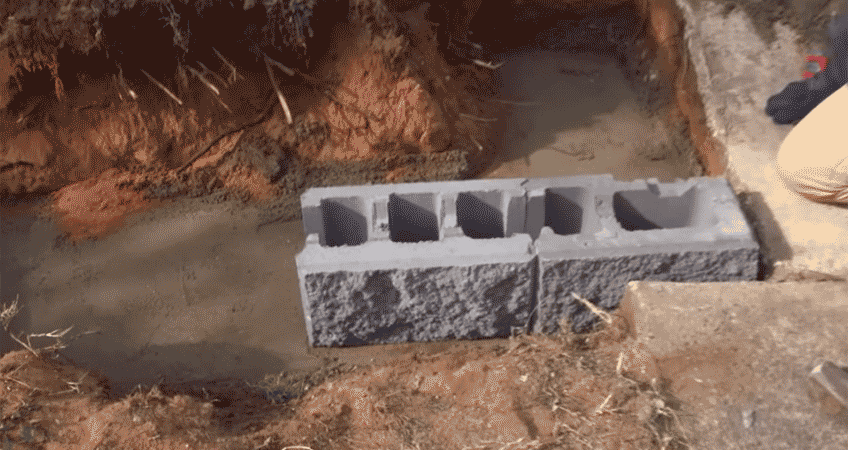 Image via Adbri Masonry
Step 10 - Fill first layer of bricks with blue metal aggregate
Fill bricks with gravel (blue metal aggregate). Ensure course is level.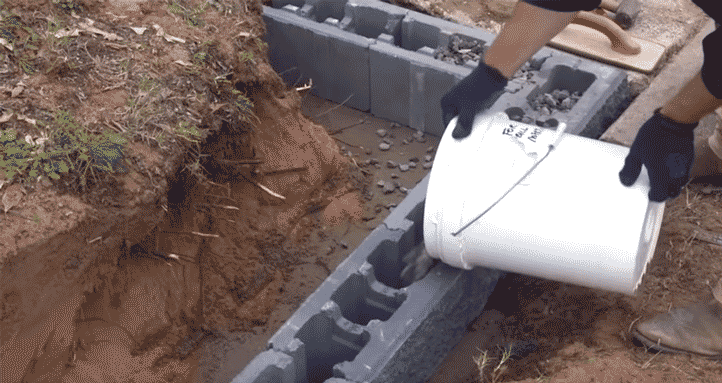 Image via Adbri Masonry
Step 11 - Optional - Install drainage pipe
Depending on your environment, if it rains often, it could be beneficial to install a drainage pipe on the soil side of the wall. This will help prevent pooling and mitigate drainage issues that may erode the base of your project over time.
Step 12 - Lay remaining layers of bricks
Always infill and backfill with each layer - continue to fill with blue metal aggregate.
Step 13 - Remove lugs from top layer
Using a hammer, remove the lugs (see image below) from the top layer of the bricks. Lugs are the bit of concrete that protrudes out from the rectangular shape of the block, where removal allows for the top layer of bricks (capping stones) to sit level.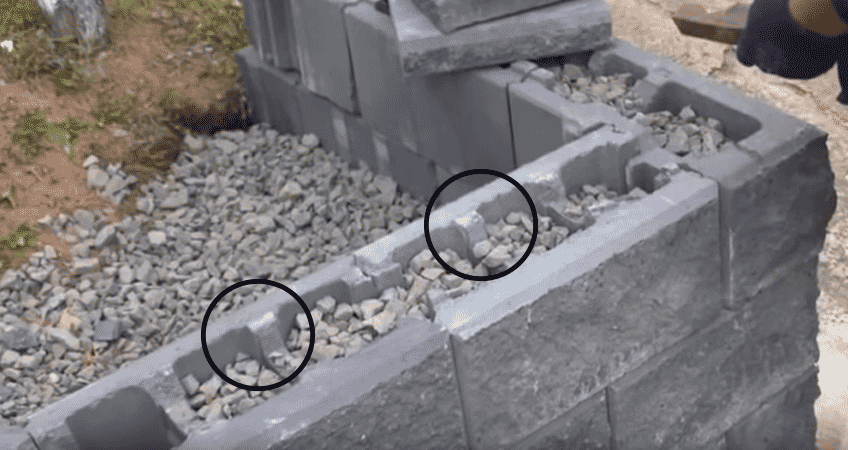 Image via Adbri Masonry
Step 14 - Install capping stones
Lay the top layer of bricks and glue down with a landscape adhesive. Unlike the blocks underneath, these capping stones are typically flat and solid.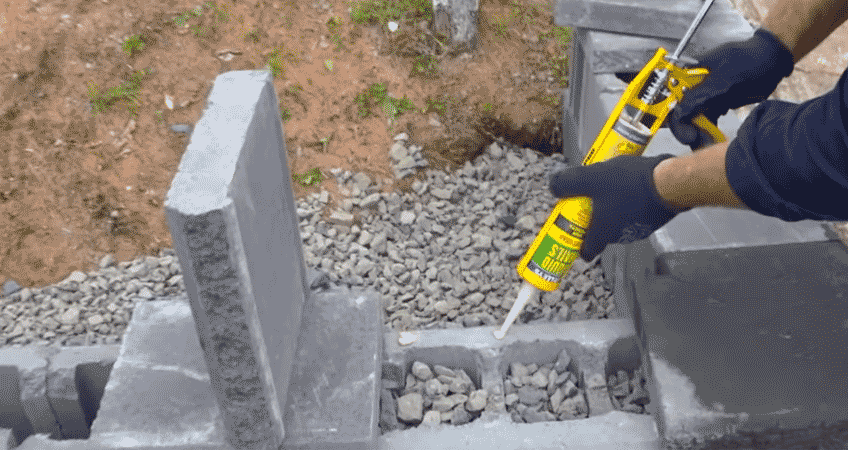 Image via Adbri Masonry
Step 15 - Allow everything to dry
You're all set! Just be sure to let everything dry and cure over a week period before leaning, walking or sitting on your new retaining wall!
What machines do I need to build a retaining wall?
From land clearing and excavation to concrete pouring, iSeekplant has you covered with all the services, machinery, and equipment you need for your next DIY project!
What materials and equipment will I need to build a retaining wall?
Interlocking retaining wall blocks - concrete blocks that interlink and stack
Road base - typically course rocks or crushed concrete
Rebar - steel bars
Sand & cement mix
Water supply & hose
Wooden forms and pegs
String line for forms
Wheelbarrow
Measuring tape
Shovel
Spade
Spirit level
Wooden float or hand float
Cement trowel
A hammer
Retaining wall cost?
The cost of a retaining wall can vary greatly depending on materials used and scale of the project. As a ballpark estimate for a DIY retaining wall, you could spend anywhere from $400 to upwards of $2000 for the whole project, covering materials, machinery and equipment hire.
Where to buy retaining wall blocks?
In Australia, you can typically find interlocking blocks going for $3 to $8 each at your local Bunnings or home hardware store. You will likely need a ute or pick-up truck to transport a variety of goods and materials, although some larger hardware stores now offer delivery. You can also find interlocking brick suppliers online who offer pickup and direct shipping. Be sure to purchase the right block caps too.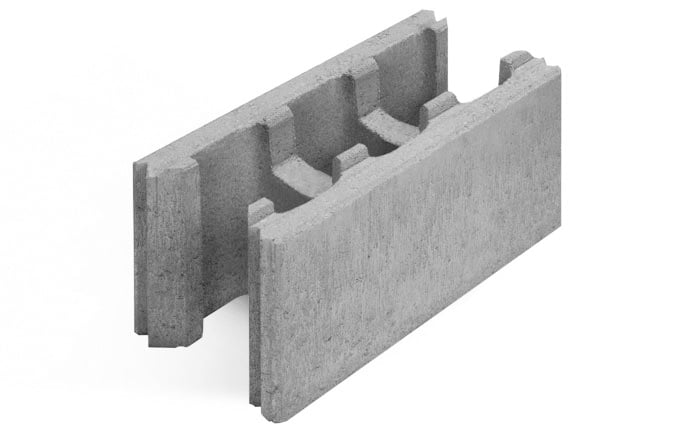 Image via Adbri Masonry
DIY retaining wall vs. retaining wall contractor
DIY Pros:
Great way to kill time on the weekend
Good learning experience for kids
Solid weekend experience/challenge
Boasting rights at your next family BBQ
Chance to hone in your handyman and bricklaying skills
Great alternative to the gym
DIY Cons:
It's not relaxing work and may take a full weekend
Budgeting may go awry without adequate research for materials and machinery (comparing prices amongst suppliers)
Lots of heavy lifting
Contractor Pros:
They offer a higher standard of quality as they complete projects like this regularly
You know what to expect - the design and time frame of construction
They can complete the job during the week - while you are at work
They can typically complete the task far quicker
Contractor Cons:
You can't claim it as a personal project
Typically spend more due to the cost of expertise and labour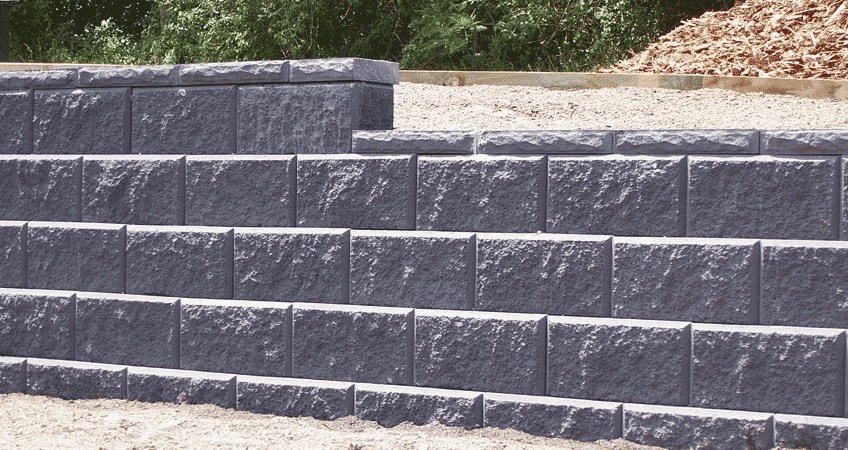 Image via Hunterstone
In light of this, our directory is chockablock full of suppliers, machines, and equipment to help you with your newest residential or commercial challenge. From land clearing and excavation to concrete pouring, iSeekplant has you covered with all the services, machinery, and equipment you need for your next DIY project!
For more DIY projects - check out our other guides on building a pool and building a concrete driveway.