The current New South Wales Government has announced plans for four state-of-the-art fast rail routes connecting Sydney to a collection of growing population centres across regional NSW, along with a direct route to Canberra in the Australian Capital Territory.
Alongside the obvious benefit of job creation, the plan would significantly improve business and transit capabilities between Sydney and regional centres in NSW, as well as between Sydney and Australia's national capital.
The current plan would realise high-speed rail links from Sydney to Canberra, Goulburn, Central Coast, Newcastle, Lithgow, Bathurst, Parkes (a prominent hub in the $9.3b Inland Rail Project), Wollongong, and Nowra.
The proposal would see commute time, by land, between Sydney and Canberra cut from four hours to one.
"We know a fast rail network will transform NSW unlike any other project and we will make it a reality," Premier Gladys Berejiklian said.
"We need to make it easier for people to consider moving to regional NSW and there is no better way to do that than building a fast rail network."
The project envisions four major rail routes delivered within 300 km of Sydney.
Routes will be split up into the following:
Northern - the Central Coast and Newcastle.
Southern Inland - Goulburn and Canberra, ACT.
Western - Lithgow, Bathurst and Orange / Parkes.
Southern Coastal - Wollongong and Nowra.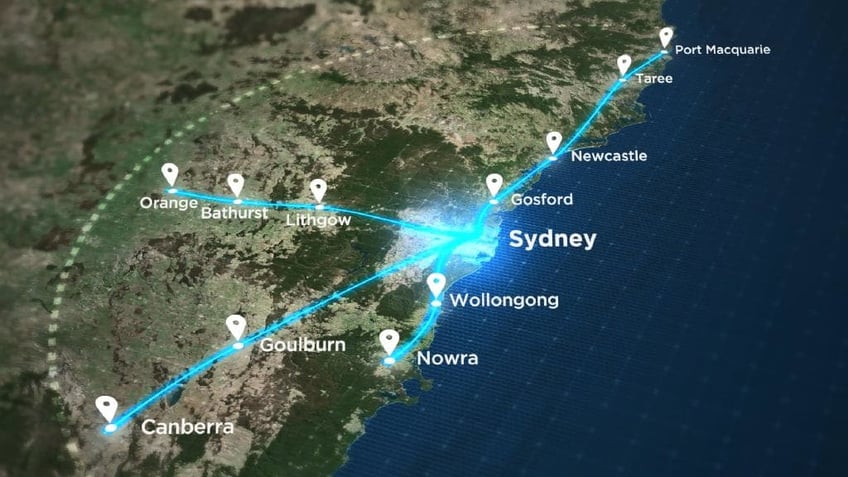 A recent report by the Committee for Sydney suggests that bolstering transit corridors between Sydney and regional hubs could lead to around $75 billion in "housing affordability improvements".
The Government predicts that this new network would cut travel times "by up to 75%".
Acclaimed industry expert, Professor Andrew McNaughton has been appointed by the State Government to determine specific routes, speeds and station locations.
Andrew Constance, NSW Minister for Transport and Infrastructure, touched on the belief that Prof. McNaughton's involvement and research will help deliver solid building blocks for a high speed dedicated rail network.
"In the immediate future, faster rail would see upgrades along existing rail alignments and provide services of at least 200km/h, slashing travel times by one third," Mr. Constance said.
"Ultimately, in the long term, high speed rail would see the development of new alignments and lines, providing speeds of over 250km/h, with examples overseas travelling up to 350km/h and higher – giving the potential to cut travel times by up to 75 per cent."
Danny Broad, CEO of the Australasian Railway Association (ARA), praised the idea and highlighted the extensive benefits that a project like this will offer regional NSW.
"Fast Rail reduces travelling times, allowing transformation of regional centres," Mr. Broad said.
"It can facilitate decentralisation and revitalise regional centres, complementing effective integrated transport options within and between our cities."
"Other key benefits include easing of road congestion, and reduction of carbon and other polluting emissions. "
The New South Wales Government is up for reelection in March 2019, with delivery of this project appearing to be dependant on their success at the polls.
Source: NSW Government