Product innovation never stops at Manhole Form Hire, where developing solutions to new market needs in the industry is a key focus.
Every Manhole Form Hire product was developed to meet an emerging market need in the manhole and underground assets industry by our innovative team of engineers and manhole form designers.
As an innovator in our industry, Manhole Form Hire strives to swiftly identify and meet emerging needs, while developing products which offer quality, efficient solutions to manhole access needs and set a high bar for future innovation in manhole access forms.
Throughout our product innovation process, from identifying a growing demand in the market, to the initial product concept, product development tailored to growing market needs, and the product's use and success in the market once released – Manhole Form Hire is guided by our principles of quality, innovation, and usability to create the best possible solution for each market need with every product we develop.
Our range of equipment has expanded with innovative product development from round drums to include square, tapered, oblong, panels which enable pipe ingress, working at height platforms, and currently, larger type pump station forms.
Working at height platforms for safer deep access chamber installation
One of our earliest product developments answered a market need for working at height platforms which offered safer access for work crews while installing deep access chambers.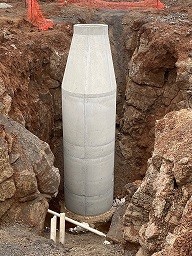 Our attention was drawn to the need for better access during deep access chamber installation by the well documented risk of serious consequences when working further than arm's length from the work face during installation.
Working around excavations, heavy earthmoving machinery, live traffic, and environmental hazards like waterways has always been a challenge for the civil construction industry.
The poor workplace health and safety record of past decades has prompted authorities to introduce much red and green tape for the protection of both work crews and surrounding environments.
Our challenge was to create a device compliant with engineering standards, that was simple to assemble with as few parts as possible, kept all critical features easily visible and accessible, and that allowed for the greatest possible mobility.
Ideally, the design would eliminate fall risk on both sides for personnel and for equipment.
The innovations, development, and testing process that culminated in our final solution
The earliest versions in our design process for a safe working at height platform consisted of a round scaffold platform placed at the top of the form to provide a stable floor, and a set of external rails for one way fall prevention.
Ensuring our product would be usable across the market required creating the design using generic parts, given the variation in diameter of structures the platform would be used across.
Our initial prototypes were further developed by an innovative engineering solution which ensured as weight was placed on the scaffold and deflection occurred, the floor plates automatically locked in and the tension immediately became evenly shared across the platform for a safe and stable support.
To improve the safety measures of the platform in the face of human error, a connection system was developed for the balustrade rails made up of a telescopic, lockable part with T pieces attached to each end designed to stay in place and secure the balustrade if locking is ever overlooked while the platform is in use.
Following this innovation and development stage intended to engineer the most effective possible solution to the identified market need – a rigorous process of financial evaluation, trialing, and review with possible redesigns, engineering, construction, and subsequent marketing is undertaken by Manhole Form Hire for every new product created by our team.
Throughout the extensive testing and subsequent redesigning and evolution of our safe working at height platform, our expert engineers, Milanovic Neale, were able to verify the product's compliance with all relevant standards.
On completing the final prototype the final testing process was begun with successful load testing which confirmed the platform's capacity of 775kg, and confirmed the absence of any risk of fatigue while the platform was supporting its at capacity weight. The platform's weight capacity successfully placed it in the Medium Duty platform category our prototype had been designed to meet.
The introduction of this product has proven to be an affordable, efficient solution which has met a genuine market need for safer access while installing deep access chambers across a wide range of projects and site conditions.
This product is now used for safer deep access chamber installation on a wide variety of worksites across Australia, supplied from our depots in VIC, NSW, and QLD, and has become a trusted product in Australia's underground access industry.