Australian mining giant BHP added 1000 women to its workforce in the 2016/17 financial year, this represents a 2.9% growth of its female representation (just short of their target of 3% growth).
While this growth shows that BHP is heading in the right direction in terms of equal employment, women still only represent 20% of the total workforce.
As one of Australia's largest companies BHP's lead on this important issue is vital, especially given the mining industry skews so heavily male.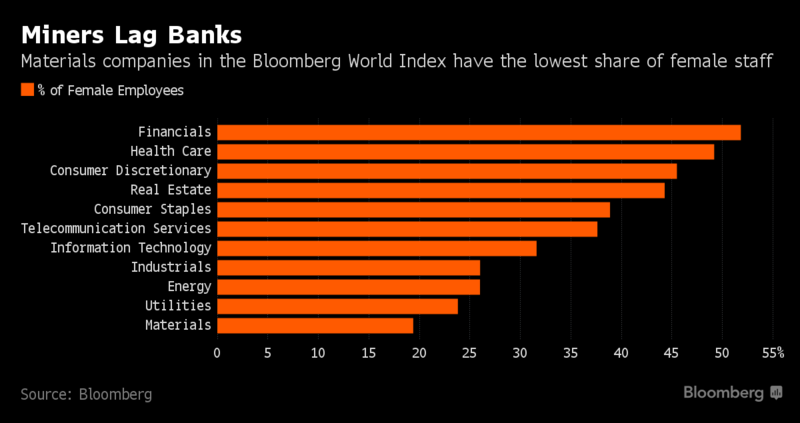 Key Advancements in 2016/17
A key factor in achieving this growth in female employment was reducing the turnover of women employed by BHP. In the 2015/16 financial year BHP the turnover rate of women was 8.4 per cent higher than men, in 2016/17 this figure fell to be only 4.7 per cent.
BHP Chief Executive Andrew McKenzie spoke about the importance of minimising turnover rates "These numbers are important. If we achieve balance in and balance out then we can move towards our goal more quickly."
Just as importantly, BHP has increased the number of women in leadership positions, Andrew McKenzie spoke to this growth as well "This year the number of female leaders rose to 18 per cent. There are 100 more female leaders in our company today than a year ago. It makes a noticeable difference to how we make decisions and how it feels to work in our teams."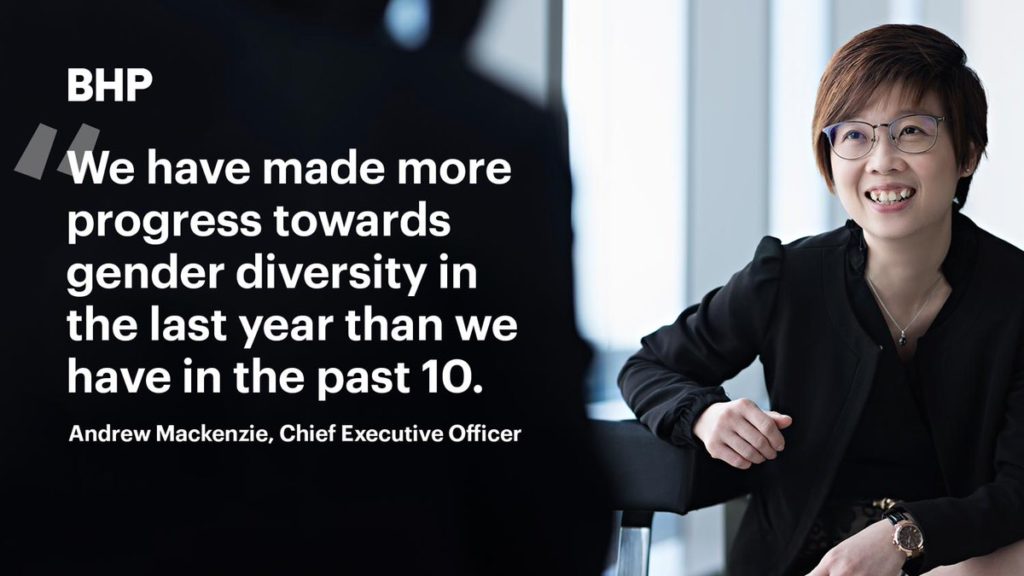 Gender Diverse Teams Are Outperforming Others
Not only has BHP acknowledged the importance of equal employment from a gender equality standpoint, Andrew McKenzie also pointed out the strong commercial benefits of gender diversity within BHP.
BHP closely measures the performance of their teams right across the board, from admin and operations to those out in the field, and what they found was that teams with greater gender diversity consistently outperformed those with lower gender diversity. In fact, teams with greater gender diversity recorded lower injury rates, greater adherence to work plans, and were better at meeting production targets.
Gender diversity at BHP into the future
In less than a decade BHP is aiming for gender equality in its workforce. It has already achieved this figure in its new Brisbane logistics plant where the workforce is currently 53% female.
Andrew Mackenzie acknowledged when setting this goal that it would require a significant change from inside the company, and revealed that a performance target for senior managers was to lift female staff numbers in their teams by 3% annually.
Below is an excerpt from BHP's Inclusion and Diversity website
To better reflect the communities in which we work, we have set an aspirational goal to achieve gender balance across BHP by 2025. It's an aspiration designed to harness the enormous potential that a more inclusive and diverse workplace will deliver at BHP, so we can leave a positive legacy for the generations to come.
BHP's Global Inclusion and Diversity Council has recommended four priorities to accelerate the delivery of a more inclusive work environment and enhanced overall workplace diversity:
embedding flexible working;

enabling our supply chain partners to support our commitment to inclusion and diversity;

uncovering and taking steps to mitigate potential bias in our systems, behaviours, policies and processes; and

ensuring our brand and industry are attractive to a diverse range of people.
Gender Diversity at other Mining Companies
Other miners have mirrored BHP's goal of gender equality with Andrew Forrest's Fortescue Metals also acknowledging that changes needed to be made.
New Power, Fortescue Metals Chief Executive spoke about the changes the miner was making "We are reviewing all areas of the business to create opportunities for women to participate in all parts of the business."
Along with this review, he announced that Fortescue would be instigating more flexible programs to accommodate returning mothers and as providing accelerated career paths for women.
Become a supplier on iSeekplant and make a free profile here
To search for machines or plant hire suppliers, click here.
Source: Prime Creative Media, Fairfax, BHP, Bloomberg