Introducing Boost Credits: A brand new way to win work for underutilised machines & services when you need it most.

On Monday the 10th of August, we are excited to launch Boost Credits - a new premium feature that gives you control over the work you win!
We've all been there, a machine is parked up in the yard or a service pro just can't fill their whole day. In the past, you just had to sit back and hope that the tides would change. Now iSeekplant lets you apply a Boost Credit to that machine or service and shoot it to the top iSeekplant's search results.
Already, Boost Credits have shown members up to 8x more search views than a non-boosted member and also win them up to twice as much work over the boosted period.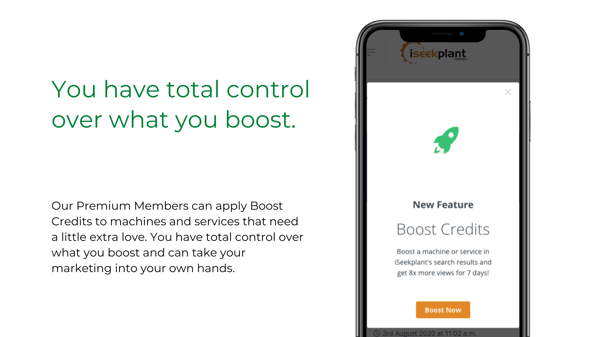 So how do Boost Credits work?
Each week or month (depending on your package) you will be given Boost Credits that you can apply to a machine or service of your choice. This machine or service will then get a massive boost in the iSeekplant search algorithm for 7 days, putting up to 8x more eyeballs on your business and generating more work, when you need it most.
iSeekplant also applies a tag to the boosted machine, flagging to searchers that the machine or service is 'Available Today', encouraging them to pick you out from the bunch.
Why we built Boost Credits
Companies in the construction industry know better than everyone that utilisation is key. After talking to our valued customers, we discovered they needed a way to give certain machines and services a little extra boost when they needed it most. Take the below use case;
Darryl has a fleet of 12 machines, everything except his 12ft Grader is currently being utilised. He is happy to get calls for his entire fleet and make bookings for when his gear becomes available, but he would love nothing more than to book a job for his 12ft Grader. So he uses one of his Boost Credits he is given each week on his grader to boost it to the top of iSeekplant's search results and get the phone ringing! Because of this extra exposure, he wins a job and has one less thing to worry about.
Or Andrew, he is a Sole Trader Mobile Diesel Mechanic. It's Friday afternoon, and looking at his calendar he hasn't booked quite enough work for the next week. He applies his boost credit to get a boost in iSeekplant's Mobile Diesel Mechanic category. Then for the next week, he receives greater exposure and fills a few more spots in his calendar. Turning a potentially poor week into a good one (or even turning a good week into a great week).
What makes Boost Credits perfect for winning more work?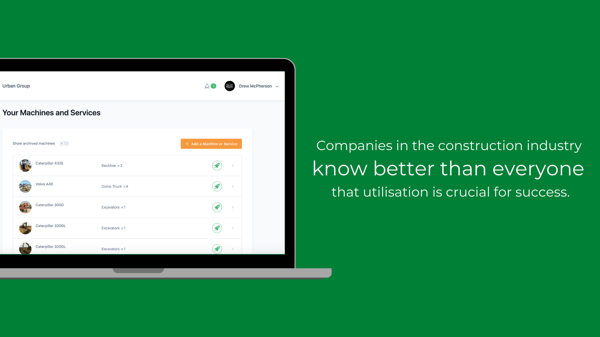 Boost Credits are designed and allocated to businesses so they can be applied to machines and services that need a little extra love. You have total control over what you boost and can take your marketing into your own hands. It is a totally flexible system that allows you to identify what part of your business needs more exposure and proactively apply a boost.
Initial tests by iSeekplant have shown that members who boost a machine or service get 8x more impressions and win 2x more work in that category. Simply put, Boost Credits win you the work you need most.
FAQ's
What does a Boost Credit do?
A Boost Credit gives the machine or service it is applied to a major bump in the iSeekplant algorithm. Meaning you will appear higher in the iSeekplant search results.
How do I use a Boost Credit?
On the Machines & Services tab in your account, there is a green rocket icon next to each of your machines. Simply click it to apply a boost to that machine or service.
Who gets Boost Credits?
Premium Members on iSeekplant receive Boost Credits. Free members do not receive them.
How many Boost Credits do I get?
The number of Boost Credits you will receive depends on your Membership Package. Simply put, the more machines and services you list on iSeekplant, the more credits you receive.
How often will I receive Boost Credits?
Members on an Owner Operator and Tier 4 Package will receive Boost Credits on a Monthly Basis.
Members on a Tier 3, Tier 2 or Tier 1 Package will receive credits on a weekly basis.
Do boost credits expire?
Yes, Boost Credits will expire when you get a new batch. That means it is important to use them proactively.
To keep up to date with the latest product features and industry news, subscribe to iSeekplant's Flapping Mouth blog below!