CPB Contractors head up the consortium that won the Canberra Light Rail contract.
A CIMIC-led team has been confirmed as the winner of the Canberra Light Rail contract.
CIMIC, represented by Pacific Partnerships and CPB Contractors, will handle a broad swathe of the contract, including design, construction, operations and maintenance.
The Canberra Metro Consortium is comprised of:
Pacific Partnerships
CPB Contractors
John Holland
Mitsubishi Corporation
Aberdeen Infrastructure Investments
Deutsche Bahn International
CAF
[cwa id='content-ad']Stage one of the Canberra Light Rail project, worth around $300 million for construction alone, involves a 12km route between Gungahlin and the city. In addition to construction, CIMIC will collect a further $300 million during the 20 year "concession period" following completion of construction.
The Canberra Light Rail contract also calls for 14 rail cars, a brand new depot and 13 stops. Canberra Metro also gains the right to maintain and operate the extended network throughout the 20 year concession period.
Canberra Metro boasts a grand total of over 220 years of experience in systems engineering, light rail operations and construction. As a collective, they provide 2.2 billion passenger journeys each year across 14 nations.
Once it's up and running, the Canberra Light Rail will be operations from 6am until as late as 1am most days, running services every 6 minutes during peak hour. It will provide invaluable connectivity to the growing city, allowing locals to more easily move around their neighbourhoods.
Construction on the Canberra Light Rail will conclude in late 2018, with operations expected to begin in early 2019. This timeline is shorter than initial estimates, something that contributed to Canberra Metro's successful tender.
And.... Of course the protesters came out in droves for the contract signing announcement.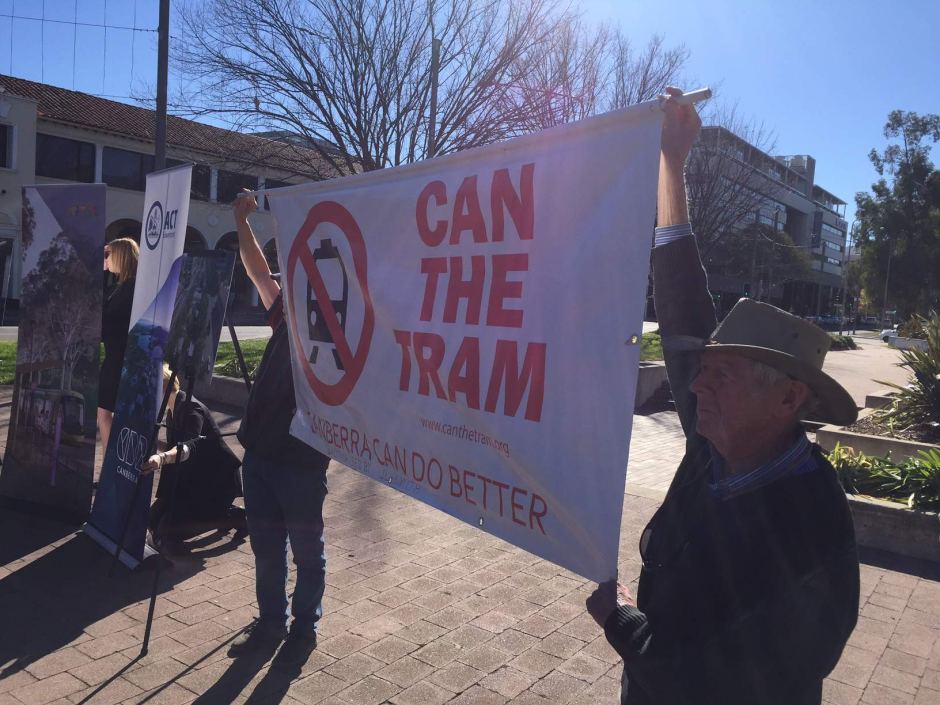 The main protesting organisation, Can The Tram, protested the Canberra Light Rail on three main grounds - problems with equity, servicing and planning. Can The Tram maintains that buses are a more suitable and sustainable solution for Canberra. However, many models indicate that despite an inflated price, a light rail network will have the intended effect of lessening the load on roads and providing better public transportation solutions.
Can The Tram maintain their fear that prices will ultimately blow up - something we can certainly sympathise with. However, at the end of the day, the Canberra Light Rail project will deliver loads of earthmoving jobs and plant hire opportunities, so we're happy.
Sources: The Construction Index, ABC News, canthetram.org, Capital Metro, ACT Light Rail, Canberra Times.