The road to breaking ground at Carmichael Mine was a long and delayed one filled with consistent bureaucratic and social toing and froing. To say its journey to approval was contentious is a gross understatement. Overwhelmed with constant approval and funding issues, a proper discourse to evaluate the project would take many hours. Here we summarise some of the key facts and information of this goliath mine project.
Where is the Carmichael Mine Located?
Located north of the Galilee Basin in Central Queensland, the mine is over 150km northwest of Clermont. Lying within both the Isaac Region and Charters Towers Region, the Carmichael Mine covers an immense area. As one of the largest mines in the nation, it occupies close to 45,000 hectares and is about 50km long. Putting its size into perspective, that is four times the size of Brisbane! The mine is connected to key transport avenues via an extensive 200km rail system with terminals in Moranbah, Goonyella, Port of Hay Point and Port of Abbot Point. The mine project was originally forecast to cost $18 billion but settled on $2 billion in the end.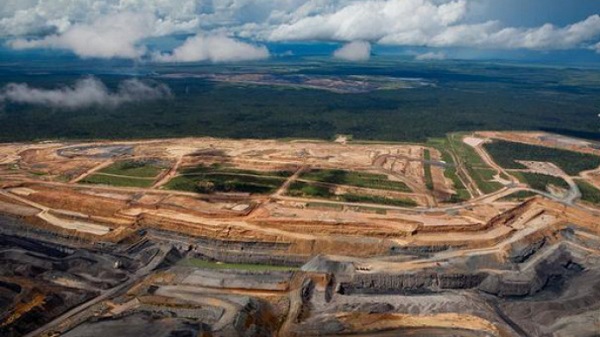 What is Mined at the Carmichael Mine?
Coal, coal and more coal. As an open-cut and underground site, it can produce high grade thermal coal with exports commencing in 2021. The cleanliness of coal is dependent on its impurity and sulphur contents, as well as how much energy it produces. Producing coal with an energy value of 4,950, the Carmichael project can generate coal with 25% raw ash that decreases to 20% after subsequent washing. Raw ash is an indicator of the energy output of coal that essentially measures the amount of moisture and carbon. Lower ash content translates to lower amounts of moisture and higher amounts of carbon in the coal, leading to greater power potential. The Carmichael Mine can produce upwards of 10 million tonnes of coal per annum with an operational capacity similar to other established mines in the Hunter Valley and Bowen Basin. The mining work requires a range of plant and resources including mine vehicles, purpose-built excavators that are six-stories tall, along with over 4,000 FIFO workers. The mining process is also aided by six open-cut pits and five underground mines with a raft of site features including five mine infrastructure areas and a coal handling and processing plant.
Need to hire machinery for your mine? Get a quote with iSeekplant today!
Who Operates the Carmichael Mine?
With a strong focus on powering Australia and the Asia Pacific, Adani Australia is an arm of the multinational Adani Group. In the absence of Government or third-party funding that was promised during phases of the project's planning, the Carmichael Mine is now completely owner funded. Adani was founded by Gautam Adani, one of India's ten most wealthy men, who has been incredibly vocal in his desire for the project to come to fruition, as a strong believer in the validity of coal powered energy. In doing so, his company has made one of the single largest investments from an overseas body into Australian infrastructure that has ever been seen. While Adani has a portfolio that boasts practices in energy, logistics, resources, agribusiness, financial services, defence, real estate and aerospace, coal remains very much at the forefront of their business expertise.

Eager to keep up to date with more industry news, trends and profiles? Subscribe to iSeekplant's Flapping Mouth blog today to ensure you don't miss a thing!
(Image sources: Banktrack, International Mining)