iSeekplant received investment from Macquarie Bank on November 19 because we wanted the resources to be able to implement a lot of the customer-requested improvements to iSeekplant. Our customers have given us heaps of great new ideas and feedback over the years, and now we're in the process of realising all those ideas to make iSeekplant even more industry and customer friendly.
During the last 9 months of the COVID-19 pandemic, we've noticed the biggest positive shift in customer sentiment since we launched 7 years ago. Our customers are now crystal-clear about wanting to get into digital (after spending many years skeptical about its influence in industrial services), now they just lack a a bit of business certainty, and a clear path forward.
We want to make your decision to start on your digital journey an easy one - our marketplace is working better than ever with double the traffic of last year, and more than 17,000 unique jobs each month, going to our premium members. The product works, we just want to meet our customers where they are at in this weird new world we live in.
So we've come up with the Pay It Forward offer. You simply put down a small deposit now, and you can have immediate access to premium features of the marketplace for 2 months OR we'll start rebuilding your website for you. Read on to learn more about our new features and the offer, or click below to get started. And don't just listen to us - with an average 4.6 star review on Product Review, we must be doing something right!
Boost Credits - Perfectly matching available suppliers to hungry hirers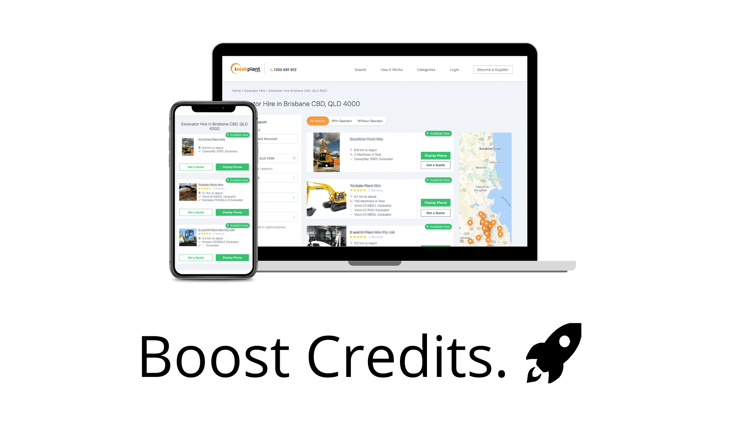 Boost credits is easily the coolest bit of technology we've ever released - coz it solves the number #1 industry gripe - managing utilisation of a mixed fleet. We know that your overall utilisation percentage (which is key to your business profitability) is made up of a bunch of machines on long-term hire (or services that are in high demand), and a handful of machines that are sitting in the yard (or services you provide that the phone isn't ringing for). Boost credits are given for FREE to all our premium members and give you the chance to boost those latent machines or services in our algorithm to get them more action and more leads. The reason that is so cool is that it also serves a very important purpose for our searchers - it identifies your machine as immediately available to a searcher who is hiring for an urgent start.
Even owner/operators can boost it up and acquire more action on the system during their down-time between long-term jobs.
Boosted machines get 8x the visibility in our search results for the time they are boosted, and companies who are using their boosts are getting 40% more leads!
Better Customer Experiences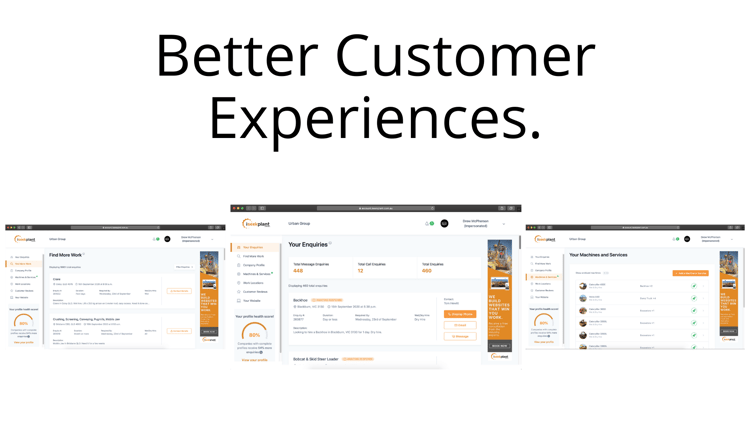 If you've jumped onto iSeekplant lately, you'll notice a few things:
It's easier to login!
Hooray, we heard your feedback and removed all that friction. Within the next week, you'll be able to link your social account.
It's easier to get leads
We've made our leads easier to access and review on your timeline so you can ensure you're responding to everything, even if you're on the go.
It looks better and is easier to find everything!
It sure does, the customer account section of iSeekplant has had a real glow-up. Our engagement with our customer portal has gone up 450% in a month.
Its easier to find work
We've done some work on the find work tab so you can hunt for new opportunities that match your fleet and services.
New Categories - Welcome Subbies and service providers to industrial services.
This bit is super EXCITING. Within the next few months, iSeekplant will be expanding beyond its 84 categories and machines and services to ALL categories of subcontractors and machines provided to the construction industry (there is like, 234 categories all up and over 2000 subcategories). We're rolling new categories out each month - we'll email you about the new categories of services that will be live for searching on our system, and we encourage our existing listed customers to add some of these services to their profiles - as well as tell their colleagues and partners to list if they haven't already. More services, more machines = more impressions and more enquiries.
The Online Boom - Our Traffic Stats over the Last Year
Over the past year, iSeekplant's 'total network jobs' which is our expression of how many individual construction tasks are being posted through our website each month by people in construction, mining and industrial services has doubled to over 17,000 unique jobs every month. This roughly equates to $150million worth of construction jobs every month, or over $1.5 billion a year. iSeekplant's traffic has also boomed, doubling since March to around 750,000 unique visitors per month across our whole network.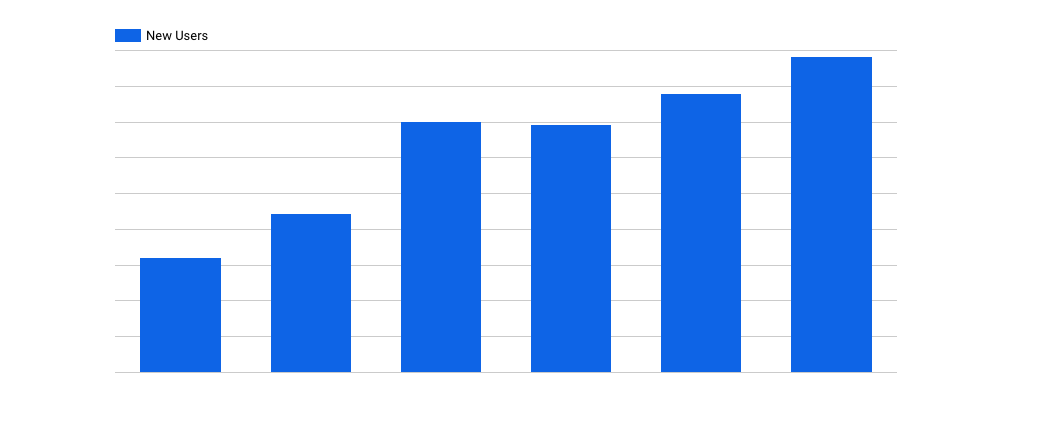 For most of our premium membership brackets - paying customers are now getting twice as many leads and opportunities per month than they were this time last year. And our users are having a better time of it too - our customers are responding up to 4 times more frequently to our users than before - which is causing heaps of 5 star online ratings for a platform a week. Check out our reviews on Product Review. iSeekplant is now more highly rated than any marketplace in the trades or services at an average of 4.6/5 on Product Review, and 4.8 on Google Reviews.
Pay It Forward - How we're helping Aussies win more work
Uncertainty is everywhere - except on the internet. Online businesses are booming as COVID has forced companies and consumers are forced to work in new ways. We're experiencing the single biggest sentiment shift in our customer base since we launched. But we understand that it's difficult to jump off the cliff and invest in digital if you've not had any recent proof it could work for your business. So, we want to help the industry out with our Pay-It-Forward offer.
If you need a new website (or a first website, or a renovated website) because you know it's time to start winning some work from online enquiries then we're allowing you to pay us a deposit, that gets the work in the studio, but you can commence your 12-month payment plan on November 5th.
If you want to join our marketplace - and get sent a whole bunch of highly relevant leads for your fleet and services in your local area, then same goes - you can pay us a deposit and start your payments on November 5th - which works out to be up to two months free on our platform!
If you've been on the fence, then time to get off the fence and get online. This offer won't be available after December.