You never know when the next emergency situation will strike your home. A power outage from an emergency can leave you feeling unsure, scared and worried. A portable generator can take away that worry and keep you safe during emergency situations.

It is incredibly important to have a portable generator when you are not sure when the power will return. It is crucial you think about what your family would do in an emergency situation. There are a number of aspects to consider when looking at a portable generator for an emergency.

A Portable Generator consists of a power generator head, an engine, a fuel source and power outlets. There are a few different types of generator's such as diesel, gas or electric. You can find out more about different types of power generators and generators for hire rates here.
What size portable generator do I need for my house?
By determining what you will need to power, you can choose the appropriate size of the generator. You will also need to figure out the running and starting watts needed. There are a number of requirements to take into consideration to find the right generator for your household. Check out these steps:
1. Wattage needs
There are a few different reasons why your wattage needs will differ during an emergency. Working out your wattage requirements may be a bit confusing but is essential to finding the right generator.

What devices do you need to power? This could be the refrigerator, freezer, microwave, lights and wall outlets. You want to ensure you can cook a meal and then don't have to eat dinner in the dark. Consider which appliances are most important during a power outage.

Once you have chosen the appliances which you will need to have power during an emergency, find the running watts and starting watts of all the appliances. You'll find this information on the owner's manual for the appliances.

The total of the running watts is important to determine the right generator. First, you will need to add up the running watts of all the appliances you want to run. (Fridge + Microwave + Freezer) You will also need to add the appliance with the highest starting watts to the total running watts. The final generator you chose needs to produce the total starting watts.

Total running watts = running watts of all appliances you want to run + appliance with the highest starting watts.
2. Generator run time
A generators run time can vary from a couple of hours to days on end. It is important to think about the types of emergency situations which may occur near you and how long you may need a portable generator for. Do you live in a rural area? Is help easily accessible? Do you need heating/cooling at all times? A freezer or fridge can retain their temperature for hours If not disturbed and lights may only need to be used for a couple of hours at night.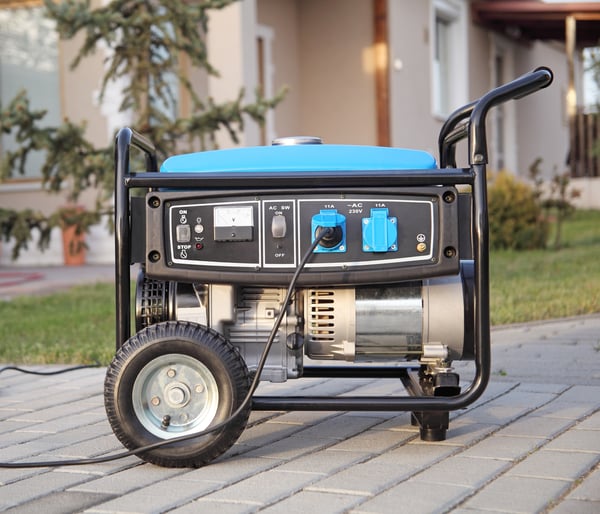 3. Number of outlets
The outlets allow you to access the power in the same way we use outlets in our homes. There are the same three-prong outlets available to supply power to a multitude of sources.
A guide to go by is the more powerful the generator, the more outlet combinations are available.
4. Accessibility
When an emergency strikes you'll need to be able to easily access the portable generator.
A generator with wheels or folding handles is a lot easier to manage in a difficult situation. Generators can be quite heavy, so make sure you are able to move it from storage when you need to use it.
5. Type of cord set
A heavy-duty cord set is beneficial to have in an emergency situation. This covers any unseen circumstances by giving you more outlets and removing the need for extension cords. It is best to check for portable generators which come with a heavy-duty cord set before buying or hiring.
6. Safety requirements
Carbon monoxide poisoning from generators is a serious and common problem. You should never run a generator inside, even in the garage. Carbon monoxide is colourless, odourless and virtually undetectable, so it is best to never risk inhaling it.
Know which appliances can be safely powered by a portable generator, as all appliances have different power needs.

When hiring or buying a portable generator ensure you check the operational manual and the machine is in good condition and has been serviced regularly. There may also need to be special protection of the machines ignition from moisture, fungus or dust.
Portable generators for hire
Need to hire a portable generator? You can call us today on 1300 691 912, we've got a dedicated team on hand to help you source plant and equipment in any location across Australia. Alternatively you can run a search on our site and locate all the closest suppliers with portable generators that fit your needs here.