In order to recover $106 million, FTI Consulting (the liquidators of Clive Palmer's failed Queensland Nickel company) are suing one of Palmer's other businesses, Mineralogy for allegedly 'naturally loving' his family with enormous cheques.
When Queensland Nickel collapsed in 2016 hundreds of Townsville refinery workers lost their jobs and the company owed creditors $300 million.
Clive Palmer aka the talking Sebago-potato-with-beady-eyes, was the sole director of Queensland Nickel for large periods of time between 2009 and 2015 and it is alleged by FTI Consulting that during that time loan payments were made either on behalf of, or directly to Mineralogy.
Court documents included 80 pages of transactions made by Mineralogy which were described as "loan amounts repayable."
Some of the payments listed are absolutely astonishing considering the money is alleged to have originated at from Queensland Nickel, which Palmer was the sole Chairperson of. The transactions included a $14.38 million transfer to Palmer himself and a $7.67 million transfer to Palmer's father-in-law.

In total court documents lodged by the liquidators show that Mineralogy still owes Queensland Nickel $105.9 million.
Mr Palmer told the Federal Court in February that he could not remember why he authorised many transactions, although he did confirm the payment to his father-in-law was for "natural love" (thinking about Clive involved in "natural love" with anyone sends shivers down my spine). When I 'naturally love' my father-in-law, at best it's with a top shelf bottle of red - or nothing at all (like last Christmas).
Rather than risk picking up a disease by investigating Clive's natural love with his father-in-law, I think I will just go and have a long, long, long shower and try to forget I ever heard about this.
These days it seems Clive isn't concerned with his businesses or the people in his employ (just ask the people who worked at his Townsville Nickel Refinery), rather, if you look at his Facebook page it seems like Palmer is caught up in his own little meme dream. If this article were summed up as a Clive meme, it would be this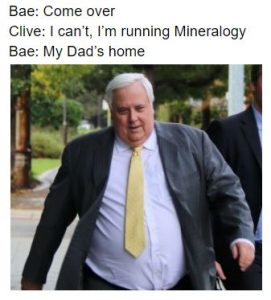 It might be time for Clive to start taking some actual responsibility for what goes on in his businesses and showing the people that rely on him some love, preferably not natural.
Become a supplier on iSeekplant and make a free profile here
To search for machines or plant hire suppliers, click here.