Concrete grinding can be done using an abrasive tool on rough concrete floors to reveal a smooth finish. Concrete grinding can be completed either wet or dry and is done prior to floorboards or tiles being installed. Mechanically polished concrete can achieve smoother floors of concrete slabs.
Concrete grinding involves using diamond grinding cup wheels to polish concrete for the desired finish in both external and internal area contexts.
Concrete grinding cost and factors that affect price
Depending on the size of the flooring that needs grinding the cost differs. The approximate cost for concrete grinding is between $10 - $60 per square metre depending on what is being grinded and how large the area is.
On average concrete polishing costs $9 - $15 per square metre for jobs from 0 - 100 square metres.
From 100 - 200 square metres the average cost is $10 - $20 per square metre.
And from 200 - 1,000 square metres the average cost is $20 - $30 per square metre.
Design complexity
Depending on the complexity of the design layout of the concrete that needs grinding can also affect the cost.
For example, the concrete grinding of stairs consists of an average cost of $40 - $70 per step. As well as an average of $90 - $120 per landing depending on the size of the landing and shape.
Current state and condition of concrete floor
The current state and conditions of the concrete floor will also impact the pricing of the concrete grinding. As carpet glue removal from the concrete costs an average of $10 - $60 per square metre.
The average cost of tile glue removal from concrete is $10 - $60 per square metre as well.
Removing concrete grinding magnesite residue also comes to an average cost of $10 - $60 per square metre.
Above grade installations
Above grade installations can also differ from the average cost of concrete grinding as above grade installations are not prone to absorbing ground moisture making them ideal for most flooring types.
Raised areas including raised decks can fit into this category and the square foot area which needs actual grinding will impact the pricing of the desired finish requested by the client.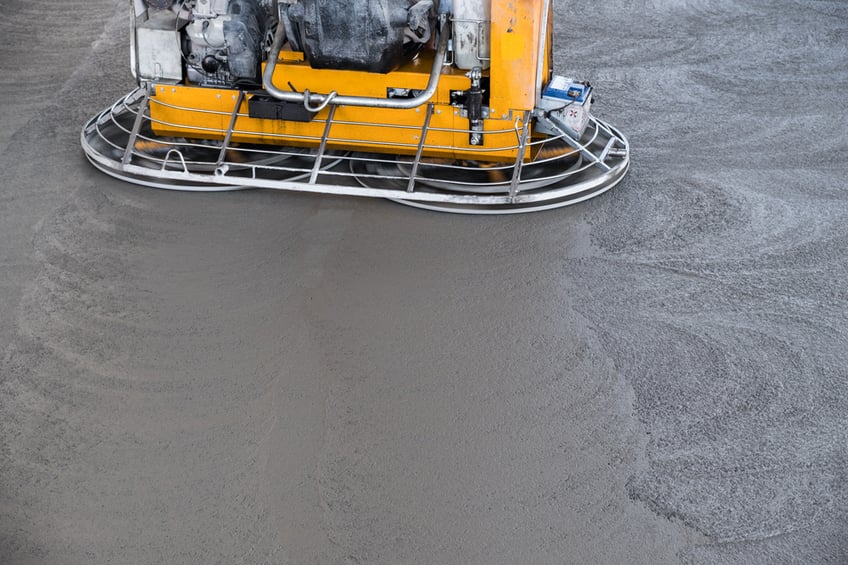 Advantages of grinding concrete
There are multiple advantages of grinding concrete including:
Concrete surface restoration
Concrete grinders remove all imperfections and inconsistencies in the material, resulting in a smooth and durable surface. Concrete polishing will ensure that any old and damaged concrete surfaces are restored and can be used for years to come if polished correctly. Mechanically polished concrete will ensure crack repairs can also be accomplished with low maintenance after the dry or wet grinding.
Removes dirt & paint
Concrete grinding removes paint, epoxies, dirt and other remnants left on the concrete. The grinder rubs against the top layer of the surface leaving it smooth and ready for new use. Honed concrete lasts longer and creates new concrete.
Preparation for floor installation
Once the grinding is complete and the smooth surface is left, any type of flooring option can be installed easily. Floor preparations are the key to any floor's long life.
Improves floor durability
The grinding process improves the floor durability, as grinding concrete ensures that the floors are always in perfect condition and ensures the longevity of the floor but also durability.
Find the best concrete grinding contractors with iseekplant
Selecting the right supplier for concrete grinding for your specific needs can be a tedious job. Calling and searching on the internet across multiple pages can be a pain and extremely time consuming. iseekplant takes the hassle out of searching, listing all the possible concrete grinders in one place for you to select from.
As Australia's largest online construction marketplace, we have thousands of jobs coming through our platform each month, with thousands of suppliers accepting jobs. Get a quick quote using our Get a Quote Tool, or if you're looking for more expert advice, email our projects team today and get the best recommendation, or head to our marketplace if you're in need of other services.