WARNING: This eBook will give you compelling mathematical analysis that will refute the long-held construction industry myth, that you 'have' to attend construction expos and events.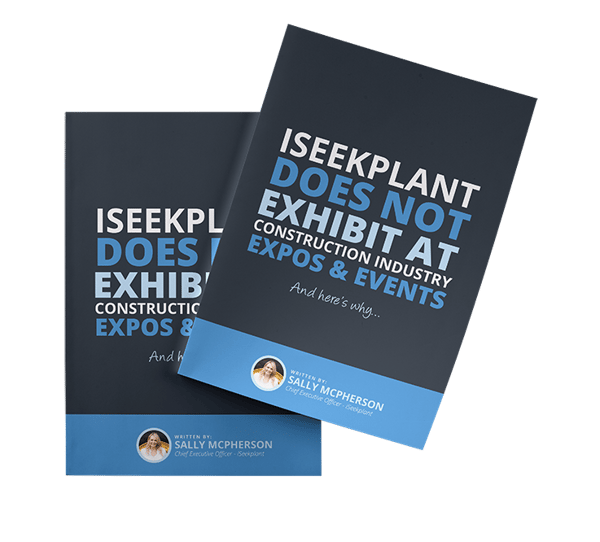 It is with some trepidation that I publish this eBook – but as you all know, as the first female earthmoving blogger, and founding author of The Flapping Mouth, I have never shied away from causing controversy and shaking this construction joint up. I expect a couple of heavy emails as a result of it.
Since iSeekplant launched in 2012, we have not once paid to exhibit at an industry event and ongoing we never will. I author this document as someone who has built a multi-million dollar business in construction from never once exhibiting at an industry event. Over the last 6 years we've built a database of hundreds of thousands of construction industry professionals (who receive some contact, impression or marketing materials from us every week) and thousands of customers. All having never paid to exhibit at one single expo or event.
Click here to download this eBook
Why and how, you ask? Well, it's simple really. We saw a unique opportunity to capture all of the growing construction industry traffic searching online and built our business on that, which was infinitely cheaper and way less competitive than buying eyeballs at events and through traditional marketing mediums that were quickly dying in genuine efficacy. Also - everyone's back was turned to the internet, believing that business in construction would continue to be done the hard way, over handshakes and beers - forever. But the world has been forever changed by the internet - and its revolutionary power to decrease the cost of marketing and inbound lead generation for businesses everywhere. We just got way ahead of the curve in construction.
This eBook will convince you to redirect some of your investment in these events to online for infinitely more business development bang-for-buck. We'd love you to call us and ask how we can help you speed up along your digital journey (shameless plug), but even if you don't, it's time to start taking digital seriously, as the most cost effective thing you can do to grow your business.
Customers of ours, who have all asked to remain anonymous, have willingly shared their exhibit information so we can make sound comparisons and case studies to prove our points. We have also done extensive research into the shows themselves, by downloading their published materials, online media statements and by calling their sales staff to verify their claims. We have written proof of everything we are claiming and stating here. Then beyond that, it's simple mathematics. To read more about this, download the complete eBook here.