The Housing Industry Association has recently revealed that Australia currently has 86 housing markets across the country that are qualifying as "construction hot spots".
18 of these construction hot spots are in Queensland, while New South Wales has 16, Victoria has 15 and Western Australia has 14. Hot spots are construction markets that experienced population growth exceeding the national average during 2015/15 and had more than $100 million of residential buildings approved ($150 million for Victoria and NSW).
Diwa Hopkins, an economist at the Housing Industry Association, said that these trends are prevalent in eastern states as people move back east as the mining boom ends. There is a strong correlation between construction industry hot spots and the areas that governments have marked for population growth- another sign that the construction industry is sure to keep trucking along as the population in Australia continues to increase.
While data has revealed that the home building boom should be slowing down, figures released by the Bureau of Statistics based on the total amount of construction work completed showed that residential construction is a bright spot in the sector.
Residential construction saw a 1.5% rise this quarter, bringing gains to 5.5% and a huge, $16.6 billion home building figure.
Glenn Stevens, Reserve Bank governor, said that while he questioned whether the right dwellings are in the right places "We are much closer now to adding to the stock the sorts of additions needed for population growth."
Earlier this year, David Cannington and Cherelle Murphy from the economic team at ANZ, said that while the housing market was seeing a decline in confidence, this is being offset by "…a solid pipeline of planned work for property business in 2016, along with an optimistic outlook for commercial property."
Top 20 Construction Hot Spots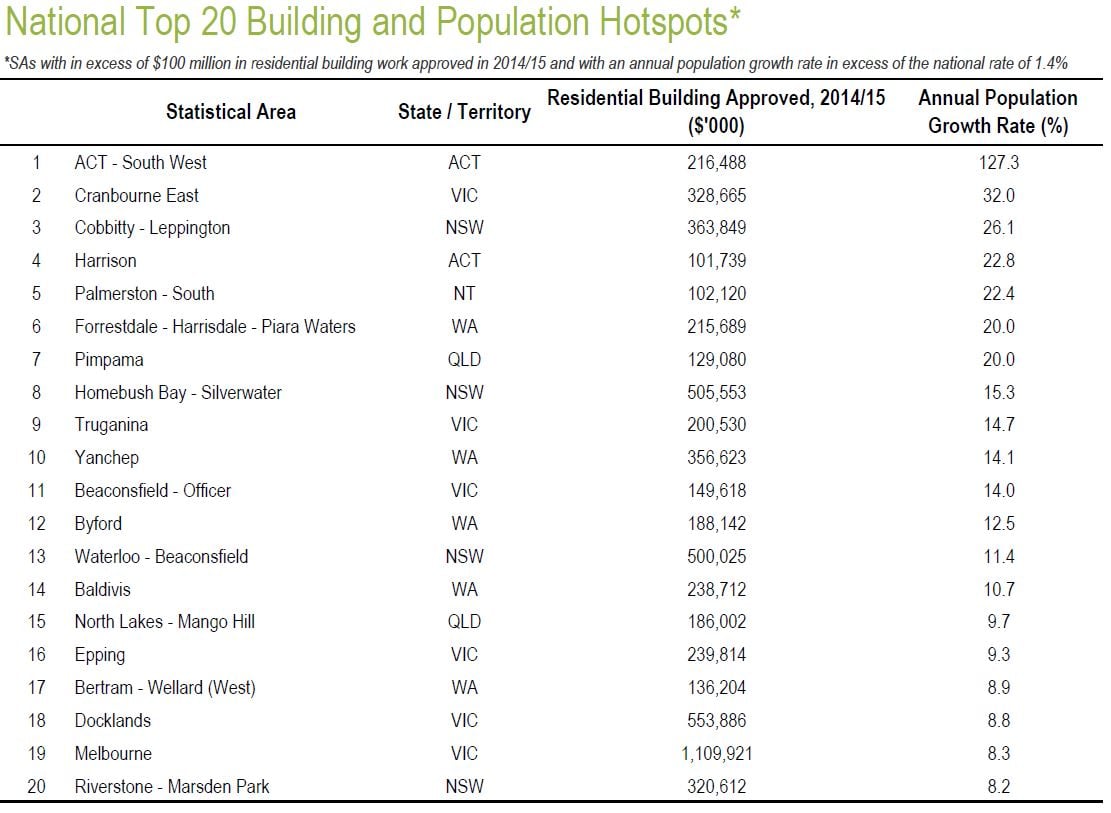 Sources: Business Insider, Sourceable, The Australian.