Gathering all the necessary paperwork for your utility locating work can be tedious on a good day. The process has improved over the years, but communicating with multiple service providers for underground network permissions and accreditations as well as organising WHS documents is always stressful.

This is where Dial Before You Dig comes in. DBYD's core service has always been to provide a central point of communication between users needing utility plans and the utility owners. This service has ensured that thousands of excavation projects have gone ahead without damage to utilities, keeping workers safe and projects running on time.

Now the certification arm of DBYD has introduced a new service. This gives validated companies access to participating service provider's manholes and utility pits after registration with DBYD Certification Ltd. The Certified Locating Organisation (CLO) Program is a formal agreement between DBYD Certification Ltd (DCL) and a locating company to provide access to utility networks.
How does DBYD's Certified Locating Organisation Program work
To start, there are necessary requirements a utility locating company needs to have to ensure the integrity of the CLO Program. The CLO program can only accept companies that have skilled DBYD Certified Locators working for them.

Once your locating company has DBYD Certified Locators you are able to sign a formal agreement with DBYD Certification Ltd, who administers the permissions on behalf of the participating utility or network provider. The agreement states that:
You can demonstrate that your plant locator team is appropriately skilled to identify whatever network type may be present onsite; i.e. are DBYD Certified.
You are using up-to-date and properly calibrated plant location and gas detection equipment.
You have the safety equipment to detect unsafe conditions and are able to deal with them.
Your company carries business insurance appropriate to the type of work for the protection of your clients, the infrastructure and your business.
The agreement gives the company CLO program status and access permission for two years. But keep in mind that the CLO program access belongs to the company not the certified employee.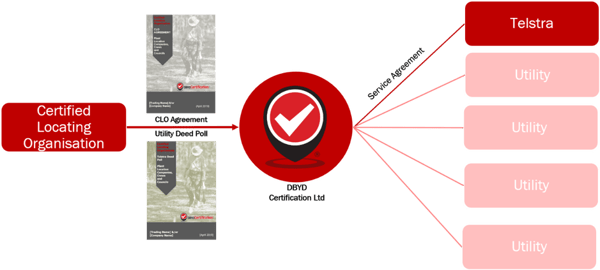 Benefits of the Certified Locating Organisation Program
The aim of the CLO program is to assist in meeting legislative OHS and business insurance compliance for the locating organisations. As utility networks are not public property the service gives the Certified Locator formal permission to access participating service provider's networks for utility locating purposes.

Currently the only service provider to have signed a service agreement with DBYD Certification Ltd for the CLO program is Telstra, but negotiations are happening right now with several other providers to include as many utilities into the process as possible. Soon the CLO program will be a one-stop shop, instead of having to engage with multiple organisations separately.

Once you are a Certified Locating Organisation, your registered locators receive an ID card that gives them exclusive access to endorsed utility assets for location purposes, for example Telstra pits and manholes. Adding to this, Certified Locating Organisations now receive an exclusive listing on www.dbydlocator.com. With new search functions and a map display it is much easier for potential clients to find a Certified Locating Organisation near them.
Why having Certified Locating Organisation status is necessary
In order to receive DBYD Certified Locating Organisation status you need to have DBYD certified employees, signed the formal agreement with DBYD Certification and have all the necessary locating equipment, training and business insurances. To view the full list of requirements click here. To get your employees certified the DBYD Locator Certification Program is a national industry certification that distinguishes DBYD Certified Locators from DIY locators. To gain certification, locators must pass a comprehensive theory assessment and practical field assessment conducted by an industry assessor.

Having these certifications are important as WHS regulations requires that all reasonable steps must be taken to obtain current underground essential services information about a workspace where excavation work is being carried out before directing or allowing the excavation work to commence.

Underground utility networks are complex and require expert knowledge to interpret information, to identify and locate components, to pothole underground assets for validation and to safely work around assets without causing damage.
To find out more about the Certified Locating Organisation Program and how it can benefit you visit the website now. Alternatively, to learn how you can become a DBYD Certified Locator, visit the website here or visit our blog 'A complete guide to becoming a DBYD Certified Locator!'.