Graco Inc. is a leading manufacturer of fluid handling equipment that supplies innovative technology and expertise in both industrial and commercial sectors across the globe. The team at Graco has recently launched the G-Mini Compact Automatic Lubrication Pump. This expertly designed pump was built for real-world applications to boost productivity and value on every site.
Simplify everyday maintenance without sacrificing reliability or performance
This automatic lubrication pump delivers high-performance results in the harshest environments. Users can make the most of their space, budget and machines with the new full-featured G-Mini Pump. Optimise uptime with extended equipment life cycles that boost output and profitability. The reliable G-Mini Pump has a small footprint to fit most machine types in several applications including off-road equipment, wind turbines, in-plant equipment, on-road vehicles and more.
Built tough to work hard 24/7
The G-Mini Pump's design is rugged, robust and built to handle the 24/7 rigours of any job. All models come standard with low-level notification which aids operators in maintaining sufficient grease in the reservoir at all times. The robust pump complements the established G1 and G3 Series lubrication pumps and is offered with an optional built-in, easy-to-program digital controller. This is the first lubrication pump designed with an optional built-in heater that automatically turns on at low temperatures, allowing it to pump NLGI #2 grease as low as -40°C. Overall, the G-Mini Pump is designed to perform and built to last.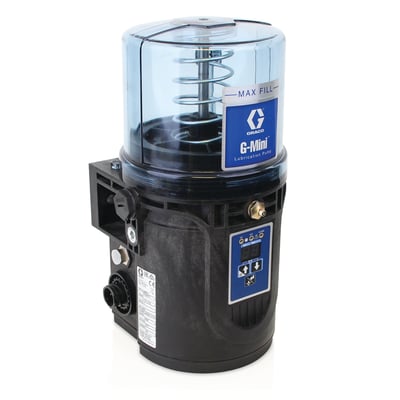 How the G-Mini improved the daily operations of dairy farming
To understand the real-world effects the G-Mini Pump can make, the Graco team performed a case study on a dairy farm. The dairy farm operations manager uses a skid loader to perform maintenance, repairs and general duties daily. This skid loader is used 10-12 hours a day, 365 days a year and needs to be greased regularly to ensure optimum performance. This vital step just wasn't getting done, so when the pin goes out, the machine goes down for about half a day. With livestock on the farm, downtime has to be avoided at all costs.
The operations manager then installed the one-litre, 12-volt G-Mini Pump with controller and heater (P/N 25R806) on their skid loader. With the Graco G-Mini auto greaser installed, the skid steer is in service all day every day, meaning downtime was a thing of the past. The G-Mini Pump showed that it's durable and keeps working in every environment – no matter how extreme.
Graco are the Industry Leaders in Fluid Handling Equipment
Graco has over 90 decades of experience designing, manufacturing and marketing systems and equipment to successfully move, measure, control, dispense and spray fluid and powder materials. As a global leader in fluid handling equipment, Graco delivers time and cost-saving solutions to the manufacturing, processing, construction and maintenance industries.
Extend equipment life with the G-Mini Pump
To learn more about how the fully featured G-Mini Compact Automatic Lubrication Pump can help improve productivity and profitability for you, fill in the form below and our dedicated team will be in touch with you.
To be contacted by your local Graco representative please submit the form below:



G-mini operational and technical Videos
Discover even more with our G-Mini Operation Videos.
A fully comprehensive Graco Lubrication Range
View our comprehensive line up of Graco Lubrication Equipment.