Which Motor Grader is right for you?
While Graders are an easily recognisable machine across the earthmoving, construction, and infrastructure industries - determining which size motor grader is most suitable for your upcoming job can be a time-consuming process if you are unsure what to look for.

The most common application for Graders is amongst road construction and infrastructure projects, where larger blades and enhanced capabilities are required. While these machines are great for larger-scale projects they lack compatibility with smaller maintenance jobs and residential development projects, making the search to find the right motor grader an important one.

Although it is best to seek professional advice if you are unsure which grader hire option best suits your project needs, there are common applications found across most motor grader sizes, giving an approximate guide of which machine is right for you.

<10Ft Grader Hire - Motor Graders that feature a blade width of less than 10ft can be substantially harder to find compared to other alternatives given their specific and limited use. Graders of this size are ideal for highly restrictive areas with size restrictions, making their typical application land leveling and residential development.

10Ft Grader Hire - Motor Graders with a 10ft blade are more common than smaller alternatives, but still not as popular as their larger counterparts. Given their smaller size, Graders of this size are typically hired for larger residential development projects, minor road maintenance initiatives, and fine grading jobs.

12Ft Grader Hire - Motor Graders that are equipped with a 12ft blade are one of the most common grader machines for hire, meaning they tend to be more readily available. With decent-sized blade, these graders are ideal for civil road construction projects and road maintenance initiatives.

14Ft Grader Hire - Motor Graders that feature a 14ft blade are perhaps the most popular classification of grader, being heavily manufactured by leading grader brands. With a large blade, these graders are best suited to earthmoving, civil road construction, and land leveling projects.

16Ft Grader Hire - Motor Graders with a 16ft blade begin to transition into the larger side of grader machines, making them impractical for small-scale projects. These graders are heavily utilised across the road construction industry to assist with road leveling, site preparation, material spreading and road maintenance.

>16Ft Grader Hire - Motor Graders can come equipped with blades up to 24ft, making them incredibly versatile machines. Graders that feature a larger blade are almost exclusively used within large-scale infrastructure and civil development projects with application across road construction, earthmoving, material spreading, and site clearing projects.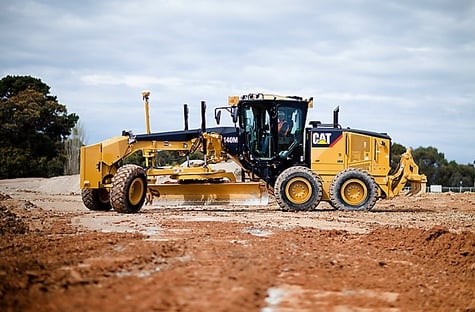 What type of Grader Blade is right for your job?
One of the primary features of motor graders, is the ability to interchange blades to better cater for changing circumstances. This is perfect when a different size or type of blade is required for alternating jobs. Blades can be attached under the graders frame and feature the ability to swivel, meaning moldboard angles can be adjusted when working on projects involving work around banks and ditches.

While you may be aware which size motor grader blade is right for your job, the type of blade required may still be unclear. Although graders are categorised by blade width (10ft, 12ft, 14ft, 16ft…) there are different types of blades which can make a significant difference to how your motor grader performs, and its ability to fulfil particular tasks.
Blade Grader Types
Scarifier Blade - Grader Scarifier blades are ideal for projects that work with hard-packed surfaces inclusive of gravel and frozen material. These blades are commonly used across 'cutting' and 'maintenance' applications and can service surfaces with fewer passes.

Dual-Carbide Planer Blade - Grader Dual Carbide Planer blades perform across highly abrasive, low-impact projects given their resistance to down-pressure and abrasion. Dual-Carbide Planer blades are also resistant to impact and erosion helping them maintain a sharp and clean edge. These blades are commonly seen across road construction projects.

Armoured Planer Blades - Grader Armoured Planer Blades are a solution to dual-carbide blades, being better suited for high-impact projects. Armoured Planer blades can typically last substantially longer than traditional carbide blades and are the preferred choice across more rugged infrastructure projects.

When unsure about which type of grader blade is best suited to your unique requirements, be sure to contact a local grader hire supplier for more information. Not sure how to get in touch? We can help.
Looking to get the best Grader for your next project?
Know which grader is right for your job? Seeking a little more help perhaps…? Regardless, iSeekplant is here to help! With access to thousands of local motor grader suppliers around Australia, you can be sure you're getting the best deals on your upcoming project. Our suppliers are located in Melbourne, Brisbane, Sydney, Canberra, Darwin, Adelaide, Perth and more. You can browse our extensive list of grader hire suppliers or you can use iSeekplant's Get Rates tool, and we'll get you the best quote for your job, completely free of charge!

Don't miss out on high-quality machines and highly-competitive rates! Regardless of your project, iSeekplant is here to help you!
To keep up to date with the current industry news and projects in Australia, subscribe to the Flapping Mouth Blog today!