DIY trenching:
Trenching is a popular form of digging that creates a long, narrow ditch. Trenches are particularly useful for utility installation as they enable utility lines for electricity, comms, gas and water to be safely submerged underground. The method is particularly useful for DIY activities like running electricity (use a skilled electrician) or a network cable (internet) out to your shed, where the trench-installed piping and cabling will be hidden and protected underground. Trenching is a long-term solution to protecting and hiding a variety of pipes and cables. Trench digging is typically undertaken with the assistance of a trench digger, which could be a dedicate trencher or a plant with a trenching attachment, like an excavator, tractor, or skid steer.
With all this in mind, we've compiled a simple guide, along with a few tips and tricks, to help you visualise, plan, and tackle a DIY trenching job. If you're looking to simply hire a machine and operator to do trenching for you, search here for wet hire trenchers.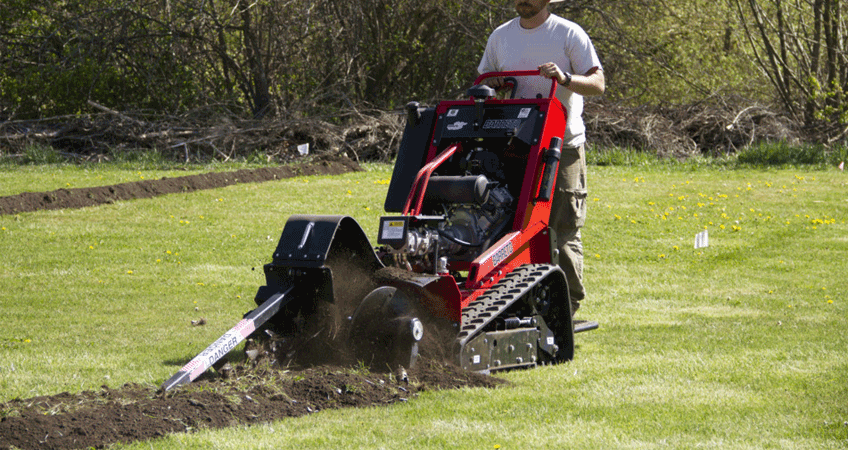 Image via Forconstructionpros
How to dig a trench:
Step 1 - Know the lay of the land
It is critical that the first thing you do is call Dial Before You Dig. The free national service will help identify utility cables and pipes that might be running underneath your yard or site. This information will dictate the sort of work you'll be able to do, the depth of your trench and the area that you can trench in/through.
Dial Before You Dig provide information about the presence, approximate location and instructions about working around registered infrastructure assets, but do not pinpoint the exact location of an infrastructure asset. On this note, using a utility location service is beneficial if you are working in an area with a lot of utilities overlapping, or suspect that there may be unmarked and redundant utility lines, sewerage pipes, water wells, or even railways tracks hidden under your work site or yard. Utility location services use advanced radar technology on-site to generate accurate location data for underground utilities.
Step 2 - Create a plan
Undertake project area measurements and then proceed to mark out the trench runs, marking out where the trenches will be dug from end to end. Also take note of access to your yard, as some machines may be too wide to access small backyards or yards with narrow entryways.
Step 3 - Organise machines and any missing equipment
You have a few options when it comes to machine depending on the scope, scale and terrain conditions, as we as the presence of any subsurface utilities. Use an easy plant sourcing platform like iSeekplant.
The first option is to search iSeekplant for trenchers, which are available in a range of sizes from small (the Toro TD4 Walk-behind) to large (the Vermeer 755 T), and a truck or ute for soil removal. Alternatively, you could hire out an excavator or tractor that has an added trencher attachment, along with a removal truck for soil removal. And lastly, if you do have subsurface utilities present under your yard or site that you can't dig around safely, you'll likely need to seek out non-destructive digging or hydro excavation services.
Note that the scope and scale of your project will determine what machinery you need, iSeekplant's suppliers are more than happy to help you determine the right machine for the job.
Step 4 - Begin trenching
Mobilise your trencher (or plant with a trencher attachment), and move into position for your first trench run, remember that some trenchers are operated backwards (if it's your first time using a trencher, it's best to double check before you start). Once your machine is in position and you are wearing protective goggles, you should engage your wheels, put the throttle up, throw the lever to start the chain and auger spinning (the auger will push dirt to the side as you dig), then proceed to lower the bar into the ground to begin digging, the lower you go the deeper the trench. Once the bar is at the desired depth, begin trenching by moving the machinery backwards, trenching as you go. Try to avoid creating sharp corners. Once you've finished digging your first trench, complete this process for each remaining trench.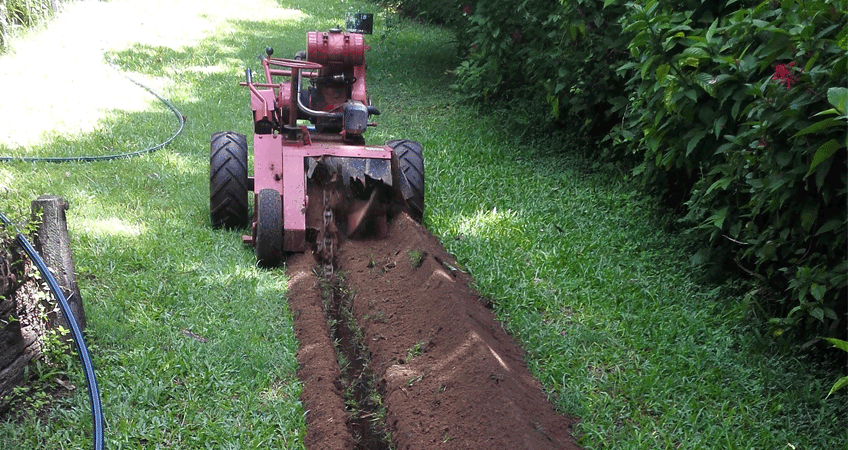 Image via Bill Murray Trenching
Step 5 - Remove dips and humps
Using a shovel, remove any humps or dips in your trenches.
Step 6 - Clean up site
Once your trenches are looking good, proceed to clean up your site. You can likely reuse your excavated soil as filler for your trenches.
Step 7 - Install cabling, pipes or drainage
Once your trenches are set and your site is clean, you're all clear to start the activity that you dug the trenches for in the first place. This might be to install drainage, internet cables, or electricity cabling. If your project involves electricity or plumbing, be sure to contact a professional first as many electrical and plumbing jobs require an expert to undertake the work. Once these activities are complete, be sure to appropriately fill the trenches.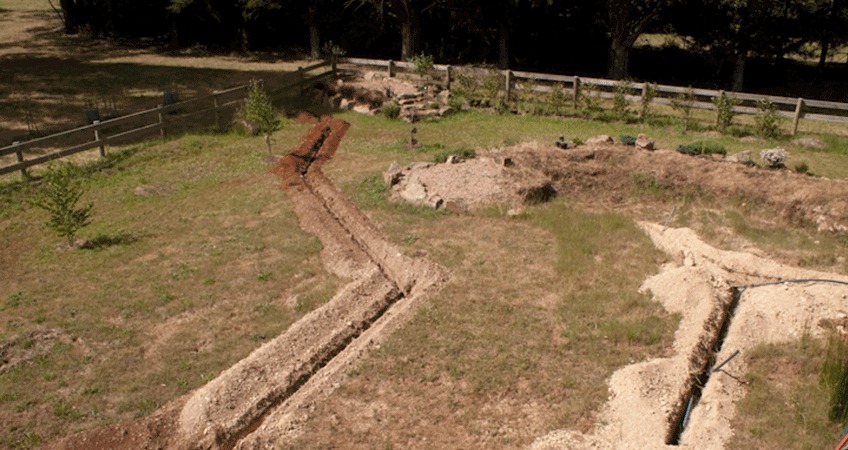 Image via Phil & Dianne
What is trenching?
Trenching is a useful method of digging for work involving the installation of permanent utility cables and pipes, especially for laying water and sewerage pipes, electrical cables, and for installing drainage. These utilities will generally be submerged underground (within a trench) by a layer of dirt, soil, asphalt or bitumen(roadways), or concrete (footpaths and driveways). The digging method is also popular, in combination with non-destructive digging practices, for exposing and repairing existing underground utilities.
Do I need a permit to trench?
You typically won't need a permit to trench in your backyard if your intended trench depth is less than 1m. However, you will need to contact Dial Before You Dig to identify existing utilities that may be running across your yard or work site.
What machines are used to trench?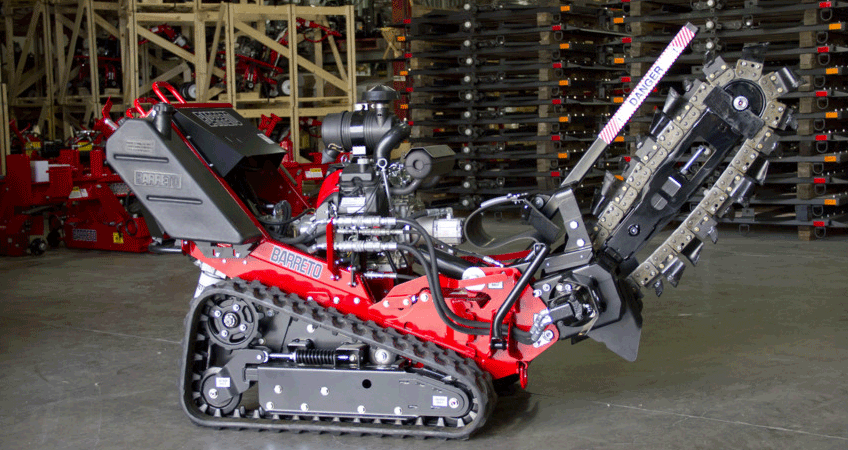 Image via Forconstructionpros
What materials and equipment will I need to trench?
DIY retaining wall vs. retaining wall contractor:
DIY Pros:
A chance to hone in your trenching and cabling skills
Great way to pass time on the weekend
Solid weekend experience/challenge
Boasting rights at your next family BBQ
DIY Cons:
It's not relaxing work and may take a full weekend
Budgeting may go awry without adequate research for materials and machinery (comparing prices amongst suppliers)
Contractor Pros:
They offer a higher standard of quality as they complete projects like this regularly
You know what to expect - the design and time frame of construction
They can complete the job during the week - while you are at work
They can typically complete the task far quicker
Contractor Cons:
You can't claim it as a personal project
Typically spend more due to the cost of expertise and labour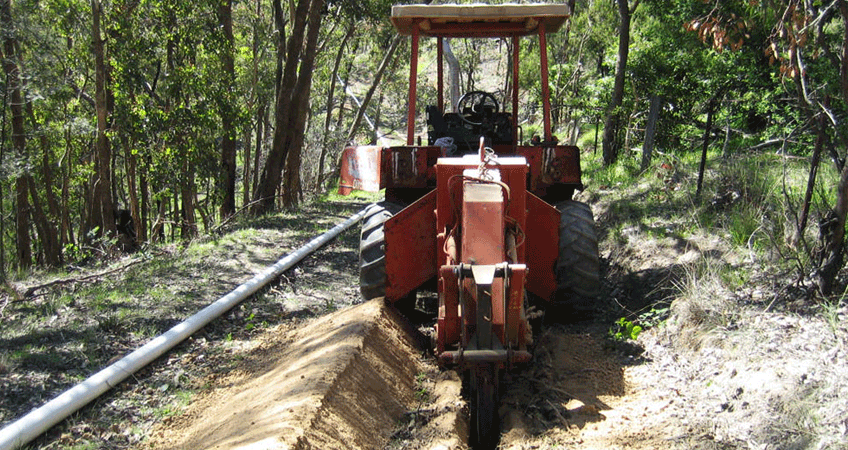 Image via Access Boring
In light of this, our directory is chockablock full of suppliers, machines, and equipment to help you with your newest residential or commercial challenge. From land clearing and trenching to non-destructive excavation, iSeekplant has you covered with all the services, machinery, and equipment you need for your next project!
Click here to find and compare suppliers that can help with your DIY project!