So you have made the big decision to home-school your kids, but where and how do you set up your classroom? While the kitchen table is good for homework every now and then, it is not the best place to set up your home-school classroom. Creating a space within your home that is used only for schooling purposes can increase productivity, creativity and foster imagination and will be a fruitful learning experience for your kids. It will also teach the children that when they are within that space, it is time to learn and concentrate.
It can be really daunting trying to pick out home-school classroom furniture and home-school decor. There can be a lot of moving parts when it comes to selecting these items. Will the kids like this space?, Is it comfortable?, Is it interactive and inspirational?. These are some questions you will need to ask yourself.
Here are some home-school room ideas for small spaces as well as what is required to create a safe and inspiring space for your little ones to start learning:
Home-school room ideas for small spaces:
Adequate space
The learning space should be big enough for height appropriate home-school classroom furniture to be added as well as floor space for any activities that require a little more movement. Sometimes a large room is not available, so using other rooms or spaces in your home for activities such as the kitchen for science experiments or the backyard for Physical Education may be a better alternative than squeezing everything into one small room. The change in location also allows for the kids to refocus each time they change.


Comfortable Room Temperature
Any room in your home can be a great home school classroom if the temperature is right. You need to ensure the room is warm in the cooler months and cool in the warmer months, so it is necessary to have proper insulation, fresh air ventilation and heating. A general temperature benchmark is to make sure the room is a constant 23 degrees celsius.


Colour
Home-school decor is very important and as we all know colour is exciting and interesting to look at. There are plenty of studies that show a bright and playful space can actually increase the productivity and creativity of kids. Colour can also help spark imagination and is a more fun and happy environment to be in rather than clinical and drab white walls. Another great way to add colour to a space as well as a fun craft activity for the kids is to dedicate a section of the wall for the kids to leave their hand prints on the wall in different colours.


Lighting
The choice of lighting is incredibly important, not just for the comfortable nature of the room but also for the health and safety of the kids eyes. It has been long proven that poor lighting can lead to eye health issues which in turn can cause headaches. It is important to provide bright lighting and as much natural lighting as you possibly can. This will not only improve the conditions the kids are working in but it will prevent the eyes from straining too hard and the natural light will help with maintaining focus


Space for education displays
A white board is an important piece of homeschooling furniture in the classroom to be able to explain the current learnings. A space adequate enough to fit a white board is essential but should not be imposing on any other work spaces or make the room feel cramped. We suggest selecting a whiteboard that can be mounted to a wall without awkward whiteboard legs getting in the way.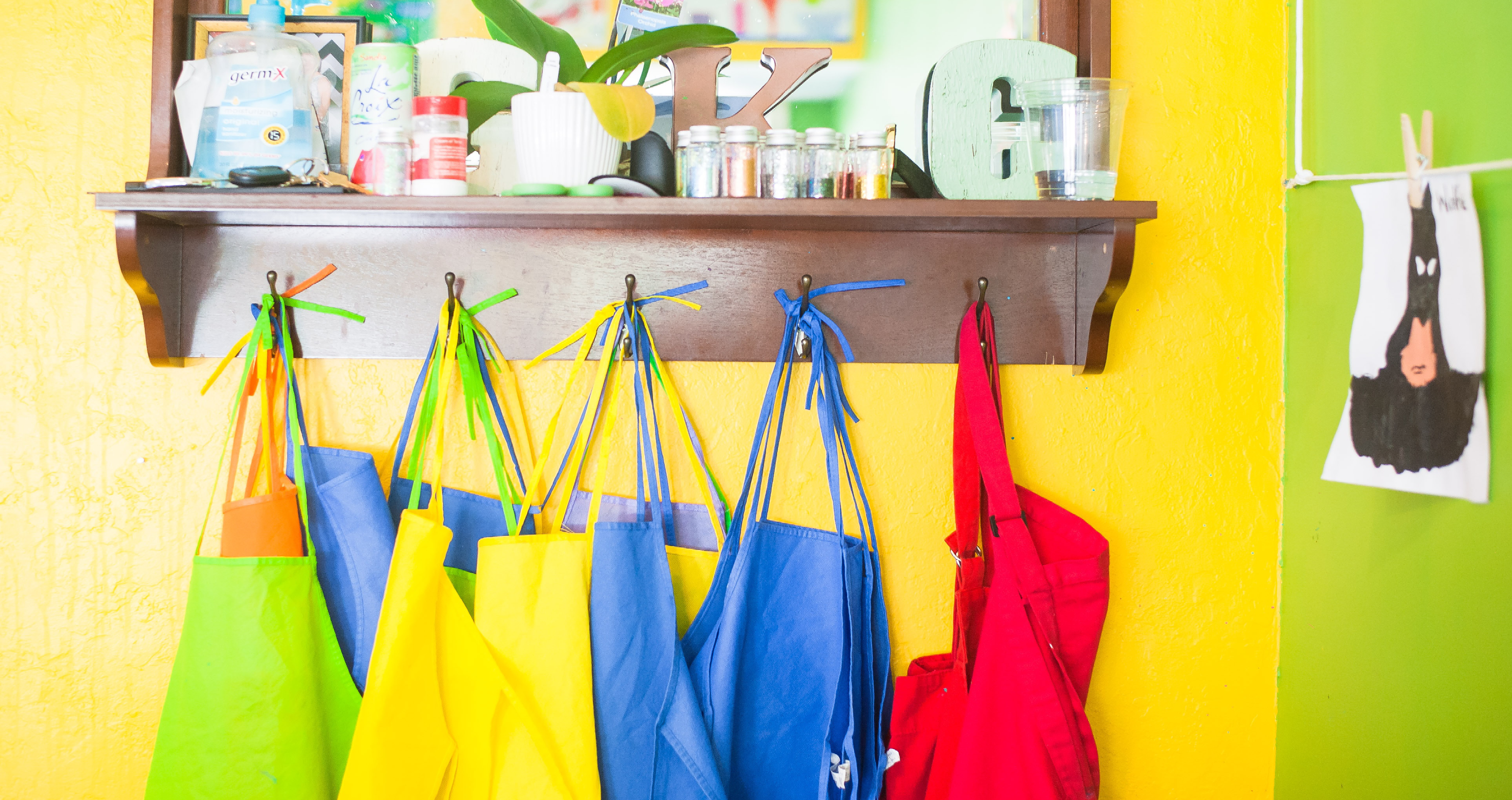 So now that you have nailed the design and safety of the space, you need to add a touch of inspiration.
There are a few ways you can easily add different forms of inspiration. One of those ways is by painting a fun and exciting mural on one of the classroom walls. If you are not a savvy painter, you can outsource this and have an artist come in and create one for you. This may be a little expensive however you would be able to create a completely custom piece that would be relevant to your kids, in a theme that they would like.
A more cost effective way to achieve the mural artwork is by heading to royalty free image websites such as Unsplash and downloading some inspiring images. Try searching for images of balloons, cartoons or lego and you will be presented with some pretty cool images which you can download and print on a larger scale and then hang them on your wall in a collage set up. You can also try adding fun quotes. Dr. Seuss is always a great go to for kid friendly quotes.
Thinking about branching out a little further and creating more of a sensory experience?
Your home-school decor could include simple sensory additions such as exercise balls to sit on, adding festival lighting, an essential oil diffuser or a tactile wall with different textures using sponges, pipe cleaners, pom poms, carpet, bubble wrap and Lego. Op-shops are a great place to go hunting for new textures and materials to use at a low cost.
Creating a home-school environment that is nurturing, inspirational, safe and educational can be complicated and daunting however with adequate planning and research, the experience can be fun and one that the whole family gets involved with creating.