A recent survey shows that 77% of megaprojects around the globe are 40% or more behind schedule. That is an incredibly high percentage of projects that are held up for one reason or another, or a combination of reasons that project managers just can't seem to get back on track. There are lots of unforeseen issues that can take a project completely off of its intended timeline, but a handful of issues seem to be the recurring problems when completing projects in their original timeline.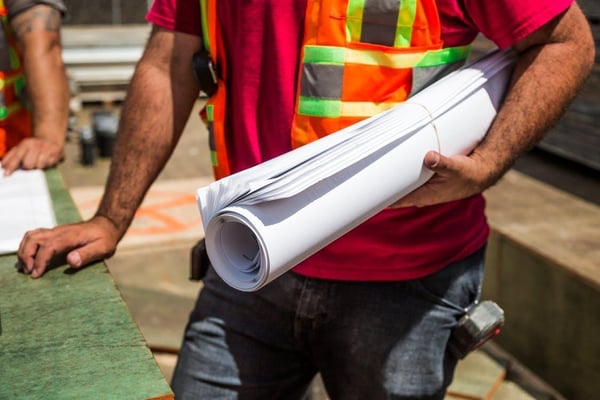 When project managers listed their top issues with on-time completion, the reasons given were:

Changes to the scope of the project
Code and Regulatory issues
Financial problems with the client
Poor communication among contractors and subcontractors
Supply line issues
With these issues in mind, here are some solutions to the common delays in construction projects:
Controlling Scope Changes
It is common for the scope of a project to change as a job gets underway, with minor tweaks and updates to be expected throughout a construction projects lifecycle. However, major changes to the scope of the project can be as though you're starting from scratch, and can lead to major problems with the timeline.
When scope changes bring new material lists, huge costs, and changes to the necessary skilled labour on the project, it is typically better to scrap the current project and draw up a new project. In fact, in a lot of corporate environments, when a scope change results in a 30% or greater change to the project cost or timeline, it is mandatory to scrap the original project and obtain new approval with new project documents. This is possibly the best way to handle scope change requests that jeopardise the budget and timeline of your project.
Regulatory Issues And Building Code
In times like the COVID-19 crisis, where government agencies are running skeleton crews and appointments for inspections can run months in advance, the last thing you want to do is fail an inspection. This can set your project completion date back by several months, basically guaranteeing that your timeline cannot be met. In these scenarios, if you are unsure of any of the code or regulatory specs, you can hire a specialist to come and pre-inspect your project. By hiring a specialist to walk through the inspection items, you are giving yourself the opportunity to correct any violations prior to failing an inspection and costing yourself the time it will take to schedule a secondary inspection of the project.
Project Financing Issues
With the current global pandemic causing many small businesses to fold, and many larger corporations to trim their proverbial fat, projects that were approved at the beginning of the fiscal year are seeing indefinite holds that have hurt smaller construction companies tremendously.
Unfortunately, when project dollars stop, things grind to a halt. The important thing to remember is to maintain contact with the client, and ensure them that when the time comes to continue with the project, your company will be ready to move forward with the same timeline and budget that was initially approved.
Poor Communication With Contractors And Subs
Unfortunately, this is a problem that occurs in good times and bad times in the construction industry. When the responsibility for a portion of the project is assigned to a subcontractor, who doesn't address the work, it is back in the lap of the contractor who is scrambling to complete the work on time. Ensure that all responsibilities and tasks are conveyed in writing in a group context. This leaves no question as to who should be completing the task, and what the timeline is to have it finished. By addressing everyone in a group fashion, you also clarify with all of the subcontractors exactly what their portion of the project is, and when their share of the project will be expected to start.
The biggest problem with several subcontracted tasks is usually that until one subcontractor completes their task list, the next subcontractor cannot begin their portion of the project. By addressing everyone in a group format, all of the parties involved are aware of who they are waiting to receive the "all clear" from, and this alleviates the need to pay for labour on crews that are simply standing around waiting for another subcontractor to finish their work. This should be addressed early on because managing work crews is a large part of project management and should not be left to work itself out. Take a firm lead in terms of management of all of the work crews on the project site, and be an active site manager with all of the labour on site.
By properly managing the workforce on the project site, you can ensure that there are no delays in the project because of a lack of on site labour. You'll also prevent the allotted labour dollars from going over budget because of double-booked crews, or unnecessary labour on site waiting for another group to finish a task so that the next crew can begin a task.
No project should go over budget because of poorly planned labour. You should utilise a tool for planning construction schedules and have a clear line of communication with your subcontractors to prevent the majority of unnecessary labour costs from affecting the outcome of your project.
Supply Line Shutdowns
During times like the Covid-19 pandemic, there is a solid lesson that is being taught everywhere construction is taking place: contingency planning. Supply lines have come to a screeching halt in many industries, and construction is not immune to supply issues even during normal business times. By setting up contingency plans for suppliers early on in the project, and ensuring that these backup suppliers are aware of your possible needs and the lead times that you'll be faced with, you can plan for the worst-case scenario and know the effect it will have on the project timeline.
The important thing to remember is that waiting until one supplier falls through is going to have severe repercussions. Don't wait until you're sitting on the site with no materials to start the project before you line up a backup supplier. These suppliers should already be approved and lead times conveyed before your project timeline has been destroyed.
To keep up to date with the latest industry and project information, as well as the best tips and tricks in the industry, subscribe to iSeekplant's Flapping Mouth Blog below!