No matter if you're starting out with your first construction machine or you've got a fleet of 200 machines, investing in the right type and brand can make or break your business. At one point in time, we've all been the person on-site who's machine just refuses to turn on. Whether it's been able to be fixed or you've had to replace the machine the costs can quickly go through the roof in order to get it back up and running. Machine maintenance and repairs can quickly turn the cost of a $50,000 machine into $75,000.

When you invest in the right machinery from the right brand you're not going to be slugged with unexpected new costs related to servicing and repairs. All anyone in the construction industry wants is for their machinery to work like a treat every day so they can focus on getting the job done and moving on to the next. That's often not possible when using low-quality gear, just because it would save a buck. When you're able to complete more jobs, faster, you're able to take on more work and grow your business.

Now if you think that sounds like a sales pitch, take a real-life example as proof, Marty Mielcarz, owner of ProCoat Group, recently made the swap to quality machinery and isn't looking back.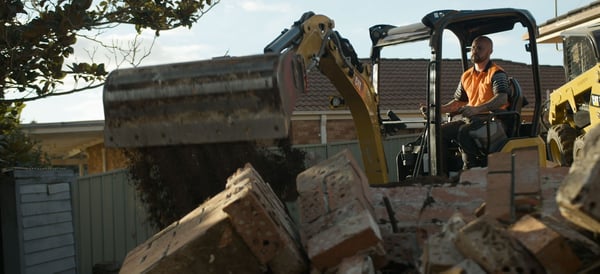 Marty from ProCoat Group handles business and machinery purchases like a pro
When thieves stole everything from Marty five years ago it was the push he needed to change direction and start his own business. Marty setup ProCoat Group, a business that meticulously completes a diverse range of excavation work. Mainly working on residential excavation projects Marty isn't afraid of taking on the unusual. From the standard site preparation, pool dig out and trench digging to the unusual, such as excavating waste from a pet boarding house.

Hard work and determination saw the business grow from one machine to a fleet of six in a few years. Starting off he had a mix of brands but always aspired to replace them with a fleet of yellow Cat construction machines. With that in mind, Marty reached out to the team at WesTrac to start planning the replacements. However, before he could make a move on it one of his machines broke down on site. Without hesitation, he was on the phone to WesTrac and within 30 minutes a field officer was on-site organising the purchase of Marty's new Cat Skid Steer.

Since that first purchase, the team at WesTrac have built up a great relationship with Marty. The one time Marty had a breakdown in the life of the skid steer the WesTrac service truck was out in an hour and a half and had it fixed in no time. This meant that Marty could get back to the job at hand without major delay. This relationship has only strengthened over time, as whenever Marty has needed something the team at WesTrac are there to answer his calls and get it sorted.
The importance of quality after-sales service and spare parts for construction machines
No matter if you buy a construction machine new or used, from a dealership or auction you need to consider how you are going to get spare parts or repairs done. You need to choose a brand that will make it easy for you to order parts and that most mechanics have worked with before, ensuring the machines are in for maintenance for the shortest time possible because when your machines in the shop it's not on a job making money.

Brands such as Cat pride themselves on being everywhere through local equipment management solution providers like WesTrac. This means that parts can be stored locally and repairs or maintenance can be done by Cat qualified technicians. This solution ensures you're back working in no time, rather than waiting for parts to ship halfway around the world or not being able to find a mechanic with experience on your machine.
When it comes to construction machines you need a brand with options that work for you
When choosing the construction machine brand to purchase from it's not often an easy decision. You've probably worked on a number of different machines over your career and they all have their positives and negatives. That's why it's important to have options when it comes to purchasing. At WesTrac you not only have the option to purchase verified second-hand construction machines but you are also able to dry hire certain construction and mining machines if you're not ready to make a purchase yet but still need the machinery.

For more than 25 years WesTrac has made life easy for construction companies just like Marty's ProCoat Group. Their commitment to customer service and providing high-quality construction machinery to the Australian market has seen the company grow to prove comprehensive services as well. Whether you're considering adding another machine to your fleet or are toying with the idea of buying your first the team at WesTrac are available for a chat.