If you've ever exhibited at a construction industry expo or event you know they're expensive, from sending your staff to run the booth, to all your promotional collateral and set up costs the dollars start stacking up. But it's worth it right? Surely you get so many sales from it that you're cost per lead is lower than $5? Well at least that's how much a lead costs in digital advertising.
The cost per customer lead (CPL) is OBSCENE
The Events and Exhibition Association (EEAA) of Australia published a study of event data from its members in 2015 (which I'm sure has dwindled substantially since) which stated that 9,348 businesses (as exhibitors) participated in 59 events and those events garnered at total of 218,804 attendees (or, a measly 3,708 visitors per show). So, that means 158 exhibitors lined up per show, to access only 3,708 visitors per show, or 23 visitors per stand. You've gotta be kidding me, right?

What's even more interesting in this same report – the EEAA members that participated in this study, report their total turn over at $408.5million from holding 396 shows. That means they earned an average of $1.1m per show. In the trade event sector, these event organisers earned $65 million from 59 trade shows in 2015, which means they charged each exhibitor, on average, $298 per person that walked in the door ($65mil/218,804 attendees). And that doesn't include the additional costs the exhibitor bore to attend the event in collateral, people and time, which we touched on in problem #1.
Click here to download the eBook
So now imagine this as an alternative revenue model: the exhibition space is now free, but you have to stand at your 3x3 patch of exhibition floor, with its drab carpeted walls, and pay everyone $300 bucks to walk past your stand. Would you do it? Based on the calibre of event attendees you've experienced at these shows, would you take $300 out of your pocket and pay that person to walk PAST YOUR STAND? I very much doubt it!!! Especially with NO GUARANTEE that they are a potential customer or even remotely interested in your product?

So, below are seven industry-related events that we have researched and their 'promoted' event attendee numbers which I refuse to use in my mathematical equation above because not one single event in our industry submits to have their exhibitor numbers audited or verified. So for the purposes of my argument, I will persist with the verified numbers from the industry body (which are,you will notice, MARKEDLY lower than the numbers promoted by shows in our industries).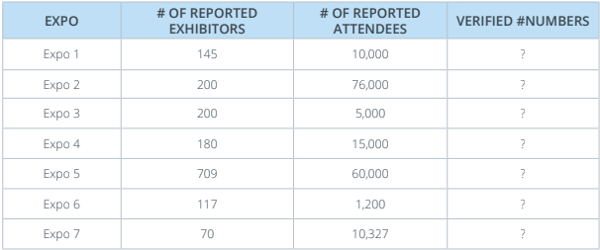 Now, look at some of these numbers. Based on the national reported average by the governing body of the Events and Exhibition Association of Australia as they relate to trade events - do these numbers look realistic? The highest reported show attendance number is 76,000? 76,000 attendees is 20,000 more attendees than the average AFL MCG crowd, 30% more attendees than a State-Of-Origin game, and 4,000 more attendees than One Direction's last concert at ANZ Stadium. Have you ever seen anywhere near that many people at an industry event lately?

One can only logically conclude that there are two mutually exclusive explanations for these much higher event attendee numbers at our industry trade shows - either they have better patronage than every other industry in Australia by a minimum factor of 2 to 3 (and upwards to 21 times the volume of attendees), OR those numbers aren't right. I'll leave it up to you to decide.

If any organisers of construction or mining industry events would like submit proof of their attendee numbers using data with a verifiable source, please send to me and I'll happily publish on my blog at no cost (to my audience of 220k followers).

So whilst you're standing in your 3 x 3 exhibition space above, with your massive stack of pineapples ($50 notes), breaking off a cool $300 for the pleasure of having some portly guy with a gravy stain on his shirt walk in and criticise your pull up banner, the rest of us are paying Google $5 per click to attract someone to our website who is probably keen to buy right now!

To find out just how Google is saving us and our construction clients $295 per lead download our ebook. Honestly, it's so simple you'd be crazy for not doing it!