The Lord Mayor has announced the primary contractor for the construction of the Brisbane Metro.
Adrian Schrinner told the council the Acciona-Arup Brisbane Move Consortium has been chosen as the preferred contractor to deliver a major part of the Brisbane Metro project.
"This is an exciting milestone in the progress of the Brisbane Metro. We have now chosen the Acciona-Arup consortium as the preferred tenderer and we will be working to have the contract finalised in the next few months,
"There are 2600 jobs in play across the project and hundreds of supplier opportunities on the table so it's great news that we are now working with the preferred tenderer to get moving on the next phase of this crucial Brisbane project," Schrinner said.
The Council has committed $644 million to the turn-up-and-go transport development, while the Federal Government has pledged $300 million to the project. The project is expected to create a crucial "flow-on effect" to the Brisbane economy.
The bid announcement comes during the rollout of State Government construction stimulus packages and the fast-tracking of priority projects, such as government infrastructure and social housing to help soften the blow of the COVID-19 pandemic.
"The coronavirus pandemic has devastated the local economy; we need construction projects to accelerate right now and today marks a line in the sand; Brisbane Metro is moving forward," Schrinner said.
The Queensland Major Contractors Association were thrilled with the announcement, stating they were "particularly pleased" with the council listening to industry advice and using a collaborative procurement-delivery model for the project.
"There are many risks involved with constructing a major infrastructure project in the heart of a city, and collaborative contracts enable a partnership-based approach to the management of those risks, resulting in improved project outcomes." Queensland Major Contractors Association Chief Executive Jon Davies said.
"Brisbane Metro is a critical project for Brisbane and will play a vital role in the city's future transport infrastructure, further enhancing the liveability and connectivity of our city."
The Brisbane Metro will see the adoption of a high frequency rapid transport system along 21 kilometres of existing busway between Eight Mile Plains and the Royal Brisbane and Women's Hospital (RBWH). The project includes 18 stations, including 11 interchange stations, two of which will link to the State Government's planned Cross River Rail.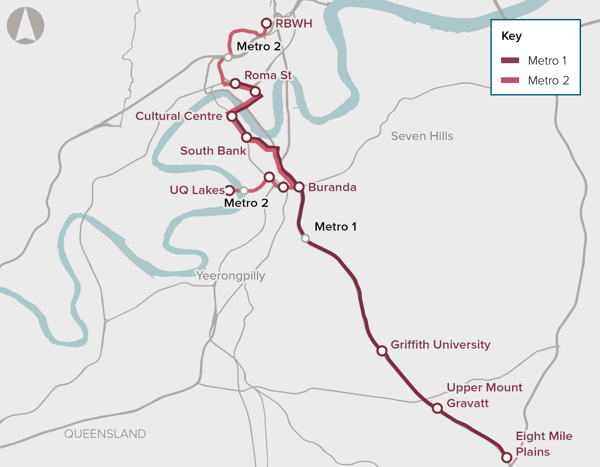 The Brisbane Metro will use 60 trackless rubber-tyred metro vehicles, each with a capacity of 150 passengers, along two routes:
Metro 1: Eight Mile Plains busway station to Roma Street busway station, and
Metro 2: RBWH busway station to UQ Lakes busway station.
Services are expected to be up and running by the end of 2023.
To keep up to date with all of the latest industry and project news, subscribe to iSeekplant's Flapping Mouth blog today!