A better way to manage water and waste.
With a more sophisticated civil network emerging, councils and engineers are looking for better water management and waste management solutions. They seek to more effectively trap sediment, pollutants, and waste, and house larger pumps, risers, filters, flow restrictors, and other plumbing hardware.
Square and rectangular concrete pits are becoming more common in these civil sewer and stormwater applications. For more projects than ever across Australia's East Coast, bigger is looking better.
Manhole Form Hire ran into this trend when their customers began using their light duty kerb inlet boxes in multiples. With no better solution available, they were attempting to construct a large pit box by setting many smaller forms side-by-side.
Barry, the National Manager at MFH, recalls, "the practice caught on and became more prevalent, so a more practical product was needed."
Enter: the Heavy Duty Pit Box.
The MFH team has met this increase in demand for bigger pits with a strong, versatile, and fast solution for building larger pits that require larger volumes of concrete.
Scrap expensive and slow formwork methods
Many industry veterans are all too familiar with having to construct rectangular structures for water and waste management with expensive and slow formwork methods. Traditional timber formwork methods including form-ply and LVLs (Laminated Veneer Lumber) require expensive strong ply and bracing materials that take experienced carpenters days to build.

Other methods with panels connected by pins and wedges are only effective on walls or much larger structures than council engineers are looking for.

MFH's Heavy Duty Pit Boxes provide an alternate, affordable, and quick forming solution suitable for any size. All customers need to do is give MFH their size requirements, and the MFH team will build a Heavy Duty Pit Box to suit. They create the one form you need, so you're not creating and pouring into multiple different moulds on site.

Scrap expensive and slow formwork methods by hiring a Heavy Duty Pit Box to do the same job faster, cheaper, and easier.

Heavy Duty Pit Boxes also provide options that other formwork methods do not, including the capability of creating bioretention basins. Bioretention basins are used to slow down and treat on-site stormwater runoff. They are an essential aspect in waste and water management projects that MFH's pit boxes can effectively contribute to where form-ply, LVLs, and other forms cannot.
Get the right pit box shape and size for your project
Manhole Form Hire recognises that there is no one-size-fits-all solution for specialised council sewer and water management projects. As such, they developed the Heavy Duty Pit Box to be customisable in shape, size, and more.

During development, MFH consulted with clients about what customizability they needed.

"As requirements became more varied it was clear a modular style with capacity for tailoring to every size would be imperative," Barry says.

Not only can a Heavy Duty Pit Box be constructed to your ideal size, but MFH can easily construct it in any shape with right angles. Their reversible corners enable the MFH team to easily construct outer walls, as well.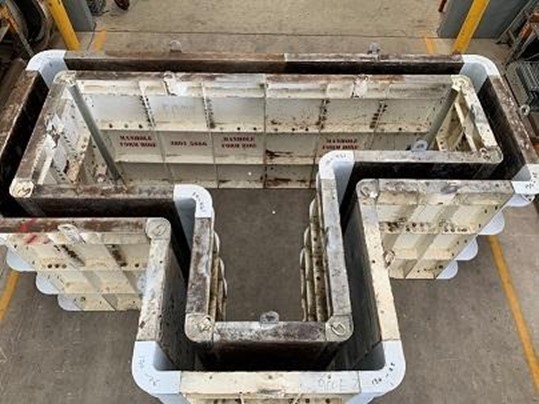 Other custom features include the ability to offset individual wall panels for different sizes of inlet and outlet pipes, and building in protrusions and recesses to the structure.

MFH even offers adjustable prices depending on the size of the pit box needed. Check their easy-to-use price list to discover the deal you'll be getting.

Just send in your dimensional requirements, and they will collate all components to suit.
Heavy duty made easy
With the capability to build walls of any thickness, the Heavy Duty Pit Box has been beefed up to handle large volumes of concrete. Manhole Form Hire designed the pit box in line with the structural codes AS 4100-1990 Steel Structures and the AS 1170.1-2002 SAA Loading Code, with wide structural rails and an extra row of staggered bolts, so you can rest assured it can handle the job.
But its size and rigidity don't take away from its ease of access.
One of the aspects that make the Heavy Duty Pit Box so popular is how easy it is to extract from concrete. It is designed to bolt together quickly and dismantle easily with a wide corner radius and plenty of well-placed lifting lugs.
MFH delivers pit boxes and a range of other forms across Australia's East Coast. From their offices in Brisbane, Sydney, and Melbourne, they take the load off projects across South East Queensland, New South Wales, and Victoria with next-day delivery in metro areas and freight delivery for regional areas. All you need to do is call and request it.
From planning to pack-down, Manhole Form Hire's Heavy Duty Pit Box makes water and waste management projects a breeze.
Click here for custom forming solutions across Australia's East Coast.