Tapered forms aren't just for above ground structures – Manhole Form Hire's taper-back forms prove that manhole construction benefits from them too.

As access points for workers to get to underground plant, sewer systems, and stormwater systems, manholes are vital infrastructure for maintaining and repairing the underground utilities we take for granted. With population growth and increased urbanisation in New South Wales' and Victoria's city centres, cylindrical designs are proving to be bulky and require increased reinforcement to withstand the higher volumes of traffic running atop them.
That's why Manhole Form Hire supplies taper-backs – tapered forms that essentially connect the wider manhole to the surface with a meter-long cone-shaped structure that limits the size of the access point, reducing the required reinforcement and giving more space for infrastructure to be installed around it.

The word "tapered" is defined as "reduced in thickness toward one end."
A tapering structure is usually cone or pyramid shaped, narrowing toward the top of the structure. Since the top is narrower and thus lighter than the bottom, it requires less reinforcement, supporting itself on the wider central core. Think of it as a large, particularly-hard-to-knock-over witch hat.

Tapered designs are ideal for building super-stable chimneys, tall bridge piers and towers above ground. Below ground similar principles apply and tapering structures allow manholes to be built with less reinforcement, leaving more space for other infrastructure to be built around it without sacrificing the structural integrity of the manhole. With less roof to reinforce (though still enough space to comfortably fit a worker), contractors can save on resources – and with less surface exposure than traditional manhole designs, taper-backs are less exposed to heavy activities such as traffic, making the whole structure less vulnerable to wear-and-tear.
Get custom taper-back forms that fit your project.
Manhole Form Hire supplies affordable taper-backs to infrastructure projects across Australia's East Coast, including New South Wales and Victoria, where they are more commonly required.
View Manhole Form Hire's taper-back form price list.
MFH's services outstrip the competition in convenience, affordability, and innovation alike. One consideration they took in designing the taper-back form was dimensional accuracy.

Manhole Form Hire National Manager Barry Kuster explains, "Unlike straight cylinders that can be more easily constructed in stages, the tapering effect requires greater accuracy in placement. The finished level has little room for variation so we also provide risers of varying sizes to enable the structure to be poured to the correct height in one go."

View Manhole Form Hire's risers price list.
Manhole Form Hire offers a long list in combinations of taper-back height, diameter, and wall thickness so their customers don't have to order new equipment every time they construct a manhole of different dimensions. MFH can provide this customisability fast – delivering a range of sizes at short notice and catering to last minute variations with ease.
Learn more about Manhole Form Hire's taper-back sizing options.
Barry notes that Manhole Form Hire's ability to cater to the transient nature of their customers' work is the main thing that sets them apart from the competition, including companies that provide pre-cast forms.
"Altering pre-cast is subject to damage, with the added risk of not getting it quite right," he says. "They require more care when back-filling as sections can move as the ground is disturbed."
MFH's taper-backs have been designed with prominent heavy-duty lugs to provide plenty of lifting and handling options and their exclusive anti-fouling bolts for ease of assembly.
Flexible taper-back delivery options on your schedule
Manhole Form Hire is committed to making their customers lives easier in every aspect of their work. Not only do they provide custom taper-backs to suit, but delivery options that ensure customer projects get done on time, without lugging around unnecessary materials.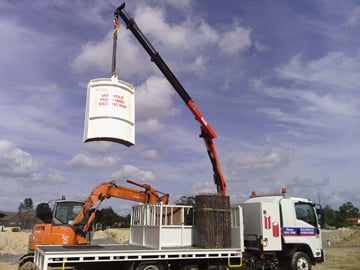 Barry says pre-cast manhole forms "are often delivered in advance so take up a lot of space until required."
"This can lead to damage," he says.
"Industry delays can also affect delivery. Variation often means you risk having to store and transport redundant items until another time".

"We are able to deliver to a site where and when needed."
Manhole Form Hire provide their taper-backs and risers to infrastructure projects across Australia's East Coast from their offices in Yatala (Queensland), Riverstone (New South Wales), and Laverton North (Victoria).