A new report by SMEC has put forward a $70 billion proposal for a high speed rail solution to mitigate regional travel times and significantly bolster connectivity between key population centres in South East Queensland.
SMEC, commissioned by the SEQ Council of Mayors, has proposed a 10-station high speed rail project, that will connect population centres between Toowoomba, Gold Coast, and the Sunshine Coast, with lines converging in Brisbane.
"What the report demonstrates is that we have significant infrastructure needing to be built to ensure the future of southeast Queensland," said Brisbane Lord Mayor, Graham Quirk.
"This region is growing at twice the rate of OECD countries. We simply have to … prepare for that growth."
If the proposal is approved, Brisbanites would gain access to both Toowoomba and Maroochydore in approximately 45 minutes, where existing travel time by car has typically been over an hour and a half for both routes.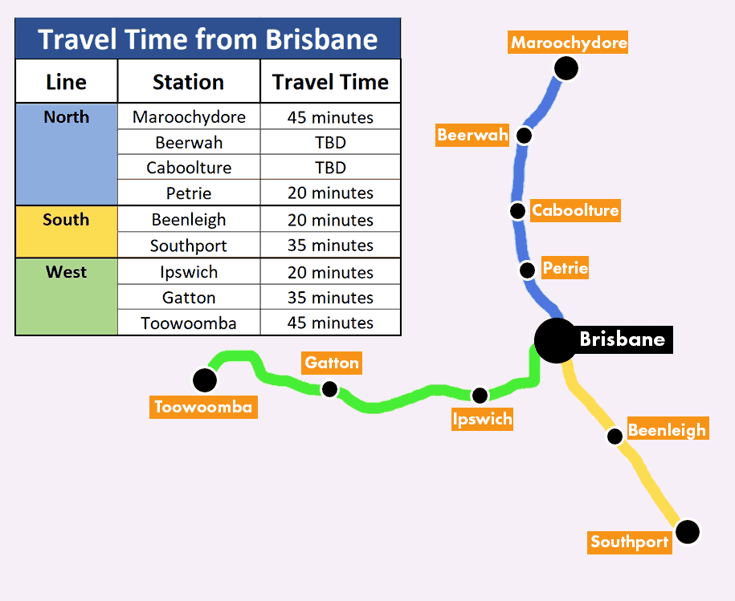 The project would offer rail at a top speed of 250km/h, averaging 150km/h, compared to the existing average speed of 60km/h.
Existing projects, such as the Brisbane Metro and Cross River Rail, would be utilised as foundation pieces for the mega project.
Mayors and councillors from across southeast Queensland have weighed in on the report, offering an overwhelming amount of council support.
"A faster rail solution between Brisbane and Nambour and Maroochydore would provide substantial social and economic benefits for our region and ease the pressure on the Bruce Highway," said Sunshine Coast Mayor, Mark Jamieson.
"A smart federal or state government would test the market on a public-private partnership for infrastructure like this. People are happy to pay if the service delivers them where they want to go quickly and reliably. Lost productivity is no good for anyone," said Gold Coast Mayor, Tom Tate.
Source: The Courier Mail