Mini excavators are one of the most popular hire machines for construction sites today so it's important that you take full advantage of them. Known as a compact or mini excavator, the excavator can come tracked or wheeled with a weight range from 0.7 to 8.5 tonnes and specialises in tight access and residential work. Using a mini excavator is ideal for many construction jobs or in your backyard, from digging, trenching and demolishing.

If you're looking for the same high performance and features of a standard excavator but in a smaller size, then find out below why a mini excavator could be the right machine for you and discover its use and benefits.
Why use a Mini Excavator?
On smaller sites large excavators aren't always practical or necessary, meaning a mini excavator being a great alternative. Whether it's a small to a medium-sized project or when more precision is needed in assisting full-sized excavators on larger sites a mini excavator is what you need. Hiring a mini excavator makes construction and excavation tasks more effective and safer as their small size allows for prompt and quick movement into space restricted areas.
Mini excavators can be used for a range of jobs including:
1. Demolishing small structures, concrete, sheds, steel and asphalt
2. Digging holes, ponds, irrigation ditches and foundations
3. Creating utility trenches and drainage trenches
4. Repairing sewer lines
5. Flattening landscapes and removing tree stumps
6. Drilling and backfilling
7. Snow ploughing
Mini excavators can handle a variety of jobs that either require demolition or digging, that a shovel or basic hand tool couldn't handle. With the additional range of attachments available making it possible for mini excavators to complete all kinds of projects and tasks.
Benefits of using a Mini Excavator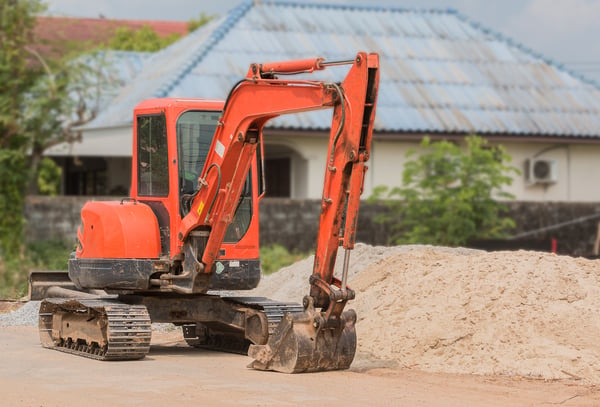 The following are some of the unique benefits of hiring a mini excavator for your next project or task:

1. Agility
On any site mini diggers are highly manoeuvrable with access to tight spaces, interiors or softer ground.

2. Transport
Mini excavators are easy to transport by trailer or pickup bed, making transport cheaper and less of a hassle in comparison of moving large excavators.

3. More efficient
Mini excavators use less power meaning the machine is cheaper to run and creates a smaller carbon footprint.

4. Multifunctional and high productivity
Small excavators can assist on a range of tasks during one project due to its versatility and ability to provide several services using attachments.

5. Less noise pollution
Mini excavators are quieter than most heavy-duty equipment which makes them an asset in residential jobs where neighbours are nearby.

6. Minor damage to the worksite
Small excavators are a lighter machine that leaves a very small footprint on operating surfaces reducing risk to damage exteriors and structures.

7. Simplicity of training
Mini diggers are extremely trainee-friendly as mini excavators are easy to learn and operate.
Mini excavator attachments
When using a mini excavator there are two main attachment types, digging and demolition. Other popular excavator attachments are augers, buckets, compactor plates, compactions wheels and rippers. These are an important part of the compact excavator hire as each mini excavator model is designed to take on diverse projects and different kinds of attachments can perform more than one task. Before hiring a mini excavator consider the type of ground and workspace of the project.
Operating Mini Excavators
Compact excavators are relatively small machines that are very powerful and dangerous if used incorrectly. Therefore, it is important that when operating you have training from a professional before using the vehicle. When hiring a mini excavator in Australia you may need a license to operate, therefore our equipment hire companies will let you know prior what is required for your specific job. Before commencing work, in a safe location away from hazards, you should test the machine and controls prior to commencing work to have an understanding and feel of the mini digger.
Here at iSeekplant, we have a nationwide network of mini excavator hire suppliers ranging from Brisbane, Sydney and Melbourne to Canberra, Adelaide, Darwin and Perth. If you're thinking that a mini excavator is the right machine for your project or you're unsure which excavator size to choose, have a quick chat with a plant hire company or the iSeekplant team on 1300 691 912.
Subscribe to iSeekplant's Flapping Mouth blog below to keep up to date with all the latest construction news and projects!