As a responsible operator, running a pre-start check on your plant or machinery before you start the day is the best way to ensure the job gets done safely and without delay.
Undertaking a pre-start check on your machine before you start a days work, happens in three stages.
Step 1 - Visual inspections of important features prior to starting the machine
Step 2 - Visual & function tests while the machine is turned on but stationary
Step 3 - Testing the machine's functions during a short drive

Within each of these steps there are activities that are common to all pre-start checks. We itemised them below and we then go into a few examples of extra items that are unique to those machine classes.

The following items are on all pre-start checklists for plant and machinery and are universal whether they are done on paper or electronically. We then review the slight tweaks you need to make in three pertinent examples - Pre-Start Checks for Excavators, Pre-Start Checks for Forklifts and Pre-Start Checks for Mobile Cranes.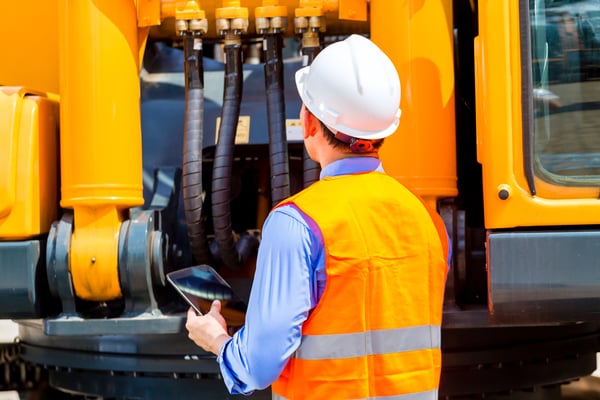 Step 1 - Before turning the machine on:
The following checks need to be made while the engine is off and we recommend that they are done in the following order.

Important Features

Inspect Hydraulic Lifts & Tilt Rams (if applicable) - are these lubricated and carry no damage?
Battery - are the bracket terminals secure and clean?
Are the battery electrolyte levels correct and caps in place?
Is the battery charge sufficient for a day's work?
After these steps there are then a bunch of machine specific steps that are unique to each class of machine that you will need to visually inspect prior to turning the machine on. This involves things like the tracks, booms, arms and ground engaging tools.

Safety Fittings and Features

Seat and Seatbelt - working and no damage?
Data Plate - is it readable?
Warning Decals - are they readable?
FOPS & ROPS - are they secure and in good condition?
Coolant, Oil & Fuel Levels
Engine Oil Level - correct?
Fuel - enough for the day?
Transmission Oil Level - correct?
Hydraulic Oil Level - correct?
Coolant Level Correct for temperature?
Fluid Leaks - ensure there are no fluid leaks under the machine
Attachment Security
Attachments like Buckets, Brooms, Spreader Bars etc - are they secure and the pins secure?
Is there any damage to attachments that is visible? Make a note
Ground Engaging Tools and surface (such as tracks, buckets etc) - is the cutting edge loose or worn?
At the end of these basic checks, plus the visual inspections you make that are specific to the machine you are checking, then it's time to turn the key. Make note of how smoothly it started and whether it's running well at the point of start.


Step 2 - After turning the machine on:
Now, it's time to get that machine purring and run through the final safety inspections.

General Functions (common to all machines)

Horn - does it work? And is there any issue with its volume?
Hand Controls - do they operate correctly?
Foot Pedals - are they clean and do they operate correctly?
Control Panel - are there any issues with warning indicators, lights and gauges?
Reversing Beeper - does the machine operate in reverse? And do the beepers work?
Lights - do they work? Can they operate on spot or drive mode?
Rotating Warning Light - is it operational?
Park Break - does it hold the machine on an incline?

After these general checks, we are going to run through a bunch of unique features with your machine - like operating the boom, bucket, rippers or GPS if these are fitted to the machine. We'll discuss these below.


Step 3 - While driving the machine now:
To complete the final checks you need to drive the machine a small distance.

Is the steering working well with no undue noise/stress?
Steering clutches - is there no excessive play?
Creep - the machine doesn't creep when controls are neutralised
Excavator Pre-Start Checklist
If you're operating an excavator you need to do all the above pre-start checks. Then you need to add these extras into step 1 and step 2. Step 3 is universally the same for most machines (ie, you are testing how the machine drives and moves).

Step 1 Additions - Visual inspections before excavator is started

Check that the hydraulic cylinders are lubricated with no damage
Check the quick hit and pin - ensure that it's not seized, has no damage and the clip is in place
Ensure the track chain has correct tension
Check the track grouser plates are not damaged

Step 2 Additions - Check while excavator engine is running
Check that the boom and dipper extend to full height
Check that the bucket tilts and crowds to full travel
Slew - ensure the boom slews correctly and to full travel, with a smooth motion
Auxiliary Hydraulics - check they are operating
Check any survey equipment or GPS that might be fitted

Step 3 - no change, continue as above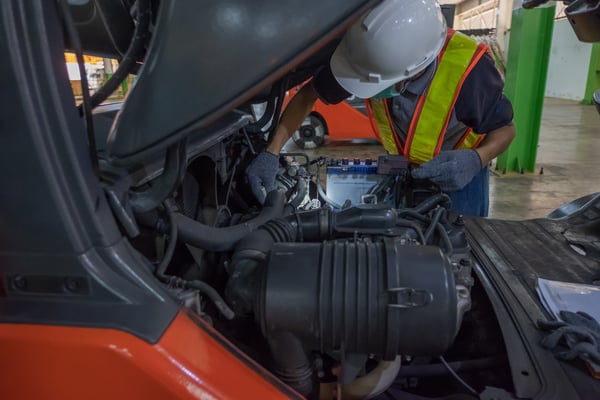 Forklift Pre-Start Checklist
Even machines as prolific as forklifts (and, as relatively harmless when you put them in the context of big yellow earthmovers) need pre-start checks, and workers all over Australia are running this process every morning to ensure the machine is fit for purpose before driving it around all day.

Step 1 Additions - Visual inspections before forklift is started
Is the mast lubricated and carrying no damage?
Are the forks even, with no cracks, damage and square?
Are the tyres inflated - you should really measure their PSI
Wheels - are they in good condition with no cracks?
Does the gas cylinder have any leaks? Is the bracket secure?

Step 2 Additions - Check while forklift engine is running
Does the mast extend to full height?
Does the mast chain have equal tension on both sides?
Does the side shift move effectively to the left and right?
Are any of the moving parts making an unusual noise?
Do the foot brakes work?
Step 3 - no change, continue as above


Mobile Crane Pre-Start Checklist
Cranes are obviously one of the more dangerous items of plant and equipment so ensuring they are working correctly before operating is essential to site safety. As such, mobile cranes with s capacity over 10 tonne must be officially registered with Workplace Health and Safety authorities in most states.

Crane Operator Pre-Start Checks
Does the crane operator or rigger certify that the ground and working conditions are suitable for this mobile crane to conduct the required lift?
Does the operator or rigger certify that this crane is certified to lift the size of the load that needs to be lifted today?
Is this crane registered with workplace health and safety authorities and is its certification current?
If the crane is more than 10 years old, has it received a major inspection certificate?
Is the crane operator manual and load chart written in English?
Does the operator have both a crane or rigging ticket, and a working at heights certification?

Step 1 Additions - Visual inspections before crane is started
Have you inspected the wire ropes?
Is the boom working and without damage?
Is the hitch secure and with the chain?
Do the crane and lifting components have required markings and signage?

Step 2 Additions - Check while crane engine is running
Have you tested the emergency controls? Are they fully functioning?
Have you operated the safety switches and interlocks, including all limiting and indicating devices?
Does the boom extend to full height?
Does the boom slew to full travel?
Step 3 - no change, continue as above
Once these pre-start checks are complete you will know if there is a problem with the machine before you start work or if the machine is ready to go for the day. Safety is a must on site and doing these pre checks are one way you positively impact the safety on site. If you are a quality operator with a well maintained fleet, our hundreds of thousands of users love talking to guys like you. Click here to register as a supplier on iSeekplant for free.