How often are you working on an excavation project, get halfway through and realise your work is too shallow or deep by 200mm? Probably more often than you'd like to admit! It means you've got to jump back into your excavator, work for another hour, and hope this time your work is right where you need it to be. All this work means you're on the construction site longer, you're running your machine longer and you're exhausting yourself.

Most excavator operators in the industry have embraced some level of machine control since they first came on the market in the late 1990s and let's be honest there's good reason to embrace the technology. From total station-based systems, to GPS, lasers or a mix, the products available in the construction machine control sector are comprehensive.

Going into the new decade this technology is expected to develop and adapt to new problems in the construction and mining sectors, without losing sight of the issues still faced by small to medium-sized construction and excavation businesses. Not only this, but the machine control technology and software industries are set to continue to expand, with aftermarket companies and machine manufacturers both releasing new equipment.
Benefits of Machine Control Technology
Whether you're after elevation assistance, 2D machine control or 3D machine control the number of options on the market means there's the right one for every need. Whether you're an excavator owner operator or managing a fleet of machinery there are a few key benefits of machine control that you need to ensure your technology has:
Full machine integration
End-to-end solutions
Eliminates re-work
Ease of operation
Full Machine Integration
When it comes to aftermarket machine control, not all are made equal. While some equipment technology offers partial integration with the machine, such as an excavator, they may not always offer a full suite of capabilities. This can mean that you end up needing three pieces of technology to do the job of one.

You also need to be careful with their calibration, ensuring the data they are relaying to you is correct and not out of sync. Machine control that offers full integration provides you with the peace of mind knowing your technology is working at one with your excavator and other positioning technology on site.
End-to-End Solutions
While this does bias larger machine control companies, you need to consider what technology is used on most sites, and what is favoured by the project managers. Having machine control technology that syncs up to other project management tools, sensors and scanners guarantee your work can be measured and tracked. This can be the difference between getting a subcontracting project on a major project or not.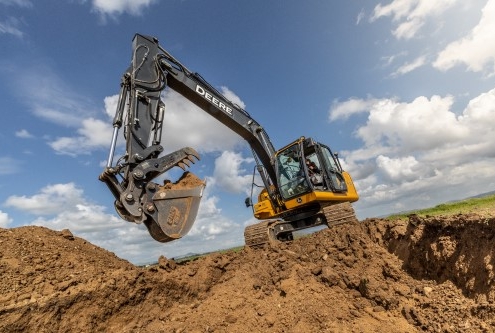 Eliminating Re-Work
No one, and I mean no one, enjoys re-work. Potentially the only benefit of having to complete re-work is if you're being paid by the hour, but this is drowned out by the aggravation of your boss, your client and your co-workers. Guessing where the grade you're excavating to from your seat in your excavator is fraught with issues, no matter how good of an operator you are.

Having machine control technology capable of eliminating re-work means you're capable of completing an excavation project faster, with a high degree of precision. Eliminating re-work eliminates the time it takes to fix, the backfill costs if the materials have left the construction site and the delays caused by pushing the excavation project's timeline back.
Keeping Operating Easy
The last thing you need after you've just bought machine control technology is to not be able to use it. If the technology is too complicated to use, more often than not you won't end up using it. This not only means you're out of pocket and are tasked with replacing the equipment, but work that may have depended on the technology now also has to be delayed.

When purchasing a machine control system you need to look at not only what is included but how simple the design of it is, while you may be able to work it while you're sitting in your living room, can you use it while you're in your excavator and there are ten other things going on? This could mean you have to pay a slightly higher price for your machine control technology, but it also means you're getting more value for money.
Automatic Excavator Systems with All the Benefits
When it comes to machine control systems there are few brands more synonymous with the technology than Topcon. For over 30 years Topcon Positioning Systems has been creating innovative and simple automatic excavation technology, allowing construction sites to work smarter, not harder.

With Topcon's automatic excavation systems operators everywhere have minimised the risk of over digging, finishing excavating projects faster and reduced the costs of operating their excavators. The latest automatic excavation solution, the Topcon X-53x automatic is part of a new generation of automatic technology. The software automatically fixes the bucket angle and digging depth to align with an excavation project's requirements.

The X-53x automatic excavation system includes full integration into the excavator, easy to use onboard software and fingertip operation with specially designed controllers. With automated depth and bucket angle features, you can focus on the most important job at hand, finishing the excavation project. With time constraints of projects getting tighter and tighter the X-53x automatic system takes away the painstaking process of fixing your bucket and boom position with every load.

Whether you're working on flat, stepped, sloped or curved surfaces the Topcon X-53x automatic reduces time wasted and operator fatigue, meaning more work can be completed to a higher quality. From small and detailed earthworks to major road construction Topcon Positioning Systems are proven to improve the productivity, accuracy and profitability of excavator projects. Get in touch with the team at Position Partners, Topcon's number one Australian supplier, today to learn more about the X-53x automatic or any of their other machine control systems.