Rio Tinto's
$2.6b

Amrun project has reached 90% completion, with the project expected to become operational over summer.

Rio Tinto's Amrun project, focused around the construction of a new bauxite mine, includes a new processing plant near Boyd Bay, an export facility/wharf at Chith, a ferry terminal, a dam at Arraw, an accommodation village, a power station, a Torro tailing storage facility, and new roads, amongst other infrastructure.

1200 jobs are currently active on site, where 900 employees hail from Queensland and around 180 from Indigenous backgrounds across the nation.

Amrun is expected to support 1400 jobs, across Weipa operations, by completion.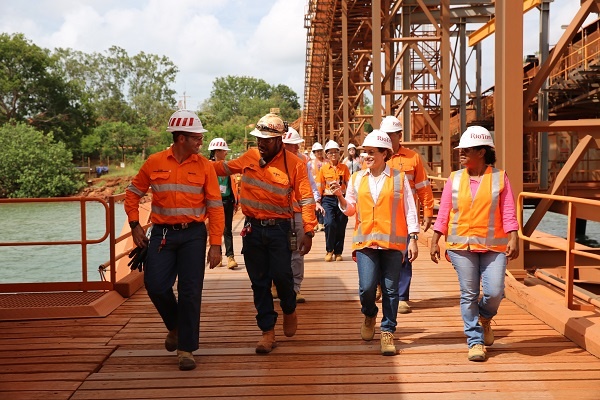 Over 770 Queensland businesses were involved in the project through $1.5 billion AUD worth of local Queensland contracts.
The project, based some 40 km south of Rio's existing Weipa mine, is expected to contribute $1.3 billion on an annual basis to the Queensland economy, with the majority of production being exported to China.
Queensland Premier, Annastacia Palaszczuk, visited the Amrun bauxite project to show her Government's support in advance of its mobilisation later this year.
The visit came just days before an announcement by Premier Palaszczuk regarding her Government's achievements in creating over 160,000 jobs since 2015, with an extra 75,000 expected to be added over the next financial year.
"Key projects in resources and energy are contributing new jobs, tourism is booming and agriculture is performing well despite the drought as well as new industries including large-scale renewables, biofuels and our commitment to innovation," said Premier Palaszczuk, last year.
Rio Tinto has stated that the expected lifespan of Weipa operations will be boosted by approximately 40 years thanks to the Amrun project.
"...provided a significant boost to the Queensland economy and to the people in the communities where we operate. We are proud of our contribution so far and look forward to completion of the project as it will represent a new chapter in Rio Tinto's 60-year history on the Western Cape," said Rio Tinto's CE, Jean-Sébastien Jacques.
Source: Queensland Government & Rio Tinto