'Rough Terrain' can mean a number of things. Usually, it's referring to scissor lifts working on land that is uneven, slippery or on a slope. It's important to figure out how big the slope is prior to construction commencing to ensure the possibility of an incident is minimised. If you're unsure what type of scissor lift you need to hire, speak with the company you're looking to hire with - they'll likely be able to provide you with incisive advice on which machine you need.
What do Scissor Lifts do?
Scissor lifts provide workers with an elevated platform to safely conduct their work and come in a range of sizes. They're frequently found throughout construction sites in Australia and are incredibly reliable, relatively inexpensive to hire and easy to operate. Utilised throughout warehousing, road construction, civil infrastructure builds, industrial workshops and more, scissor lifts can be hired on both long and short term arrangements.
Scissor Lifts are a safe option.
Scissor lifts are exceptionally safe machines that ensure your employee's safety. One of the most frequently-hired members of the access equipment family, scissor lifts are renowned for reducing site accidents by providing a sturdy surface for workers to operate on.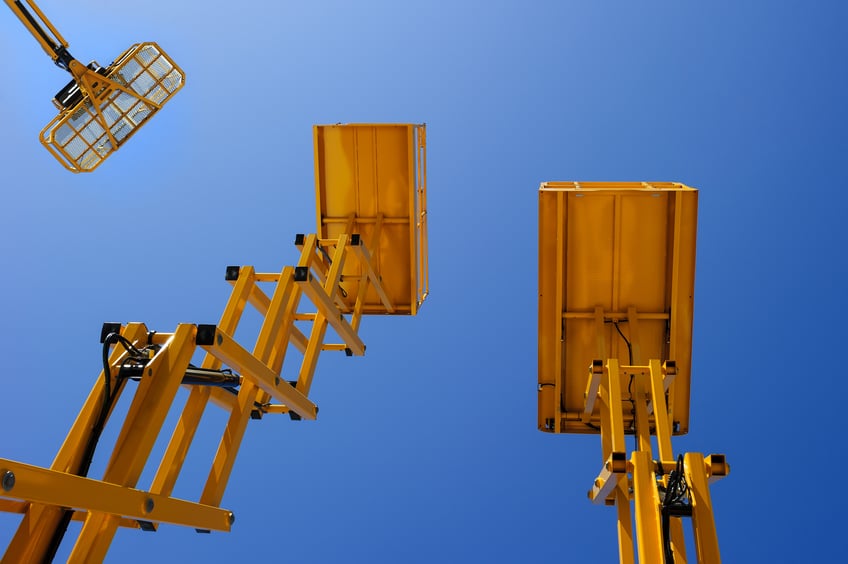 Electric Scissor Lifts.
Scissor lifts can be found across the country in two forms. Electric scissor lifts are the most frequently-hired option in Australia - they're fantastic for indoor work and constantly used in warehousing. These machines thrive in places where operation space is tight, and a high degree of flexibility is required to efficiently carry out work.
Electric scissor lifts will typically run on batteries, meaning that they don't emit any fumes (which can be problematic in tight spaces). This type of scissor lift can be recharged at your convenience, so you won't have to pay for any fuel.
All Terrain Scissor Lifts.
A lot of projects that require scissor lifts in Australia will take place outdoors. The majority of surface areas won't be perfectly flat, so it's important to utilise all-terrain scissor lifts if necessary. These machines are built to work in tough areas, are four-wheel drive and have reinforced tires to prevent flats.
All-terrain scissor lifts will typically run on petrol, although 'dual unit' machines can be found where both a battery and fuel is used to operate the machine. Dual units are used because batteries will typically last about 8 hours, with a recharge length of around the same time. You may need to drive the unit to your site manually, run it, and drive it back to the depot. Eight hours of battery probably won't cut it in these scenarios, which is why rough terrain scissor lifts use petrol instead.
If you're looking to hire high-quality scissor lifts, then check out iSeekplant's online directory. We have thousands of suppliers listed all over the country that are ready to help you tackle your next project! Perhaps you need a scissor lift in Brisbane, Sydney, Melbourne, Canberra, Perth, Darwin, Adelaide or somewhere in between. iSeekplant is here to help, so get the ball rolling with our get a quote tool today!