A site shed is a quick and portable way to give you more space whether you're working at a construction site or at a remote site. The best thing about site sheds is that they do not have to be bought, you can choose site shed hire and use them for a variety of purposes.
Average cost of hiring a site shed
There are a variety of site sheds and portable accommodation to choose from and the price differs from product to product based on a variety of factors.
Portable site office
You can use a site shed as a portable office. This one is needed in open spaces such as construction sites where you need a comfortable and secluded corner to sit and work or review site plans. A portable site office can be customised with air conditioning and other such perks for added comfort
These are available in various sizes and can accommodate a number of people. Most portable site offices are 6x2.4m and cost around $130 per week.
Mobile site accommodation
Mobile site accommodation is used to accommodate a large number of people including workers who need to rest, sleep, eat, and complete other activities. These are usually large (6x3m) and cost about $140 per week.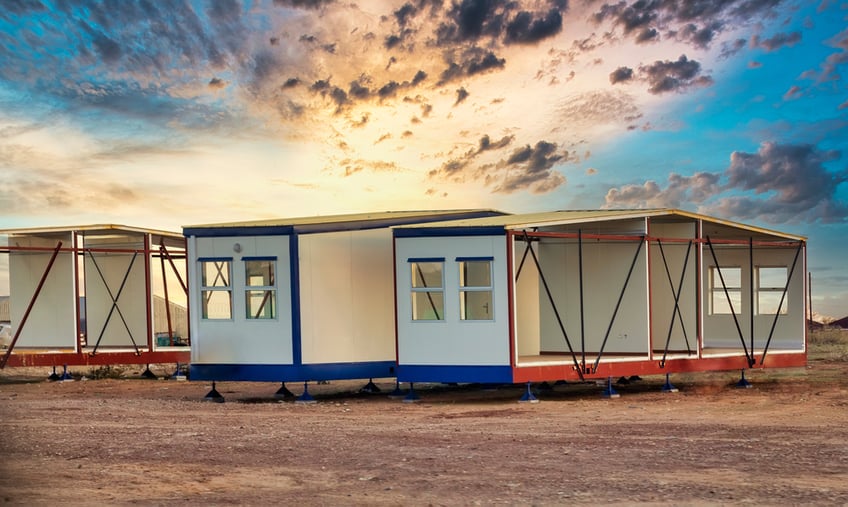 Change rooms
These are typically small and used to change and are even often fitted with portable toilets. While a changing room shed will not cost you much, one with a portable toilet can end up being about $1,000 to $2,000 per week based on the type of toilet and size of the shed.
The smallest is 3.6x2.4m costing about $110 per week without a toilet.
First aid rooms
The law requires some sites to dedicate a room to medical emergencies. Since it is not always possible to construct one, businesses usually opt for a site shed that can serve as a first aid room and has enough space for some individuals to sit and a hospital bed for workers to use in emergency situations.
These are usually 6x3m and cost $140 per week. You can also go for a slightly smaller option at 4.8x2.4m costing about $120 per week.
Shipping containers
Shipping containers can be used as site offices and site sheds. They're often marketed as portable buildings as they are durable, portable, and very good at protecting against external elements.
Most people choose shipping containers as they are larger than traditional site sheds. Many small and big companies even have their local branch in a shipping container as they are large enough to accommodate multiple people and can even fit furniture. Shipping container sizes differ depending on the necessary use, so finding the right size is important.
10 ft
A 10 ft shipping container can fit a bed or multiple chairs and tables. You can even use it as an emergency room, changing room, etc. It will cost you about $50 to $80 per week.
20 ft
A 20 ft container is very large and can even be converted into multiple rooms. It will cost you about $100 to $200 per week.
Additional factors which influence site shed hire prices
Size of shed
This is one of the most important factors as larger sheds will cost you more. They can accommodate more people and can be used as site sheds for a variety of purposes.
The smallest size is 3.6x2.4m and the largest size is 6x3m. Those who want more space can choose shipping containers or site sheds that even go up to 40m. However, remember that you will have to contact a delivery service provider to get very large containers shipped or pay extra for delivery.
Appliances and fittings
You can choose to add your own appliances and fittings or ask the company to add these to the quote. The more appliances and fittings you ask for, the more expensive the final price.
Amenities
You can choose a basic shed or ask for one with additional amenities such as an AC and bathroom. The more amenities you ask for, the more expensive it will become.
Tips for hiring site sheds or mobile site accommodations
Here are some tips to keep in mind:
The shed must be large enough to accommodate the specific number of people for each shed.
It must be durable and able to withstand heavy elements like storms.
Most have a minimum commitment requirement so make sure to look at the fine print.
You might be able to save money by signing a long-term agreement.
Make sure it has the required amenities such as well maintained toilets, air conditioning, and drinking water.
Find site shed hire with iseekplant
Site sheds are something that can often be forgotten on site but are an essential part of major projects. Whether you're looking for a long term hire, or something as a temporary fix, iseekplant can help you find what you're looking for. Simply search the marketplace for site shed hire, compare suppliers using our Get a Quote Tool, and hire the perfect supplier for your job.
Whether you're looking for site shed hire in Brisbane, Melbourne, Sunshine Coast, Geelong, Canberra, or other areas of Australia, we can help. If you need more information, email our projects team today and they can answer any questions about hiring through iseekplant.