DIAL BEFORE YOU DIG is going through some changes. For the past 20 years, DIAL BEFORE YOU DIG has been using a great system for all enquiries from their users, however, they've had an upgrade. DBYD Next Gen is the new software that they'll be using for their customers. Their new system is a user-friendly version that can make your life easier on site. It takes practically no time at all to transfer, with workarounds that make your enquiries easier and a new addressing system that allows DBYD to go above and beyond what you ask for. They also have a new app available for download on Android and iPhone IOS, just delete the existing app and re-download the new one.
New workarounds to cut out the middleman
Next Gen DBYD has workarounds that make your enquiries quick and easy. Whether you're sending an enquiry before you step on a job, or while you're on-site, their new system can help DBYD get information to you as soon as possible. When you're on a job and looking to survey the site using google maps, you probably won't have much luck finding what you're looking for. Using their new AGPS system, they can get information to you quicker and in a simpler way. Once you receive the information based on your location, surveying the site for your job is a breeze. DBYD goes above and beyond with the data they see when receiving your request, giving you a little more than you ask for. Using GPS triangulation, they receive spatial data through your location to give you the address or site you're looking for. In rural jobs, you may run into black spots where there is no data. Their new app allows you to lodge a request with them, and if you don't have data, don't stress! You can come back to your request to see the surveying location once you're in range of a cell tower.
Hit the nail on the head with addresses in the new system
When you're on site in suburban areas searching for an address on Google maps, you may want number 24, but Google places you at 26, wasting your precious time and causing unnecessary headaches. The new Next Gen DBYD system places you exactly where you need to be. It gives accurate, pinpointed data to ensure you're at the correct address. Your location could be 24, but it may be 24 and a little bit of 26 next door. What you're looking for online, and the area you're looking to work within, is very different from real life. DBYD takes the hassle out of trying to umm and ahh over where to dig. Their new system handles the registered plan number or deposited plan number for you. Don't sweat the small stuff on the job, focus on what's important and those tasks you need to get done.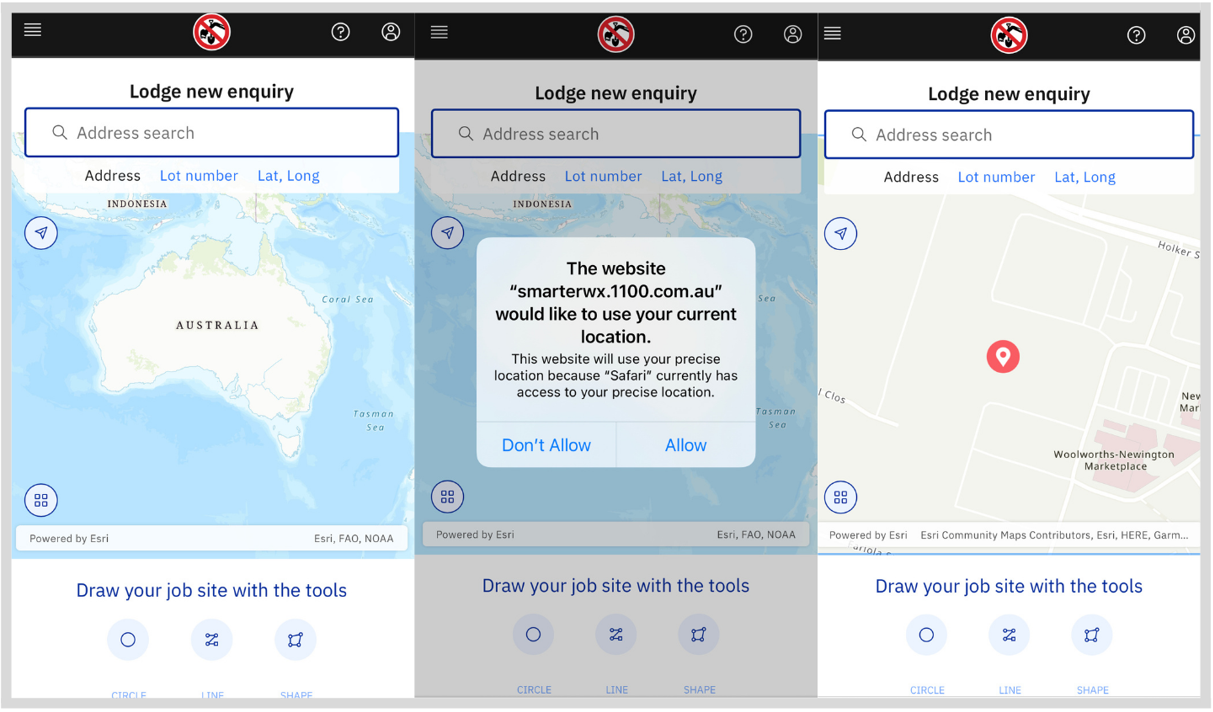 Re-register in 30 seconds…
The Next Gen DBYD system boasts a new dashboard for easier use with a higher functionality within their new system. With a more user-friendly navigation, their new system isn't a tough nut to crack when you're learning how to use it. Through the dashboard, you can see all past jobs you've logged, and you can skip through a years' worth of enquiries. Can't remember the enquiry you made a few months ago? Don't stress! Your enquiries can be filtered by location, date, or even needing a response from utilities, so there's plenty of selections to choose from if your brain's a little busy on site. To keep on top of tasks, their new system keeps track of who you're waiting to hear from so you're never digging through your account to find that response at the last minute.
Most replies will come from dbyd@1100.com.au. Sometimes this can trigger spam, so always check your spam inbox for messages from DBYD.

Take the hassle out of finding your job site by re-registering with the Next Gen DBYD system today. Don't take our word for it, re-register today and see how their new system works for you. It takes 30 seconds to register with the new user-friendly system and all your enquiries will be in the one place ready to go. Head to the re-register page and switch over today.