Sydney projects are in for a treat as innovative manhole form hiring services finally expand to NSW.
The trend of hiring out manhole forms instead of buying them has seen immense growth across South East Queensland over the last 25 years, where companies like Manhole Form Hire have helped hundreds of local projects reduce time, improve safety, save money, and gain a greater level of versatility. As a result, the act of hiring manhole forms has become an advantageous alternative to owning your own forms for access chambers, manhole access and pits.
Projects in Sydney have now started catching on to these new solutions, with prominent Queensland companies like Manhole Form Hire identifying an increased level of demand for their services to be delivered on projects across Sydney, Western Sydney and Greater NSW. With the success seen in Brisbane coupled with a growing demand for alternative hire solutions in Sydney, Manhole Form Hire are now leading the pack in bringing innovative form hiring solutions to Sydney and NSW, powered by a dedicated operational centre in Riverstone, north of Sydney.
"Over the years, we've experienced increased demand for our unique services across projects in New South Wales", said Manhole Form Hire National Manager, Barry Kuster.
"After many years of success in South East Queensland, I'm ecstatic to announce that we've taken the jump to set up an operational base in Riverstone and be able to share our full-suite of innovative manhole form solutions across Sydney!".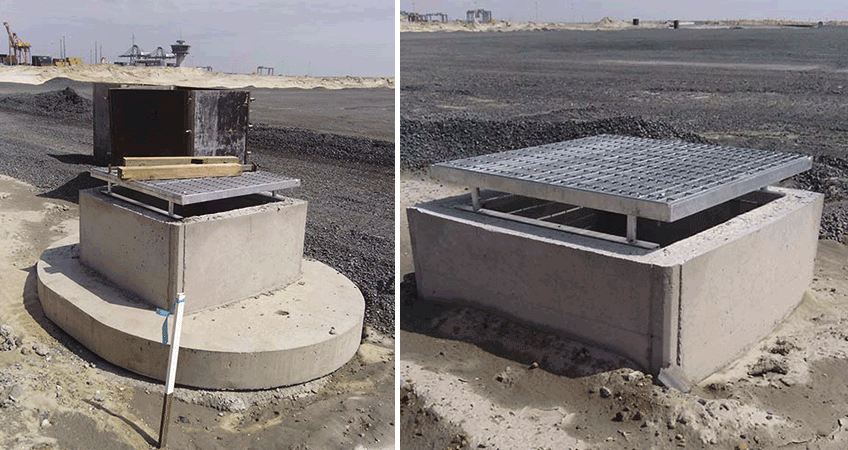 The key advantages to hiring manhole forms include:
Having timely access to multiple forms in all sizes and configurations available at short notice.
Being able to install multiple structures at once due to the range and number of items we make available. Where this is advantageous after periods of downtime caused by rain, holidays, design changes, natural disasters, and more.
"Our mission is to provide the same reliable product and service to Sydney and NSW regions from our Riverstone premises so you too can benefit from this expansion", said Barry.
The Sydney market still tends to rely on a lot of precast, where they coincidentally miss out on the numerous benefits of using in-situ pours.
The benefits of using pouring in-situ include:
In-situ pours incorporate the pipe into the pour as one, whereas with precast you have to break the precast to get the pipe to enter, which can cause the integrity of the precast to be compromised.
There is a risk of ruining the precast when creating an access hole for pipes, this will mean an additional cost to then replace it.
Integrity of precast can be compromised if more than one section of precast has had to be joined together, if there are any movements in the earth around them then it may cause them to break apart at these joins. By pouring in-situ, these joins won't exist therefore mitigating the above-mentioned risks while making the integrity of the structure much more robust.
There is also the possibility of experiencing excess wait times with getting the right precast sizes needed to complete the job, which may cause a delay to project timelines.
The Sydney market currently utilise pit building contractors for manhole form work, however these pit builders may tend to have a backlog of jobs which can cause a delay in the delivery of your project.
According to Sharyn Duffy, MFH Manager, "it may be the case that both the pit builders or the project contractor have only limited sizes of forms to build pits, which narrows their options".
"To alleviate traditional limitations in the market, companies like ours offer a huge range of form types and sizes that are usually available for next day delivery. This enables pit builders a wider range of services that they can provide to their customers in a timely manner while also enabling the contractor, that is completing the project, the option to do it themselves", said Sharyn.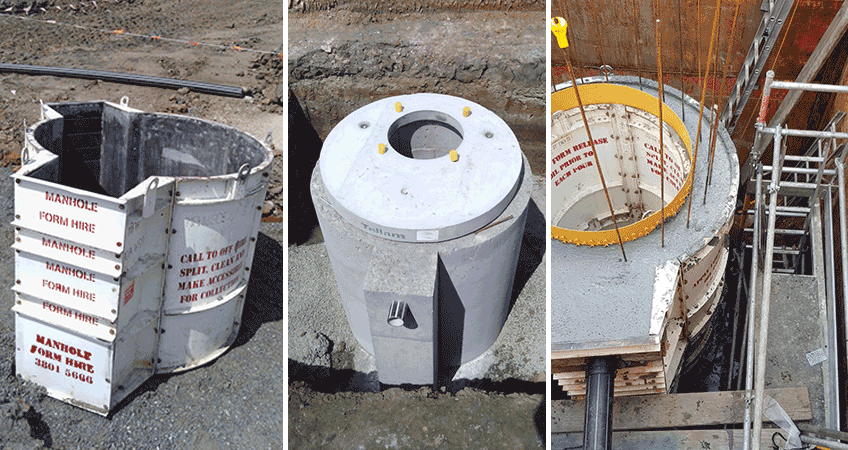 If you are looking for reliable manhole form solutions across Sydney and NSW, look no further than Manhole Form Hire. With a state-of-the-art operational centre in Riverstone, Manhole Form Hire have never been readier to tackle your Sydney or New South Wales based project!
Manhole forms are available in many different sizes, shapes and specifications, so you can truly customise it based on the job at hand. However, if you're still unconvinced - that's okay! The team at Manhole Form Hire are always eager to explain their extensive range of services and benefits via email on info@manholeformhire.com.au, at www.manholeformhire.com.au or via phone on 07 3801 5666.
For more information on the benefits of hiring out manhole forms opposed to purchasing them, check out our previous article here.