The Tasmanian Government has revealed more information on its $200 million Port Master Plan, which includes a $50 million plus extension of berthing facilities in Devonport.
The multi-million dollar project aims to provide increased freight capacity and port productivity in Hobart, Devonport, Bell Bay and Burnie.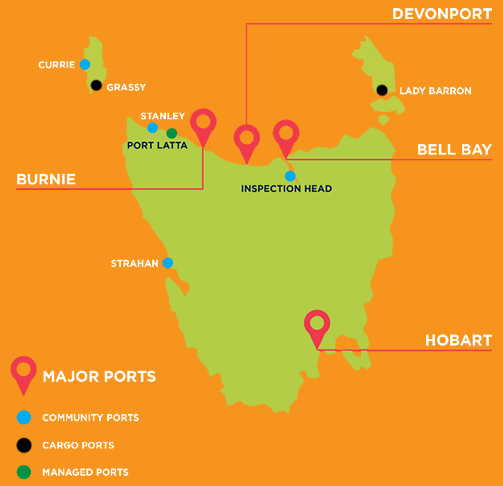 Hobart is set to see a $50-60 million upgrade on its "valuable working port facilities with a new Antarctic precinct," according to Tasmania's Deputy Premier Jeremy Rockliff.
The bulk of the project surrounds work in Burnie, which will see a $80 million upgrade to increase freight capacity, timeliness of operations, and berth extensions "to accommodate larger Bass Strait container and cargo vessels".
With just over 500,000 residents, the Tasmanian government is hopeful projects such as this will help mitigate the State's ageing population and, in conjunction with other State projects, act as a catalyst for economic, employment and population growth for now and for years to come.
There is some concern over the continued direction of the project considering TasPort's Chief Executive Officer, Paul Weedon, retired earlier today.
In response to Mr Weedon's retirement, TasPorts announced that Anthony Donald, TasPorts' Chief Operating Officer, will be acting CEO until a permanent replacement is found.
According to Minister Rockliff, Mr Weedon had been a key driver behind the Port Master Plan.
"[the Port Master Plan] will help the Tasmanian Government deliver on our plan to boost the Tasmanian economy by supporting jobs and promoting business confidence," Minister Rockliff said.
In light of the upgrades and new port capabilities, TT-Line and Flensburger Schiffbau-Gesellschaft have signed a letter of intent to deliver two brand new Spirit of Tasmania vessels.
As shipbuilders continue to innovate, bring out new ships and utilise new freight technologies, ports are pressured to upgrade their capabilities in order to accommodate new standards and technological advancements.
"We're seeing major customers commit to new shipbuilding, and they're bigger ships," said Mr Weeden, Former TasPorts CEO.
Failure to adapt to such market trends may result in a future of stagnant freight growth and a decline in shipping compatibility.
The Port Master Plan is focused heavily on delivering infrastructure upgrades that will allow Tasmania to better accommodate new ships, freight volumes and shipping standards for years to come.
Source: Tasmanian Government & TasPorts