I don't care how uncool it makes me sound that Saturday night was one of the best nights home I've had in a long time.
As doors closed at the election booths, the coalition was ahead. As every seat count came through, it was clear the swing wasn't enough, they were retaining seat after seat. At about 8pm, I poured myself a drink. By 9pm, I was cheering down my phone to my Dad. He sounded more elated than he was on my wedding day. My phone pinged with Queenslanders everywhere celebrating a historic win for common sense.
I was excited mostly for everything to go back to business. We are living in a very prosperous time, with near full employment in most states, high business confidence and a strong economy that is slowly, and surely, changing its mix and modernising. The country is living in relative abundance due to high levels of infrastructure spending, policies that support small businesses and the redistribution of wealth through the economy – not through welfare spending. What was so magical about the election result was that despite the media rhetoric, Australia made up it's own mind, independent of the bluster of commentators clearly out of touch, and Australia's decision was to keep the good times rolling.
Here are my picks for the best 10 things to come out of the 2019 election.
10. I believe in democracy again
I had started to believe, for about 5 years now, that democracy had reached its maximum effective life in most developed countries, as we all swung between marginal governments, the ludicrous hi-jinks of fundamentalists on the far left and the far right and as our senates, and house of reps failed to push through reforms of any meaningful clout. But this election win is proof that common sense can prevail across many disparate states and communities – and when the going is good, why the hell fix what isn't broken.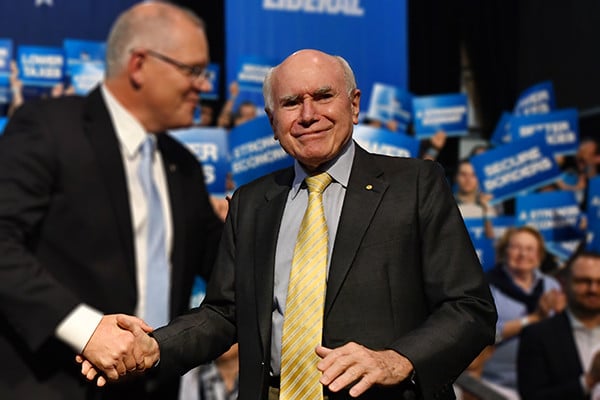 9. Grand Poobear Howard leaves private residence
At about 9:30 on Saturday night, it was starting to look like the Coalition was in front in a substantial way, and every-time Channel 7 crossed to the Liberal Party Headquarters, it was getting progressively more festive. Then, regular programming was interrupted and the cameras crossed to John Howard, the grandfather of Liberal Party, jumping in an Uber Black from his home to the party and the nation knew the election had been won by the blues. A guy like Howard doesn't change out of his PJs to commiserate with losers.
8. Watching the Labor commentators get quieter, and quieter
The smug red-shirts started the night very confident, then progressively got more and more quiet on the desk, relentlessly refuting claims by the analysts that they were in bad shape. By 9pm on Channel 7 and Channel 9's coverage there were spinning chairs on the red side of the desk. Albo and Plibersek had bolted from Channel 9 by 9:15pm, presumably flying back to the nest to feast on the carcass of Bill Shorten's dead leadership ambitions.
7. The Way Shorten's Wife Looks at Him
One of the more shocking facts about Shorten, which failed to come to light in the way it should have, is that his second marriage started by him cheating on his pregnant first wife. Now, I know that's not the 'P*ssy grabbing' humdrum of the American election, but it's something, right? Anyway, knowing that as context, you can't help but get the giggly 'icks' from watching Shorten's wife looks at him like he's the most gorgeous and enlightened man in Australia, even as he conceded his crushing defeat. He is not the most gorgeous or enlightened man, indeed, he is a filthy philanderer who can't hold down a decent job and doesn't have a chin.
6. Abbott GAWN
It's time to go, ABBOTT. Like the proverbial floater he was, we flushed and flushed and eventually cleared the bowl. It was a necessary spiritual cleansing the Liberal party needed to move forward from its fractured history. The seat of Warringah needed a good scrub too. Zali Steggal sounds like the perfect well-dressed rich person to represent the other rich people in Warringah, and a person who will no doubt work tirelessly to solve their rich people problems.
5. Left-Wing Elites in the Big Cities "Dumbfounded"
Not just dumb now, but dumb-founded that practical, common sense Australians voted for a practical, common sense platform. I'm in Melbourne as I write this, and I've been listening to the radio where Kate and Hughsey lament that the election result (and the final season of Game of Thrones) was incredibly 'disappointing' for everyday Australians and that they were 'dumbfounded' that people in the north are 'denying' the existence of climate change. What they are missing, is that Shorten's policies disadvantaged everyone earning over $40,000 a year, targeted self-funded retirees, anyone with more property than their own home and his climate change policies were empty, impractical promises we couldn't afford.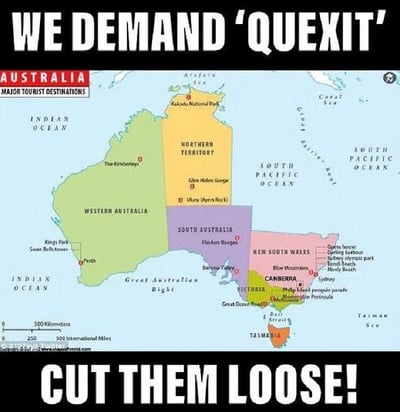 4. Quexit
I saw this map on Facebook, drawn by some loafer-wearer in Melbourne no doubt, and I thought – fine, idiot. We'd love to leave as much as you want us to. We'll take our clean coal, our year-round sunshine, our world's best beaches and you'll have to holiday in Adelaide every summer from here on in. How do you like them apples?
3. The Climate Change Myth
Most Australians question why Labor believe we have to commit to more aggressive and infinitely more expensive climate change targets (per capita) than anyone else in the developed world, or anyone else signed up to the Paris Accord – especially when NO OTHER COUNTRY is going to meet their emissions targets. This election result proves that the average Australian is not as bought-into the climate-change hyperbole as the left-wing elites are. That doesn't mean we don't care – it just means that we don't think every cyclone and full gutter drain is the result of climate change. It also means we aren't of the belief that our economy needs to be torched to the ground immediately as some pagan offering to the weather gods to show that we're serious about the subject.
3. The Adani Rebellion
If you wanted to know Queensland's true mind about the Adani project, well now you do. There is overwhelming support for the project in Queensland, so let's get it done Palaschook. It is ridiculous that one coal project is getting this much national attention. All the inner-city southies dumb protests, finger-shaking lectures and armageddon nonsense has not resonated, in fact, we angry-voted and won the election for the Liberals (that backfired, didn't it?). Digging up and exporting our clean coal is our prerogative, it doesn't make us wreckless or stupid, it makes us smart given the global demand for coal will continue to grow for 20-30 years from now. Please register your disgust with officeshredder@qld.gov.au.
2. Clive Palmer getting DONUTS (and not his usual kind)
I can't put it any better than one commentator on Seven – 'the Clive Palmer situation was a national IQ test, and congratulations Australia, you passed'. The fact that he spent $60 million (which, is actually only 1 quarter of revenue from his mine royalties) and got NOTHING, is further proof that democracy is in-tact in Australia, and this result was truly the common-sense outcome we all wanted.
1. SCO MO. SCO MO. SCO MO.
When Sco Mo rolled Malcy, I was fairly unimpressed (even though I was over Malcy, like everyone else). I thought he was nothing more than a loveable wombat of a man, who had run a tourism bureau in NZ (which can't be that hard given that we can't stop Kiwis from coming over here, even when we try). But he showed his true colours, and he is a shiny rainbow of a man capable of uniting the Liberal party, firm when required, straight, kind and 'right' in all the right ways. He's lacking the Xenophobia of Abbott, the shallow-uselessness of Malcy, the handsy-ness of Barnaby Joyce and the preening elite quality of Bishop – and our country is so much better for cleaning that house. He is the human equivalent of Glen20 for parliament house. He is the every man's Liberal, and it's the everyman, or the 'quiet Australians' that delivered him to power.
So that's it for another three years guys – let's all shake it off and get back to work.