Coming at you from my home office in sweatpants, no make-up and 20 year old Ugg boots – I'm writing this with a smile on my dial because amongst all the zombie armageddon chat, you can always find a good news story. So here is a collection of the 'upsides' of this weird, but still wonderful industry we work in.
As a former student of the 'craft', I know that economics is the science of human behaviour and all recessions result from the viral spreading (pardon the reference, is it too early?) of panic. This panic is manufactured and proliferated by the media (don't get me started on this, because you won't shut me up).
So, to extend my community services beyond self-imposed isolation after returning from a trip to Conexpo 2020 in Las Vegas, I'm going to publish a collection of good news stories in the press about our economy everyday, until they let me come back to work and do my real job (ie, CEO).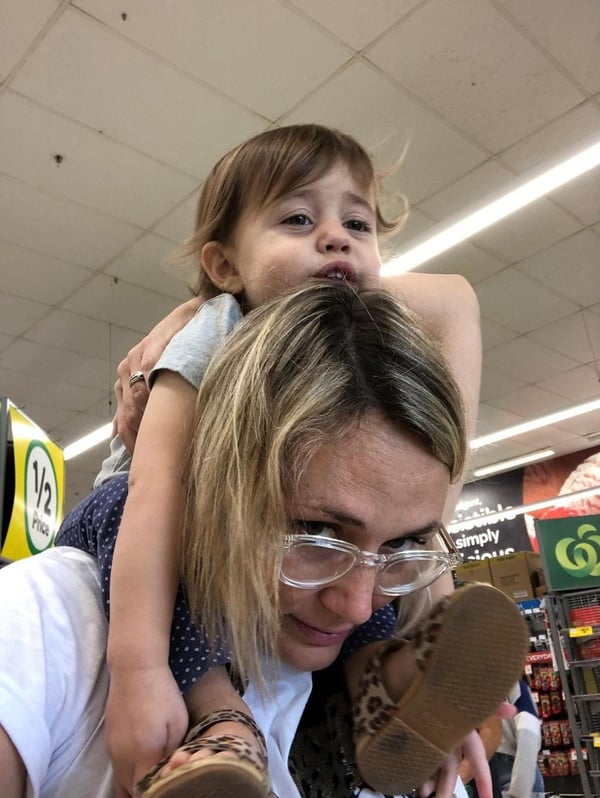 Panic buying is even harder with two pint-sized encumbrances.
Stimulus for Small Business – $17.6b to keep chasing your business dreams, thanks to Scotty from Marketing.
Like a big friendly Dad on a hot summer's day, Scotty from Marketing has turned the cash sprinkler on in the backyard, and all us small businesses are running around in our swimmers trying to cool down. Below is just the start of what will likely end up being more than $50 billion in economic stimulus to help businesses keep people employed.
Instant asset write-off - time to get a new excavator or ute!
Increase in the instant asset write off threshold from $30,000 to $150,000, for businesses with aggregated annual turnover of less than $500 million (up from $50 million), eligible from 12 March 2020 until 30 June 2020.
Additional depreciation write-off.
Businesses with an aggregated annual turnover of less than $500 million will be able to deduct an additional 50 per cent of the asset cost in the year of purchase – through to 30 June 2021. Check it out here!
Employment incentive – BAS credits, baby!
Businesses with a turnover of less than $50 million and that employ staff (please someone tell me which businesses turn over $50mil and don't have staff, I will close the doors at iSeekplant tomorrow and immediately start one of those businesses) will receive a tax-free payment of between $2,000 and $25,000 from 28 April 2020, delivered by the ATO as a credit in the activity statement from 28 April 2020 upon lodgement of BAS and IAS.
Supporting apprentices and trainees
A wage subsidy of 50 per cent of the apprentice's or trainee's wage for up to 9 months from 1 January 2020 to 30 September 2020. Learn more about the facts here!
PAYG instalments of income tax
Please note that as a disaster response measure the ATO has advised that taxpayers can vary their monthly or quarterly PAYG instalment of income tax due on the March 2020 BAS to $nil.
Finally, the ATO saying something we want to hear.
More Stimulus to Come – Government is Looking for the 'Shovel Ready' projects
Chief Economist from EY, Jo Masters, is calling out a bunch of measures that she thinks we'll see from the Government in the coming days that would work best to stimulate the economy out of a recession. She's expecting more investment through the infrastructure pipeline, by looking for quick wins on projects that could be activated as quickly as possible, increasing job opportunities and the flow through of Government spend into the construction industry (which I LOVE the sound of).
She's also expecting some other measures to inspire companies to continue to invest, including interest free loans, R&D grant increases or even support to recover from the bushfires quickly.
This is music to our ears in construction and industrial services – and I happen to know of 8,200 companies ready and willing to do the work! Click here for more!
Coles hires 5000 more casuals to deal with the panic buying idiots – boosting demand for primary producers
Coles has announced plans to hire 5000 casuals to deal with unprecedented consumer demand and panic buying, which is actually having a positive impact on the supply chain for all of Australia's primary producers. These new casuals will stock empty shelves as punters like me clear them and stockpile things we don't necessarily need or want. Check out the latest on that news here.
In the market for your first home? Median House prices dropped to $1.07m.
In a median auction house price drop that would render most houses outside of Sydney virtually 'free', it's now more affordable than ever to invest in your first home. Just so you know - $1.07m gets you a four bedroom home in Buranda (NSW, outside of the Sydney Centre), in Bondi (Sydney) it gets you the cupboard of a 2 bedroom apartment, and in Mackay it will buy you a 7 bedroom house with a cinema and bowling alley.
Still, arguably good value if you are sitting on granny's inheritance and haven't pulled the trigger. Get out there and make all your home buying dreams come true, and keep all those sharp-suited real-estate agents meeting their luxury car leasing repayments. Check out Domain's rundown on median auction prices here!
Victoria Lifts Onshore Gas Ban (because, 'duh') but keeps fracking & coal seam ban.
Daniel Andrews (my least favourite State Parliamentary leader) has lifted the ban on onshore gas exploration in Victoria from July next year, helping the state fill the hole left by declining production from the offshore Bass Straight fields. Following a light 3-year navel gazing exercise that no doubt wasted millions, he's decided that gas exploration can commence – excluding coal seam gas and fracking, because that would be a step too far for his majority tree-hugging, beanie wearing, soft-handed constituents.
Gina Rinehart, with the ability to smell this type of blood in the water, has her drills at the ready in the Otway Basin, believing she would eventually wear Andrews down (and she was right). Got to love an enterprising woman like Gina and common sense prevailing to produce a low-cost, low-carbon energy source. Check out the news here!
Subscribe to iSeekplant's Flapping Mouth blog for the latest industry and project news - as well as some of the brighter news to come from the virus!