March 18th 2020
Isolation day: 3
Mood: Upbeat, but sick of Karl Stefanovic's face already. Kochie is much more watchable for 12 hours a day.
Outfit: Taupe relaxed fit pants, blue jumper, scrunchie and ugg boots.
Virus is infecting banking red-tape and might kill 'Green Lawfare' regulation
Nothing like a looming great recession to get government paper-shufflers to rethink their economic short-sightedness, and this is a very welcome change to the regulation landscape that we small businesses operate in.
Many of the general economic mouth-pieces are calling for the loosening of the banking royal commission nooses around everyone's neck – to free up debt and other sources of capital to keep businesses running. Unfortunately, though, responsible lending laws have sucked so much credit from the markets prior to this 'hiccup' – that businesses are less prepared or able to cope with a recession, should we have one.
Responsible lending laws have a place, but have also made it incredibly hard for businesses with good credit ratings to obtain debt. Many are calling for a temporary reprieve or an outright holiday to these laws, because the credit markets will likely be heavily hampered by results of the share markets (which, quite frankly, are not in great shape) and these new regulations will make affordable credit for small business almost non-existent. So let's loosen those laws up en masse – as quickly as we've loosened up the definition of acceptable work pants.
Even some pundits are suggesting that laws which have facilitated green 'lawfare' on massive infrastructure and mining projects in the country will be scrapped, as the need for investment into the country becomes paramount. With no way to mindlessly and endlessly stop projects they don't like, because earthmoving is dirty, roads are too 'carbony' and mining coal is for murderers – the greenies will be in a government and society imposed isolation of a different kind – one where no one officially cares about their progress-blocking-bollocks anymore, and every one is greatly concerned about economic continuity.
Scientists in Singapore reckon COVID-19 is running out of gas
People way smarter than me at the Duke University of Singapore have published a paper to The Australian, suggesting that COVID-19 is becoming less virulent, with something called a 'protein deletion' (what?) that has occurred in some Singaporean patients, making the virus less impactful and serious. Apparently, this is something that occurred with the SARS pandemic a few years ago, and interestingly they haven't seen a new case of SARs recently at all.
Many scientists around the world echo that the virus is changing and mutating when it was previously thought to be a stable virus (whatever that means).
Please Google this for clarification or read this story, because my retelling/description won't be accurate (I dodged doing high school biology and chemistry for drama and modern history, which now have zero application to my adult life).
Commodity Exports rising is the 'mood' for the moment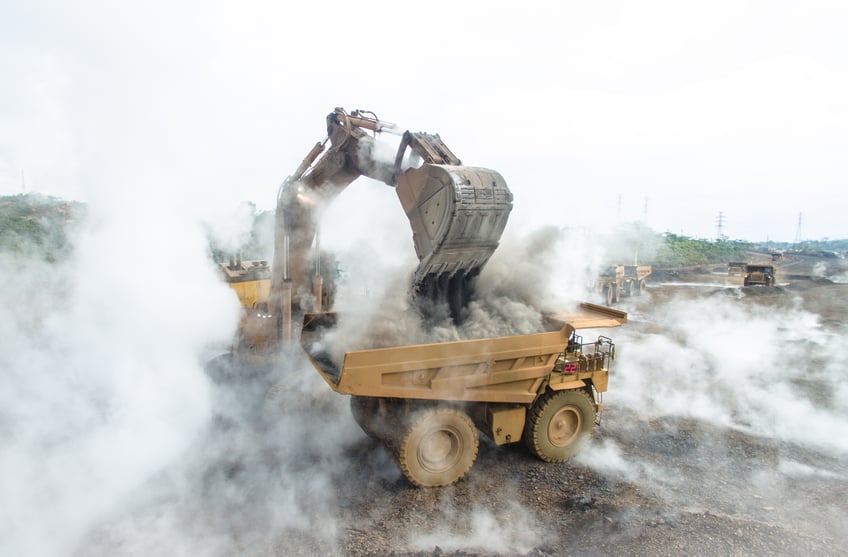 Iron ore is our anti-recession 'mood' for today
The Department of Industry is the only body or company out there upgrading its forecasts, by a whopping 6.4% this year, which is an additional $18 billion in export revenue. This could mean that Australian exports over $101 billion in this fiscal year, a record for the whole industry. I'm tipping that Gina Rinehart and Andrew Forrester will be well-positioned to buy up more discounted luxury waterfront properties on the market in coming months.
In a literal turn up for the books, some of our biggest export commodities have fetched higher prices in the midst of the viral panic, which has also been further bolstered by increased demand caused by a weaker Australian dollar. The perfect party for an increase in commodity exports.
No one is clear on what will happen to commodity prices if there is a global recession, and there is plenty of differing opinions on the topic, especially what will happen to China and their demand for our iron ore and other valuable resources once they are through the worst of the virus.
Only time will tell – and at the moment, waiting for more information is the permanent state of the human race.
Check out more here.
Australia's Number Nerds Rubbing Hands Together
Small accountant firms across Australia are rubbing their hands together, expecting a surge in use of their services as small businesses scramble to obtain the stimulus cash raining down on us from Canberra. Guys called Sebastian, Warren and Graham, normally the butt of boring 'accountant jokes' at dinner parties, are very excited about the new stimulus measures and the growth in the need for local accountancy practises to help SMEs submit correct documentation to obtain the free money. Mostly, they're just excited about being popular for the first time in their lives.
Note to our iSeekplant Financial Controller Liz: you are the raddest account I've ever met and this paragraph isn't about you.
Virus fails to penetrate the internet
So, our traffic hasn't declined recently – it's increased (for some reason) and is breaking all records. We suspect that it's because finding plant and services on the internet is safer than doing it via meetings and handshakes – which is still prevalent in the industry. iSeekplant has been growing at an unprecedented rate recently, since the beginning of the calendar year and this virus hasn't stopped that. So if you want to procure things in a safe way, visit our site: www.iseekplant.com.au
Unique Users Searching For Plant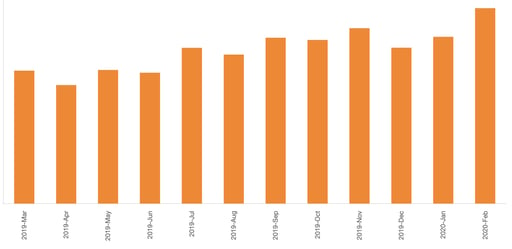 To keep up to date with the Viral Upside, industry news and project information, subscribe to the Flapping Mouth blog below!