My hawkeye caught a tiny kink in the top of the COVID-19 case graph in Episode 4 – and I called it early that 'the curve', which is now the only thing anyone talks about apart from the Netflix series Tiger King, was flattening. It was! It is! We're flattening the hell out of that graph.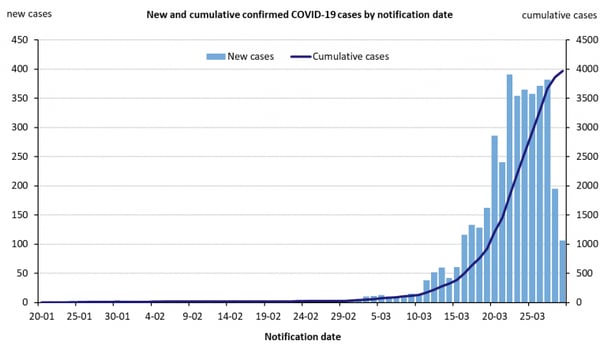 Never seen a curve flatter in my whole life.
What does this mean, and why do I keep banging on about it?
We now have a daily spread rate of 6% which is one of the lowest in the world. This means our hospital system will cope, and our economic impact will be lower
If our spread rate doesn't increase, then the Government can't justify deeper shutdown measures – this means more Australians keep their jobs
The ASX was tipped to rebound strongly when our numbers started going in the right direction – which it has been doing over the last couple of days.
ASX Rebounds – Hard!
On Monday, the ASX recorded its 'best day ever', surging 7% in a day. That's massive when the local market has only declined by about 39% since the 'Pangolin Flu' hit our shores. Yesterday was another big day of gains as business and investment confidence rebound off the back of the historic announcements on wage subsidies and that god-damn-flatter curve.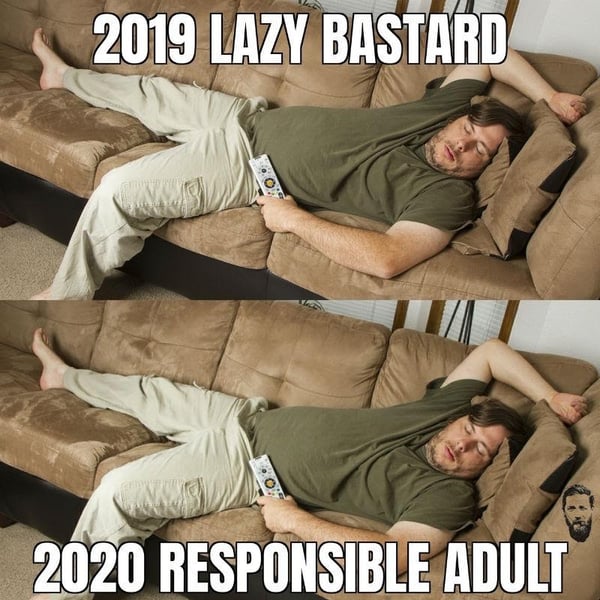 Who knew that if Australians watched Netflix all day, en-masse, it would be value-accretive for the ASX?
Cashflow Koala paying everyone's wages
The thing I got wrong in Episode 4 – which I'm now gushing to admit - was that I reckoned that Scomo wasn't going to pay a wage subsidy because we didn't have the systems to distribute it. And BAM! Just like that, Scomo pulled a fiscal-stimulus rabbit out of his Cronulla Sharks supporters cap. What a legend! And he's even conceived of a package that is structurally better than what the other countries are rolling out. Uniquely Australian stimulus from our very own Cashflow Koala.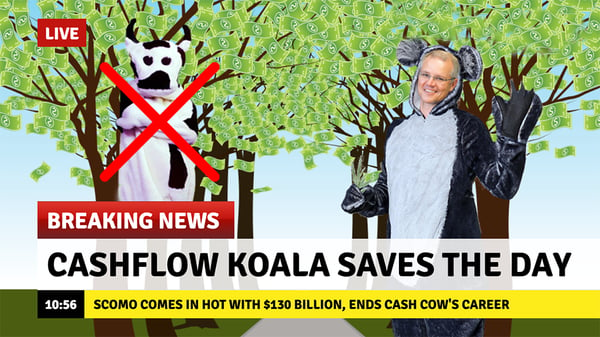 Cash Cow move aside, the Cash Koala is the new sheriff in town
How Cashflow Koala's Wage Subsidies might work:
Cashflow Koala will pay businesses $1500 per fortnight per employee (even if they are on your books now, or stood down in March). You withhold PAYG, and pay through to your staff (noting there are also PAYG credits of up to $50K per quarter comin at ya, as well).
Cash hits from May 1st, backdated to March 1
You can apply if you have had, or are forecasting, more than a 30% drop in revenues and if you have revenues of lower than $1 billion (anyone reading this with revenues of over $1 billion, please click here for my personal email address, let's chat 😁).
How I reckon the claims will work:

You can apply for the payment, uploading details of employees and your company to the ATO's portal. The ATO received 66,000 SME applications overnight.
Cashflow Koala will pay you the subsidy throughout the next six months if you keep claiming based on a self-declaration that you meet the criteria, in arrears by a month, and I assume you'll be making statements to the ATO throughout about your eligibility which will be legally binding.
When you submit your company tax return for the financial year, if you have over-claimed, I'm tipping there will be a claw-back or pay-back structure
The other measures of Payroll tax credits, rebates on your PAYG of up to $100K across two quarters and all the other stuff they've already announced is in place and is over and above this stimulus.

This doesn't impact any wage compression measures you've already taken (but the devil is always in the detail once the legislation is drafted), other than to top up the lowest paid team members who are earning less than $1500 per fortnight.
It is not scaled to the income of the individual – everyone gets the same.
Mining companies shrug shoulders and get on with it, only 6% perturbed.
Mining companies, such as Fortescue, BHP and Saracen are maintaining profit guidance or making statements to the market that COVID 19 won't materially impact their operations other than a few new safety measures for their staff. This is off the back of strong commodity prices and a weak dollar driving demand and revenue for our iron ore and other export commodities.
Almost 60% of mining companies answering a survey for the Queensland Resources Council said they had intended to maintain or grow their workforces in the next six months, with only 21% expecting a decrease. Note that a survey published on December 19 stated that 15% of the same companies thought they would decrease their workforces, so that is only a negative swing in overall sentiment of 6% (highlighting the insignificance of this issue to the mining industry). This is basically the long way of saying that Australia's mining industry is walking into FY21 looking 'pretty fly, for a white guy' (is this still relevant lingo? I've been isolated for so long I don't know the hip things young people say anymore).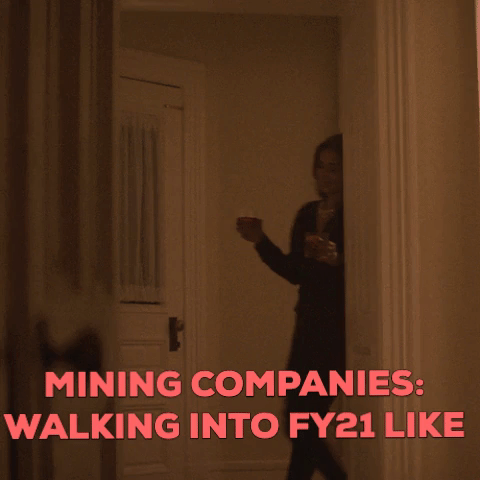 Dad Will Fix It.
I freakin love Scomo at the moment – I've always called him a lovable koala of a man (he reminds me of a koala with his hair and chubby face). Now he's my Cashflow Koala. I trust him and I trust the things he's saying. I don't envy him, but I reckon he's making the right calls and balancing all the variables up in the best way anyone could. There are some impossible trade-offs to consider. Even Bill Shorten gave him a big up on TV this morning (and those words would have felt like mercury in his mouth).
In a time like this – where you need the adults to be in charge, I'm forever grateful for having a person in our big seat that has his values in the right place. A deeply religious man, with a folksy old-fashioned sensibility is just the big, comforting Dad we need to fix the flat tyre on our bikes, lovingly ruffle-up our hair and send us on our way. Yesterday he talked about buying his kids some jigsaw puzzles to get them through isolation, when the rest of us have had our kids plugged into iPads for weeks. So adorbs.
In the States, by contrast – they have a bloated man-baby running the show, still eeking out his personal grievances on Twitter, lying, manipulating the facts, dodging responsibility and leading their country down a path of hundreds of thousands of deaths. This is a lesson in the importance of the democratic process working to vote-in a person capable of unfathomable weight and importance of the top job. It's also a lesson in your country having a little spare cash up its sleeve to deal with circumstances that literally come out of nowhere, and send the economy into a free-fall over a two week period. We all need to learn* from this.


*And I don't just mean - learn how to 'House Party' online or learn how to make seven different dishes with a can of beans.