Sorry for the radio silence friends, but I've been back with my COVID-free nose to the grindstone, as iSeekplant charts a massive boom – contrary to every glum prediction in my business continuity plan. I hope your construction-facing businesses have kept out of harm's way in the last couple of months. We're currently hiring people to help.
Despite my workload, I found a spare hour to ensure the world was endowed with my stupid, sophomoric slant on industry and economic issues.
Cashflow Koala dropping fat-stacks on infrastructure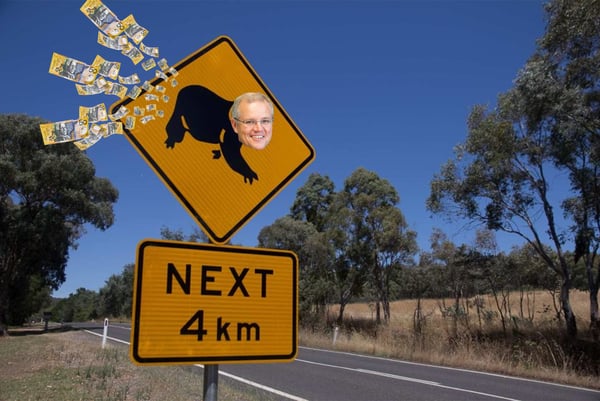 ScoMo – my favourite world leader at the moment (because the pool of acceptable, non-corrupt, non-racist, non-murdery global leaders shrinks by the day) - has gathered up all available pennies, including some of the $60 billion windfall from that quaint JobKeeper spreadsheeting error – and committed another $1.5 billion in Federal Funding for shovel ready projects across the country.
So don't fear the end of JobKeeper in October my friends – because JobMaker is the new sheriff in town with billions targeted at construction, infrastructure and commercial development. Sounds like our industry will be flushed with enough cash to pay its own wages (but let me tell you, JobKeeper has been so great it makes me want to take a second look at Karl Marx' The Communist Manifesto).
Prior to the COVID situation, the Federal Government was planning to spend a whopping $180 billion on infrastructure in the next decade. Then, as economic fundamentals started to lag in November 2019 and COVID side-swiped us in February 2020, ScoMo and Frydenberg have scratched around in the ashtray of their Government-leased BMW and rustled-up another $7.8 billion for projects that can be brought forward to inspire job growth. $4.2 billion of that will be co-funded by the State Governments. This takes overall infrastructure investment levels in the FY20-21 year to above $24 billion.
Here's the word-up on the latest projects to be rolled forward in each state:
VIC - $1 billion of commercial projects fast-tracked:
938 Collins Street Office Development
Residential Development Caulfield
Geelong Civic Project
Solar Farm Kennedy's Creek
Apartments/Residential/Commercial in Kensington, North Melbourne, Glen Iris
SA - $145 million in roadworks and upgrades fast-tracked:
Heysen Tunnel refit and Safety Upgrade
Regional North-South Freight Route
Regional Road Network Package
Adventure Way and Innamincka Airport Access Road
Upgrades North-South Freight Route
Upgrades Stuart Highway
QLD - Brings forward $1.9 billion in projects:
Gateway Motorway Flyover
Kennedy Highway Upgrades – Charters Towers & Mareeba areas
Burke and Gregory Developmental Roads
Cloncurry – Dajarra Road Upgrade
Richmond to Winton Road Upgrade
46 resilience projects associated with roads, water & sewerage and other infrastructure in floor and monsoon prone areas of the state
NSW - Congesting-busting & road safety upgrades:
$240m for 11 congestion hotspot road upgrades around Sydney Metro
$382m to help local councils upgrade roads in regional NSW
$398 million for road safety projects in regional NSW
WA – Regional road upgrades receiving funding:
The Great Northern Highway in Kimberley
The Great Northern Highway and Point Samson Road – Pilbara
Yardie Creek Road and Minilya
NT - $206 million in additional funding:
Road upgrades in Stuart, Markly, Carpentaria and Victoria Highways
ACT - $48 million in funding provided by the Federal Government:
Monaro Highway Upgrade
Northborne Avenue Upgrade
Mitchell Light Rail Stop
Cooked Chook finally comes to the party
Sweatier than a Coles BBQ chicken sitting in its plastic bag for a full day – Palacechook - QLD's bumbling State Premier, has caved to the belting screams of her constituents, as well as some heavy emails from ScoMo and Gladys, and has opened the borders and eased restrictions back to some semblance of normal life here in Queensland as of July 3.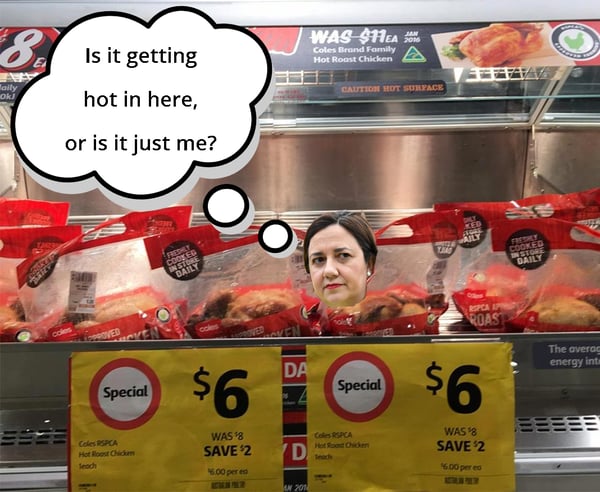 QLD Border Traffic Barriers are down down, and staying down
Striving for the impossible goal of wiping COVID out completely was, at the same time, snuffing out our entire tourism industry. Virtually everyone north of Bundaberg relies on some modicum of tourism and Australians seem extremely keen to start travelling and holidaying again (the ones with jobs, anyway), after what has been an incredibly stressful couple of months wandering around the house in our tracksuit pants wondering if we're going to get made redundant.
The October election will sort Chook out – despite this late move, the Chook is cooked and likely to be placed by a Freckle (Deb Frecklington). Such is the gravitas of Queensland's political landscape.
Stimulus offered for business adaptation
In a move I'm calling the Pink Bats Scheme for Digital Marketing – many of the State Governments are offering grants for businesses like yours to adapt to the changing operating environments – including spending money on their digital presence. These schemes have already run in each state – with Queensland leading the way in releasing more funding for small businesses for this type of investment. If you need our help or want to know more about the government programs – please be sure to holler at us.
Victorian Millennials are ruining it for everyone (again)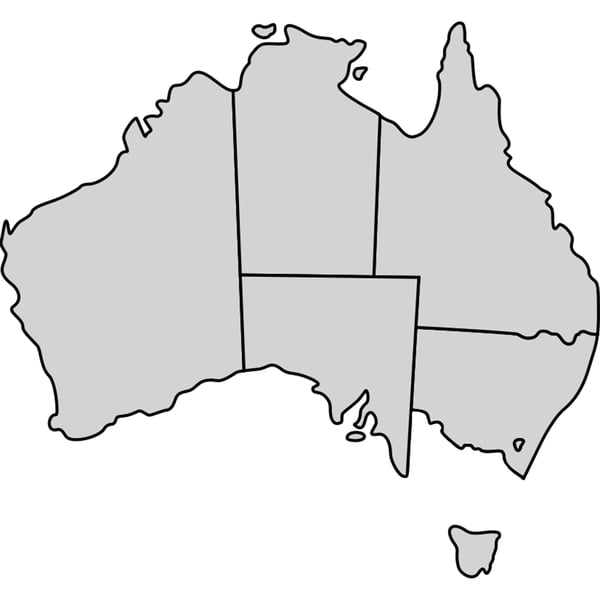 This is the map of Australia I've been using during homeschooling
If Victoria's young cultural elite could please zip down to their local IGA in their Tesla and grab a pump pack of hand sanitiser in their reusable twine-crochet grocery bag, the rest of Australia would appreciate it. Carrying on with their almond-milk-latte drinking antics with reckless abandon, Victoria's millennials are now responsible for the worst spike in COVID cases since it broke in March – to the extent that they have now rendered their State an island of economic and social isolation (all those jokes about Tasmania don't seem as funny anymore, do they guys?).
No, but seriously - wishing light, love and sanitation for our Victorian customers and friends as you guys bunker down and get on-top of this outbreak. We very much hope to see you walking in your boat shoes on Hastings Street in Noosa as soon as you have the all-clear.
Isn't the U.S a worry?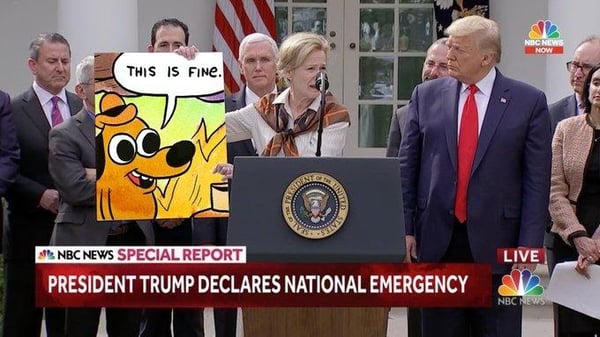 Wow, it seems like every piece of vision coming out of the States burns your eyes. Their curve never got flat, and now its taking off worse than ever. Not to mention the deep civil unrest, stoked on almost a daily basis by their President. Now everyone is arguing about wearing masks, like doing something to reduce your chance of contracting COVID-19 by 5 times is some sort of political statement. I'm getting 'Roman Empire' vibes from the whole thing.
I don't want to pile on them anymore – wishing for sanity, truth, and common sense to return to their great country prior to their next election.
Virus drives online boom
There is no need to wash your hands in the virtual world (unless you've dropped your lunch on your keyboard) and, like many online businesses, iSeekplant has been fortunate enough to experience a sharp increase in demand for our online sourcing services, as well as our online lead generation services for construction suppliers.

Can't argue with an up-graph.
To keep up with the latest industry and project news, subscribe to iSeekplant's Flapping Mouth blog below.