Sheeesh. Running a business during COVID is a roller-coaster of emotions - am I right? One minute you're hot because money is being deposited into your bank account by the Government (the 'backwards-BAS' if you will), and you're saying things like 'what recession?' and laughing. Next minute someone coughs in the office and your 46 staff disappear to take 14 consecutive sick days.
GREASE YOUR PINS - Projects Cracking Off in a Hot Minute.
All our Premiers have been very quick to open their treasury trench coats and flash around the size of their infrastructure investments as proof they intend to save us all from economic ruin by spending on roads, bridges and hospitals. And as the company that has collected up and catalogued 9,320 businesses in construction - WE'RE HERE FOR IT!!!
But as they say - it's not about the size (of your investment), it's about how you use it. And it's time to stop talking about shovel-ready projects and put a God-damn SHOVEL IN THE GROUND PEOPLE!
Here is a smattering of major projects that have tendered through iSeekplant in the last couple of weeks - we'll tell you these ones for free:
Butcherbird Manganese Mine Access Road - Newman WA

Bussell Highway Duplication (Stage 1) - Busselton WA
Stephenson Avenue Extension - City of Sterling, WA
Great Central Road Upgrade - WA

MacCintrye Wind Farm - Surat Basin Western QLD

Bruce Highway Upgrade Bribie Island Road to Pumicestone Road - Sunshine Coast QLD

Blackwater Mine Minor Civil Works Project - Central QLD

Haughton River Flood Plain Project - North QLD

Daunia Mine Project Upgrades - Moranbah QLD

Energy Connect Transmission Line in NSW - Wagga Wagga New South Wales and the South Australian border

Port Pirie Marine Facility Improvements - Port Pirie SA

Olympic Dam Project Upgrades - Olympic Dam SA

Warrnambool Line Upgrade - Camperdown VIC
I'm sorry, Anna.
It's not easy for me to admit wrongdoing. I'm a very proud person with a Scottish heritage - McPherson's were actually cattle-thieves by ancestral trade (not proud of that bit, except maybe their get-up-and-go). I think that perhaps our clan has genetically evolved to struggle to admit blame - especially considering that the one time we got caught red-handed stealing heifers in the dead of the Scottish winter, we got sent to the colonies.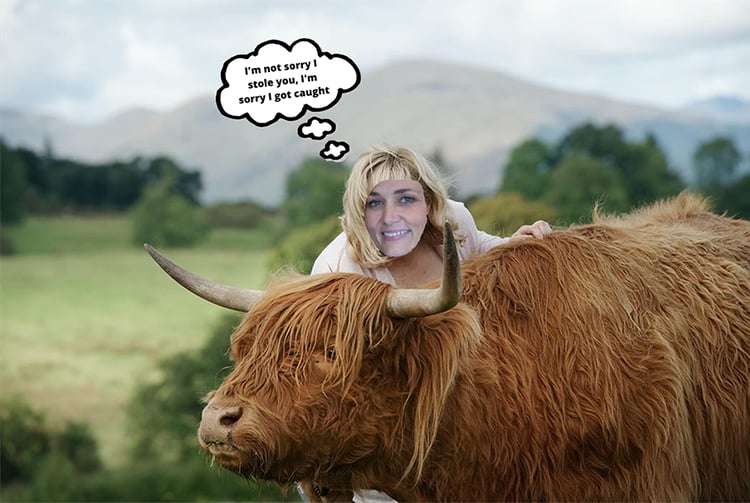 But I would like to give an official, public and open apology to Queensland's Premier Annastacia Palaszczuk (who I have enjoyed giving a tickle up on this blog for 4 years, but I will cease calling her Palacechook for at least the rest of this blog out of remorse and respect). You were right about the borders and right about your COVID mitigation strategy. You've done a pretty good job, considering, and I'm glad to be walking freely about my community living some semblance of a normal life, unlike our friends at the bottom of the island. So there you have it. People, even people with ancestral heritage as cattle thieves, can change.
Here is how I think our State Premier's rank in terms of their handling of COVID from hyper-active to ham-fisted.
Most Suitable People to Premier a State in a COVID Crisis - Leaderboard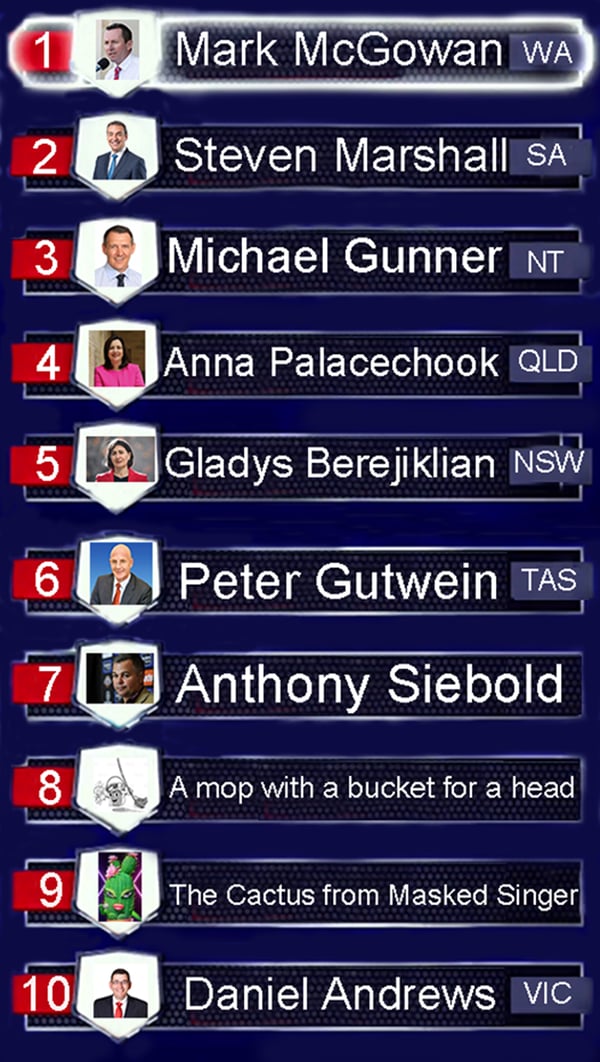 Queensland's Drinking from the Fire Hose of Infrastructure Investment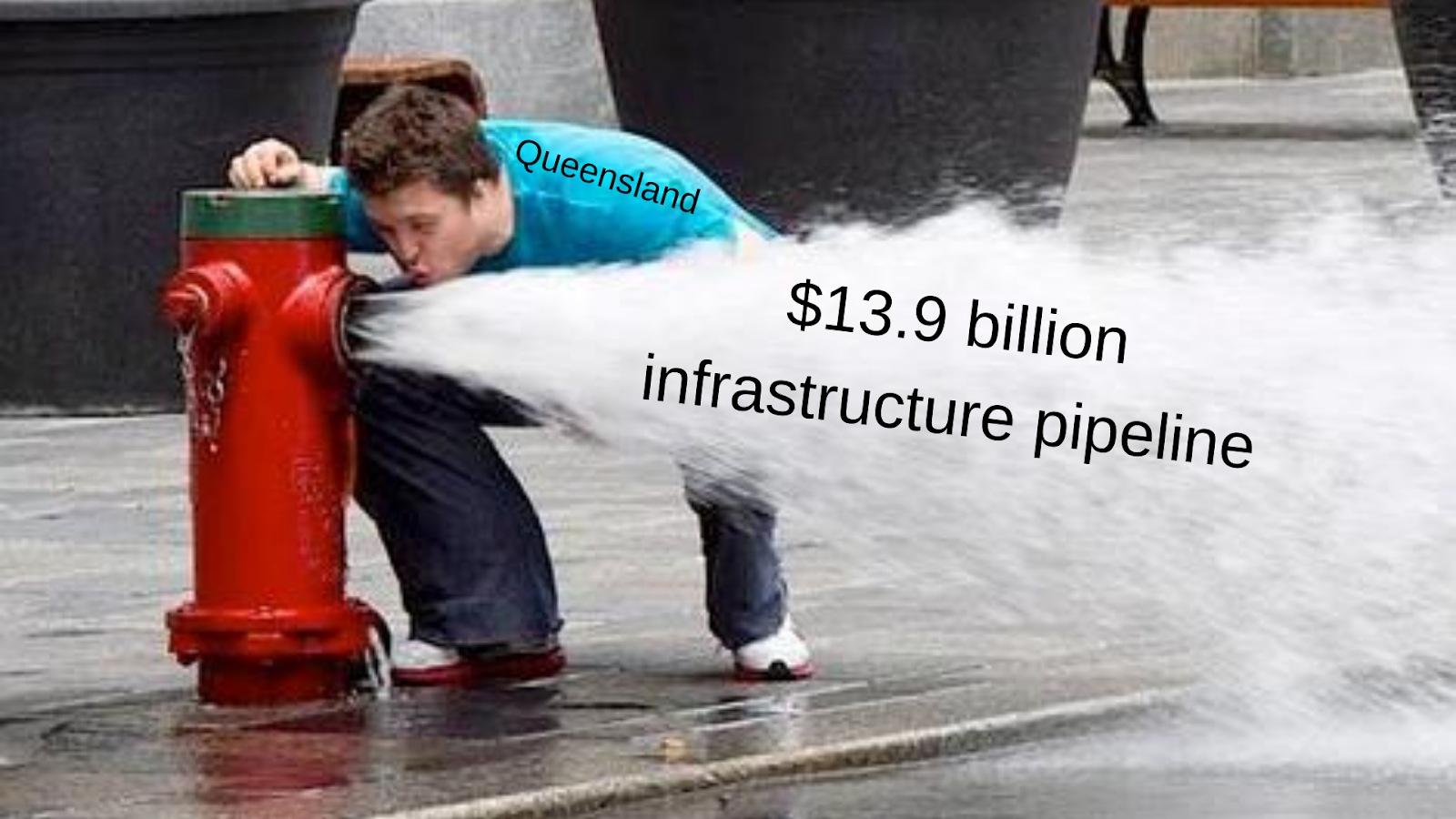 Keep it comin' Anna. We're so thirsty for projects.
Anna also just announced a massive $13.9 billion pipeline for infrastructure investment to speed up Queensland's recovery from COVID. And because I promised earlier that I would not give her a tickle-up on this particular blog, then I won't suggest that this massive, public commitment to shovel-ready projects has anything to do with October's election and everything to do with just a happy coincidence of good, competent State leadership. We'll take it, anyway we can get it. We wrote a blog this week listing out all the projects. Click here to read.
COVID - Emptying Society's Dustbin
Through every great challenge in humanity's history - better things have come out the other side. We are going to look back and realise that COVID caused us to re-evaluate some big and little things in society and strive to do them better. Here are my favourite things COVID will eliminate.
Elbow bumps versus handshakes
Elbows are generally cleaner than hands. Do you KNOW where hands go in the course of a day? Think about it… I'm campaigning hard to keep elbow bumps for good.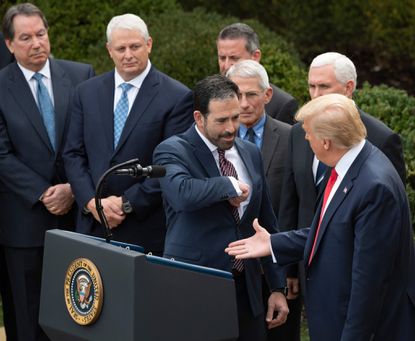 It will be awkward for everyone for a while, but let's persevere.
Donald Trump?
Since day one - I said that COVID was nature's way of getting rid of Trump. Mother nature could see we had choofed it there and stepped in and intervened.
Never having to go into a Harvey Norman store ever again
Australia Post reckons it can't keep up with demand in Victoria's second wave. Why does anyone need to touch and feel a Bluetooth speaker anymore?
Racism
The BLM movement had to happen and it came at the world like a freight train - and as the grateful recipient of the power of the Me Too movement in moving forward society's attitudes towards women, I really hope the BLM movement greatly increases our understanding of the unconscious bias, and that we all work really hard and fast to get over it.
Hugging and Cheek Kissing at work
Thank God no one no longer expects to finish a productive meeting with an awkward side hug and cheek kiss anymore. It's OK to step back from those now ladies.
Coughing on your chemist
I'm sure those Perspex screens provide many layers of comfort for the darling ladies in your local pharmacy and Coles.
Lining up for tickets
In fact - all tickets should be bought online. I'm not standing outside Wet'n'Wild with my screaming kids for more than a minute anymore.
Flying heaps for work
As much as my Qantas frequent flyer status was part of my psychological self-concept - I realise what an enormous time and energy suck it was to fly every week.
QR Codes Found a Reason for Existing
Good for them. Now if only my Mum could figure out how to use them.
Have you heard about Boost Credits?
So, while everyone is wandering around their house in tracksuit pants, our development team at iSeekplant came up with something epic and launched it - called Boosts. Boost credits allow you to promote machines that are parked up in the yard (and giving you the heebeegeebees) so they get more action on our marketplace. It also tells our algorithm what stuff might be available which helps our searchers find a machine really quickly.
Every premium member of iSeekplant now gets boost credits for free! Login to use your credits and check it out.